Seldom does one watch a lead news story on Middle Eastern satellite television that does not offer a steady rotating stream of images of death, destruction, and devastation from places like Gaza, Fallujah, or Kabul. These past few days, however, although the images were familiar, they were from Haiti, and the devastation was not man-made.
Large networks such as Al Jazeera rushed to send their crews to Port-au-Prince, and the vast majority of news satellite networks operating in the region have been competing to update their viewers about the devastation and human agony in this tiny Caribbean country, but à la Middle East ...it had to be about more than just Haiti.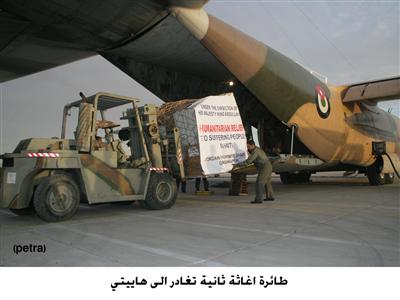 In the immediate aftermath of the earthquake, Middle Eastern television networks, like their counterparts in the U.S. focused on the rescue efforts and finding survivors. Reporters on the ground struggled to convey the destruction and the magnitude of the catastrophe that inflicted the Western Hemisphere's poorest nation. But it only took two days before the images of a devastated Haiti were juxtaposed with those of destruction in Gaza and Iraq.
"These images of Port-au-Prince remind me of Gaza," said a presenter on the Iranian Al Alam TV. The report showed a street in Port-au-Prince with collapsed concrete-block homes, then flashed back to a concrete building in Rafah which was completely destroyed last January by rockets fired from Israeli jets.
Meanwhile, Israeli television stations have been airing daily updates of Israeli humanitarian efforts in Haiti. Images of a five-month-old Haitian baby boy being nursed at an Israeli field hospital in Port-au-Prince were looped endlessly. IBA television aired segments of a report prepared by CNN's Elizabeth Cohen marveling over Israel's quickness in setting up a field hospital.
"It's all propaganda," said an analyst on Nile TV from Cairo. "They're willing to travel ten-thousand kilometers to deliver a baby in Haiti, but won't allow food and medicine to cross 100 meters into Gaza where children are dying...it's all propaganda."
Hamas-run Al Aqsa TV did not waste anytime to show solidarity with the "Haitian Brothers," as the reporter narrated a video package showing Palestinians in Gaza collecting aid for Haiti.
"The residents of Gaza, who are themselves dependent on aid as a result of the Israeli blockade that deprives them of food, medicine and other basic necessities, are willing to donate goods such as milk and blankets to Haiti," the broadcast continued.
Meanwhile, Dubai, which has been recently a subject of criticism for its extravagance while piling up debt pledged to provide immediate assistance to 200,000 children in Haiti through international partners. Dubai TV aired a report showing a plane being loaded with a hundred tons of food and supplies heading to Port-au-Prince, a gift from the Emirate. More on the way, the report promised.
Arab countries, especially the oil-rich ones, have been criticized in Western media for not doing enough to help the victims of the earthquake in Haiti. In reality, many of these countries have already either pledged or sent their support to the devastated nation. Jordan TV showed a report about Jordanian medics heading to Haiti...but this was not reported on CNN.
On the Lebanese channel, New TV, a commentator criticized the United States for rushing to save lives in Haiti while waging two wars, in Afghanistan and Iraq, causing the death of more than one million civilians, according to him.
"Oh! The hypocrisy," he lamented.