Hurricane Matthew on Monday afternoon was just hours away from delivering what might be a catastrophic blow to Haiti. There hasn't been a storm this strong to hit the country since 1954.
Matthew, currently characterized as a Category 4 hurricane, was about 275 miles southwest of Port-au-Prince, the capital, by midday Monday, and moved at about 130 miles per hour.
It should be making landfall in Haiti sometime late Monday. The Dominican Republic ― which shares the island of Hispaniola with Haiti ― Jamaica and eastern Cuba are also preparing for life-threatening rains.
Rough waters in the lead-up to the storm have already killed two fishermen in Haiti, The Associated Press reported.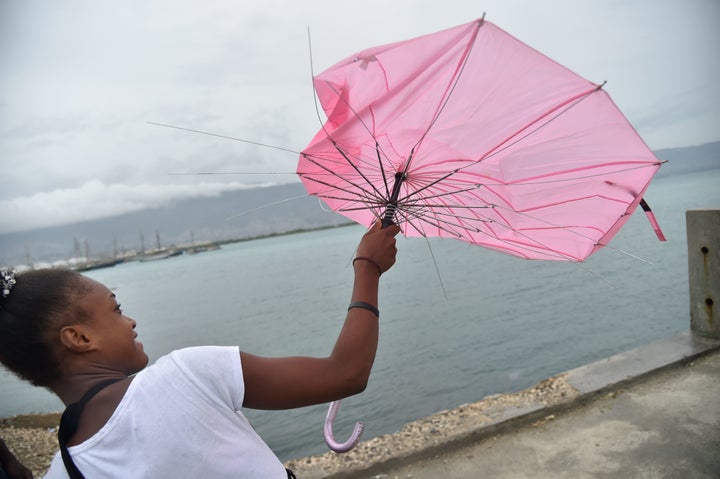 The National Oceanic and Atmospheric Administration predicts the country will see 15-25 inches of rain.
"A lot of Haiti is deforested," hurricane center spokesman Dennis Feltgen told The Huffington Post. This increases the likelihood of deadly flash floods and mudslides.
 "All that water will be coming down fast, racing down mountains," he said.
A second concern is storm surge. Water on the east side of the island could rise 7 to 10 feet above dry ground, Feltgen said.
"If you stand at 6 feet tall you're looking at 4 feet of water above your head," he said. "And add on all of the waves being driven from the hurricane, it's even higher than that."
Poverty and disease have prevented Haiti from bouncing back after natural disasters in the past. The 2010 earthquake killed hundreds of thousands and left an estimated 60,801 people internally displaced, according to the International Organization for Migration. More than six years later, much of the shoddy infrastructure has yet to be rebuilt.
Some also fear another cholera outbreak. Following the earthquake, U.N. peacekeepers accidentally brought the disease to the country. The organization didn't admit its role in the 2010 outbreak until recently, even though the epidemic has killed at least 10,000 people and sickened hundreds of thousands.
Haiti is the poorest country in the Northern Hemisphere, according to the World Food Programme. And emergency preparations for the storm seem to be minimal.
The U.S. Agency for International Development said it's prepared to offer emergency relief supplies, including shelter materials, blankets, hygiene kits, household items and water purification equipment, according to a statement released Sunday.
But there are only about 1,300 emergency shelters across the country, enough to hold up to 340,000 people, according to the country's civil protection agency. More than 10 million people live in Haiti.
"Some of us will die but I pray it won't be a lot," Serge Barionette in the southern town of Gressier told CBS News.
Calling all HuffPost superfans!
Sign up for membership to become a founding member and help shape HuffPost's next chapter
BEFORE YOU GO
PHOTO GALLERY
Forgotten Images Of Hurricane Katrina