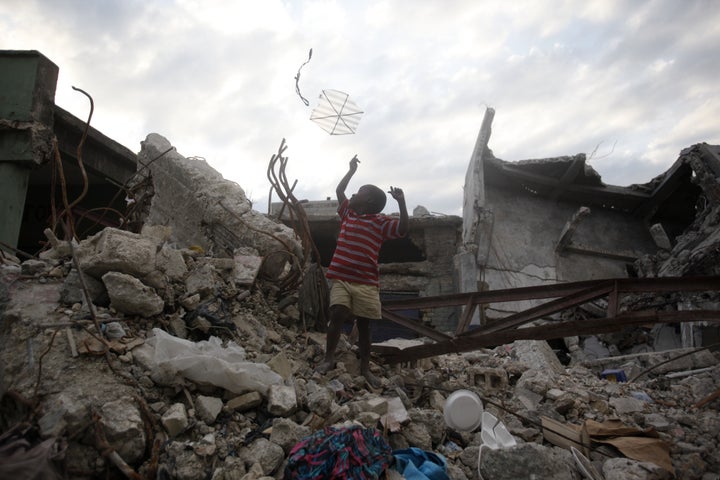 Today marks the two-year anniversary of the catastrophic 7.0 magnitude earthquake in Haiti, a disaster that leveled the country and displaced millions. It would be easy to spend today reliving the tragedy that occurred on January 12, 2010 -- watching videos of buildings collapsing, of mothers mourning their lost children, the tears, pain, and devastation that took place. But if there is one thing I learned during my trips to Haiti over the past year, the best way to mark today's milestone would be to celebrate the progress that has been made. The hundreds of Haitians I met while visiting Port-au-Prince, Delmas 32, Bel Air, and Cite Soleil were some of the most positive, joyful, and hopeful people I've ever encountered. To honor their spirit, I wanted to share a bit about the redevelopment and revitalization I've witnessed in Haiti -- the good news, and the stories that so often are never told.
In May of 2011, I bumped into the one of the most inspiring people I have ever known; a true humanitarian who embodies such courage, strength and profound wisdom. Sean Penn. I had known him over the years and for many months had been trying to figure out how I could help with his efforts in Haiti. Within days of running into him, I found myself boarding a plane to Haiti to stay in the J/P Haitian Relief Organization (J/P HRO) camp, where I would meet an incredible community of volunteers and the inspiring men, woman, and children living amongst the rubble.
J/P HRO was founded by Sean immediately following the earthquake. They collaborate with both government and non-governmental agencies to deliver immediate results where the need is greatest. The organization's predominantly Haitian staff work around the clock to provide emergency medical and primary care services, deliver badly needed medical equipment and medicine, distribute food and water purification systems, improve communication systems, develop homes and educational facilities, and manage the Pétionville Camp, which housed up to 60,000 displaced Haitians following the disaster.
As a child, my family frequently visited the Caribbean for vacations, so the 2010 Earthquake had always struck a chord with me. However, nothing could have prepared me for what I was about to witness.
On the ground, I was stunned by the hundreds of thousands of people still living in tent cities and the rubble, so much rubble. The pictures and videos I had seen in the media did not capture the sheer magnitude of the concrete wreckage that replaced what used to be a city. During my trip, I went to the places where the J/P HRO team was removing debris from the streets of Port-au-Prince, I watched as they started to build homes, community centers, schools, and medical clinics. I left feeling inspired, as the J/P HRO team members were clearing a space to replant the seeds of sustainability, technology, health, and industry.

When I came back just four months later in September 2011, those seeds had turned into seedlings and were quickly emerging from under the remaining rubble. Upon my return to Pétionville Camp, displaced families were beginning to move into rebuilt homes and transitioning back into community life. It seemed as if the children were singing and dancing more. I saw the joy in their eyes, and it was profound. Adults were learning new and perfecting old career skills, artisans were crafting beautiful goods, a community medical clinic had been built, and hundreds of people were coming to visit the skilled Haitian doctors. I even saw a young boy rapping the most amazing song in French and English about his life in Haiti -- I swear, he could be the next big rapper. I looked around me at the staggering achievements and gave my J/P HRO friends a huge hug. I broke down in tears; not tears of sorrow, but tears of joy for the incredible progress that was happening before my eyes.
As of today, J/P HRO has supported nearly 40,000 people who were living in relief camps transition back into the neighborhoods. The organization has removed 200,000 cubic meters of rubble, equating to about 25 dump trucks carting debris away from the city per day. They've set up two primary health care clinics, a women's clinic, a mobile clinic, a 24/7 emergency room, and a cholera treatment isolation clinic -- staffed entirely by Haitian doctors and nurses -- that have cared for more than 183,000 injured and ailing people. And one particular statistic I hold near to my heart as a mom myself is the fact that the J/P HRO medical staff delivered more than 1,100 babies into a safer, more promising Haiti and have not had a single maternal mortality. These accomplishments should be celebrated on a day like today.

Over the past year, the J/P HRO team has taught me that a home is far more than four walls and a roof over my head. Home means good health, education, jobs, sustainable housing, community, and dignity. On average, it costs about $1,300 per person to make the journey from life in a Haitian tent city to his or her own home. This figure covers the cost of rebuilding homes and revitalizing schools, clinics, and other community services, as well the cost of rubble and debris removal.
About a month ago, my big brother and I brought some friends together to make a PSA to raise awareness and funds to "Help Haiti Home." Sean Penn, Edward Norton, Miley Cyrus, Zooey Deschanel, Sarah Silverman, Rainn Wilson, LL Cool J, Eric Dane, Pras graciously offered us their wonderful and powerful voices. We partnered with our friends at Crowdrise to create a place where the world can watch the PSA, donate to the cause, and enter to win some really cool memorabilia from each of us.
Haiti has become a truly family project. My two daughters Poet and Jagger and I held a big bake sale in October to support J/P HRO. Poet now always asks to donate half of her tooth fairy money to the children in Haiti. I am so proud of the fact that my children are growing to care about their own community and country, as well as our neighbors. I believe that it is never too early to teach them about the world we live in.
It's my hope that today you'll reflect on what's been accomplished thus far in Haiti, watch our video, and consider supporting our Help Haiti Home campaign for J/P HRO. Who knows, maybe you even might be inspired to do a bake sale with your little ones. Our collective support will help those seeds planted by J/P HRO fully bloom.
More information about the J/P Haitian Relief Organization can be found at www.jphro.org.
Related
Popular in the Community