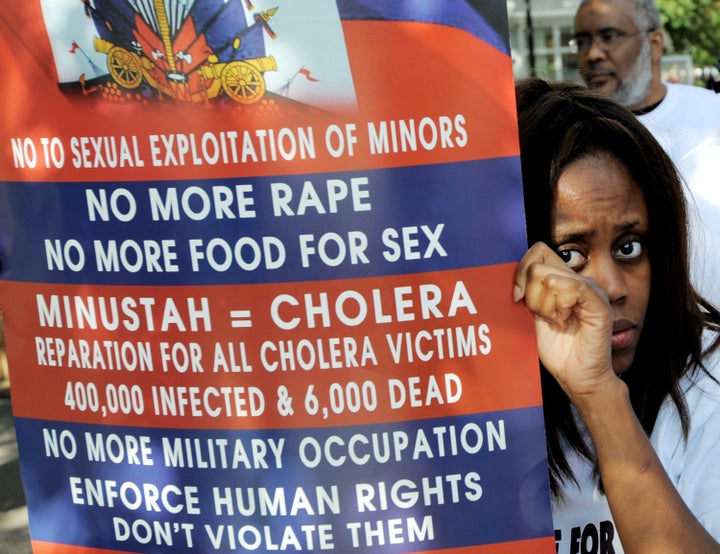 Heavy raindrops pelted Sherlie Christophe's tent one night in a Port-au-Prince, Haiti displacement camp two months after a 7.0 earthquake rocked the island. Without warning, the tattered scrap of a door to Christophe's makeshift home fluttered open. A man seeking refuge from the spring storm wanted in.
In a Skype interview via a translator, Christophe described to The Huffington Post how the man raped her within the proverbial confines of a camp that she said lacked security and adequate shelter following the January 2010 earthquake.
As a result of her experience, Christophe became one of many women to start fighting sexual violence -- cutting incidences of rape in half in some camps.
Christophe, then 18 years old, eventually become a volunteer for Commission of Women Victims for Victims, or KOFAVIV by its Creole acronym, a nonprofit organization founded by and for rape survivors to fight sexual abuse in Haiti. Last year, KOFAVIV had 640 registered cases of sexual violence in displacement camps. This year, 350 were reported, according to the nonprofit.
The organization provides medical and legal services for women in the camps "living under a tent without dignity," Marie Eramith Delva, co-founder of KOFAVIV, told Huffington Post on Skype via a translator.
Christophe said her rape was committed by a prisoner who was freed when the island's infrastructure collapsed after the disaster. But her experience, she said, is overshadowed by the horrors she witnessed being committed against children.
"If a man can rape a baby, this is something we must question deeply," she said, referring to instances she witnessed in which an older man raped a young child.
Sexual violence has long been a crisis in Haiti -- often used as a "political weapon" -- the Associated Press reports. After Jean-Bertrand Aristide, the first democratically elected president, was unseated, his opposition assassinated his male supporters and raped their wives and daughters, according to the Associated Press.
As the Haitian government faced review of its human rights record by the U.N. this past October, KOFAVIV and other organizations demanded a focus on protection and security for women and girls.
The statement quoted Lisa Davis, MADRE Human Rights advocacy director and clinical professor of law for the International Women's Human Rights Clinic at CUNY School of Law, as saying:
The review of the human rights record of the Haitian government is an invaluable opportunity to mobilize governments to stand up for Haitian women's rights. The decision of the IACHR [Inter-American Commission on Human Rights] gave us the blueprint we need. Now the donor states present at the UN must provide the funding to enable the Haitian government to implement these steps.
KOFAVIV was founded in 2004 and set up services in 22 camps after the earthquake to respond to the rise in sexual violence. The organization provides medical, legal and psychological support services to victims.
Christophe, whose mother died in the earthquake and whose father died years before, said that she eventually moved to a second camp and turned to prostitution. She had no family, money or anyone to turn to. In a fortunate twist, someone from KOFAVIV reached out to her and asked her to be part of the volunteer organization.
She and other volunteers monitor the camp and have an alert hotline and frontline sms system to notify authorities of abuse. Trained psychologists volunteer their time and accompany women to the doctor, ensuring they're checked within 72 hours of being raped. Lawyers also volunteer their services in navigating the process of bringing charges against an attacker.
The nonprofit additionally provides young women with skills in making dresses and jewelry and teaches them to sell goods to raise money to help other abuse victims.
Christophe shared her crafts through her webcam, holding up a tie-dyed purple dress and wooden beaded necklace, twirling around giggling. She proudly said she learned to make these items through her rehabilitation program.
KOFAVIV relies largely on donations and receives funding from organizations such as the Global Fund for Children, which provides community programs for vulnerable children.
Delva said the reality for women and girls in Haiti is grim, but that she is hopeful about the progress they have made thus far.
"I am a former victim also," Delva said through her translator. "I was living in camps and this is my motivation. I am so proud."