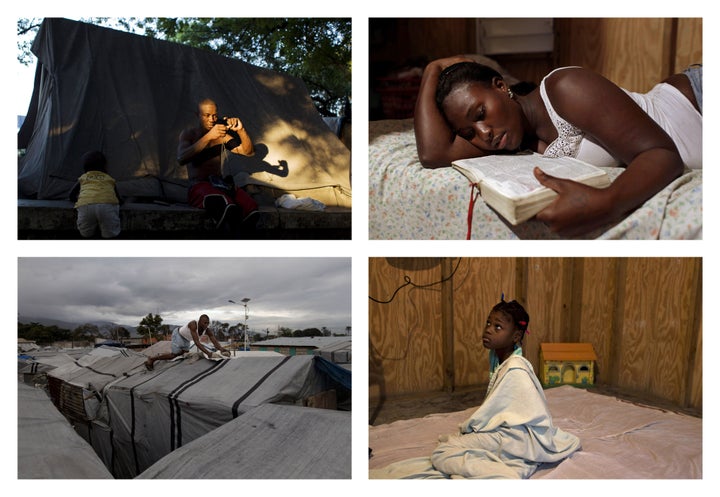 By Kate Stohr and Cameron Sinclair, Co-Founders, Architecture for Humanity
It's been more than two years since Architecture for Humanity first started working in Haiti just before the devastating earthquake in 2010 that killed more than 230,000 people and displaced nearly one million more people. Is the country recovering? It's a fair question.
Media coverage has not been particularly kind to Haiti. This year headlines like "Haiti's stalled recovery," or "Haiti recovery stalled?" or my favorite, "Haiti's eternally stalled recovery" painted a less than optimistic picture. However, you parsed it, "stalled" seemed to be the word of choice in 2011 to describe the pace of progress in rebuilding here.
However, there are plenty of reasons to be optimistic. I've been spending a week or two every month for nearly two years in Haiti. Architecture for Humanity has a team of 30 building professionals, most Haitian, based in Port-au-Prince. We've been rebuilding schools, clinics and doing a ton of urban planning for housing and commercial development. It's been a thrill to see these projects come to life. We just wrapped our year in review. I've worked in Katrina and in South East Asia, and I was surprised to see that we've done more in Haiti in these two years than we have after any previous disaster. Ok, so, fair enough, that may say more about us than Haiti. You have to admit though, if a small group like ours can build clinics and schools impacting more than 4,000 people and design camp improvements and housing developments impacting another 25,000 then that's just the tip of what's possible.
So, why the negative press? For one thing, media expectations regarding reconstruction often disregard the normal pattern of rebuilding after disaster and basic construction timelines. It takes between nine months and a year for permanent construction projects started immediately after a disaster to come up from the ground under the best of circumstances. Add to that national elections, a cholera outbreak and a backdrop of civil conflict, and it's easy to understand why the pace of reconstruction in Haiti may be slower than the norm. Yet, Haiti is rebuilding.
When Michele Martelly ("Sweet Mickey") was confirmed President in April after a contested election it signaled a new era for the country. Not only was the election relatively peaceful, the country welcomed back not one but two exiled past leaders, Jean-Claude (Baby Doc) Duvalier and Jean-Bertrand Aristide without serious civil unrest. Martelly brings a refreshingly polished style of leadership. He has priorities, for one thing. They are clear: education, finding homes for people living in tents, and restarting Haiti's economy. His business approach is beginning to be felt at the local level.
Industries that had been long dormant are being resuscitated. For example, Haiti was once the leading supplier of seisal, a material used in rugs and rope, in the region. Haitian coffee is delicious and now a fair trade commodity as well as it's prized mangos. Artisans are thriving and it is amazing to see the design quality coming from Haiti in recent months.
To be clear, Haiti has many hurdles still to overcome. Camps are on the edge of becoming permanent settlements. North of Port-au-Prince an area that was a greenfield and primed for development prior to the earthquake is now de facto home to some 10,000 displaced families. Martelly has dismantled some of the more prominent camps in Port-au-Prince's downtown area, but a housing crisis looms as little has been done to address the supply of housing. In an effort to encourage equity and economic development, international donors have focused on homeownership. In Haiti, rental housing (with strong regulation) is more likely to deliver the needed short-term supply of more than 100,000 units.
The delays -- and we've talked about the professional exodus from Haiti -- are largely related Haiti's limited professional capacity. What I mean by that is that things that we take for granted, a land registry system, real estate appraisals, and permitting structures, building code enforcement and inspections have been eroded and need to be rebuilt just as much as the country's buildings need rebuilding.
Despite various training programs and the best efforts of NGO's, building standards are nowhere near where they should be. We see examples of unsafe construction every day. It is frustrating, needless, and exasperating at times. Building code inspections are an issue the government urgently needs to address. That said, these are regulatory structures that time will heal. And chances are Haiti will leapfrog outmoded systems in the process. (Already the Haiti Property Law Working Group is starting the ball rolling on the land tenure front.
But you've heard all of that before.
So here it is, ten reasons why we should double down and renew our commitment to Haiti in 2012:
1) Haiti is beautiful. Check out this new hotel in historic Jacmel.. Admit it, you want to go on vacation here. With miles of pristine beaches and a vibrant culture. This is a lovely place to work. Even more lovely to visit.
2) Haitians are a wonderful, hard-working people. We can personally vouch for this. When Architecture for Humanity conducted surveys of more than 400 businesses in five key downtown commercial corridors we found that many of the business owners worked two or more jobs.
3) History. Haiti is home to some of the most intriguing history in the region -- and the architectural landmarks to prove it. One of which, an iron market some how got liberated on its way to Egypt and found its way to Haiti was recently restored -- and beautifully so -- with funding from the Digicel Foundation
4) Demographics. Haiti has a young, eager willing workforce. More than 55% percent of the coutry is under the age of 25. And with the priority on rebuilding the nation's schools we'll likely see more talent coming from Haiti. Here's a beautiful school Architecture for Humanity just completed in Montruis.
5) Great Wifi connectivity. No I am serious. I get better connectivity in Haiti than I do in my own home. Inveneo, a group that trains local IT professionals, is now working to extend connectivity to rural areas in partnership with Microsoft. (Thanks again, guys.)
6)
Design.
Haiti is home to some seriously
A recent tradeshow in Port-au-Prince left me wishing I could do more than window shop. The work of these artistans is beginning to be exported through distributors like Carribean Crafts, and you can buy some of Haiti's beautiful handiwork
at retailers near you.
7) Rural development. For decades planners have called for decentralizing Port-au-Prince. This mandate is now being acted upon. We helped Habitat for Humanity plan a rural community near Leogane for 500 households. We also worked with local landowners who are eager to begin creating jobs and building the economy on land that has laid fallow for years. Many of these jobs would be in sustainable agriculture and food processing.
10) Location, location, location. Haiti is so close to the US markets that smart industrial investors are capitalizing on international incentives to open factories in Cape Hatien and elsewhere. So that new Donna Karan t-shirt you are buying next season... might just come from Haiti.
Ok, so it may take a little longer than the average media attention span to see these new visions for Haiti realized. That doesn't mean it isn't happening. I am excited by Haiti's future. I am not the only one. Many are getting behind Haiti's long-term recovery. My guess is President Clinton, who visited Haiti as a wedding gift, is planning his second honeymoon there even as you read this.
Calling all HuffPost superfans!
Sign up for membership to become a founding member and help shape HuffPost's next chapter