A recent Facebook page post shamed me completely. My good friend did not intend to do so. Knowing that I had spent almost two years writing about the aftermath of the 2010 Haiti earthquake, she wanted me to recognize that the devastation in Haiti caused by Hurricane Sandy was being ignored. In a gentle nudge, she mentioned me in a comment that flagged a photo of two women, chest and waist deep, struggling in floodwaters in the Caribbean. My shame found its genesis in the fact that I had written nothing in the past eight months. Call it disaster fatigue. Call it laziness. The writer had abandoned Haiti, and the conscious realization was humbling, humiliating, and embarrassing.
Americans have loved Haiti to death. We are listless, lazy, cheating lovers who don't have the stamina to go the distance in a relationship. Haiti is just too much work.
We don't stand up for her and hold USAID accountable for tax dollars that have accomplished very little in infrastructure reconstruction. Reports of US pre-hurricane relief are reminiscent of post earthquake relief. Before Sandy hit, USAID staged 10,000 tarpaulins, hygiene kits and wheelbarrows. 50 tons of food was pre-positioned in the south to address food insecurity for 15 days. Cholera looms and the Centers for Disease Control and Prevention (CDC) provided 2,500 units of Ringer Lactate solution for treatment of dehydration and debilitating diarrhea.
How about trading lactated ringers for toilets, clean water, housing and compensation for the introduction of cholera by the United Nations?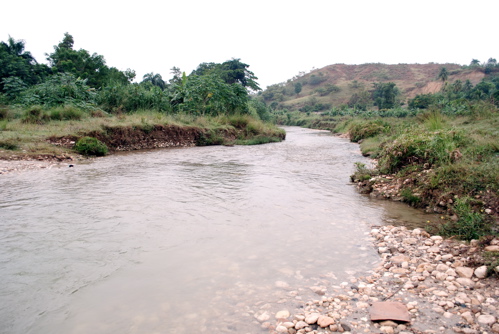 Epicenter of the outbreak outside the UN compound Photo: Georgianne Nienaber
We stood by and allowed the United Nations to get away with murder-by-cholera proxy and accepted their denial that Nepalese soldiers caused the cholera outbreak in Mirebalais in October of 2010. Justice is still elusive even in the face of a recantation by the principal author of the report, Dr. Daniele Lantagne, who said that new scientific data analyzing DNA suggest that it is "most likely" the source of the outbreak was indeed the Nepalese camp at Mirebalais. More than 7,500 have died since October 2010.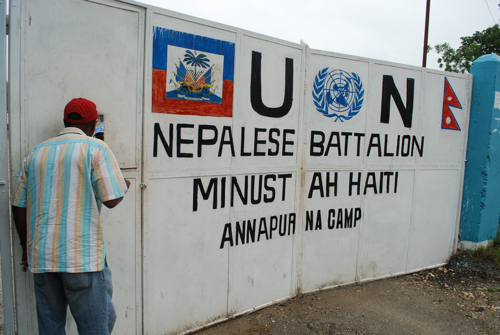 The Source Photo by Georgianne Nienaber
The BBC reports that that flooding in the aftermath of Hurricane Sandy could lead to a sharp rise in cholera cases. Well, we knew that two years ago and did not have a plan for providing water and sewer infrastructure.
After severe criticism of their inability to get anything accomplished, NGO's still operate much as they have before the earthquake, with little accountability, and we say nothing.
We watch while clean water infrastructure is traded for sweatshops in Caracol. Hollywood and the Clintons celebrated the opening of Korean sweatshops as Haitians protested. 300 farmers who were displaced from their fields to make way for the industrial park could not compete with the Clintons' recollections of a "delayed 1975 honeymoon" celebration.
The current law for minimum wage in Haiti sweatshops is between 200 and 300 Gourdes (4.75 US to 7.12 US) per day. That paltry amount has not been met. Why? Segue to the under-reported and ignored 2011 scandal involving Obama administration pressure to keep the minimum wage even lower at 31 cents per hour so that jeans and t-shirts would stay cheap and the answer becomes clear. We want cheap clothing and Haiti is our slave mistress.
A family in Haiti requires at least $12 a day to survive. Do the math. 300 farmers displaced by a Korean sweat shop, massive food insecurities, a hurricane shreds the curtain shielding the wizards of disaster capitalism, and no one notices.
70 percent of the crops in southern Haiti were destroyed, and widespread livestock losses are reported.
The Haitian Lawyers Leadership Network (HLLN) remains the lone steadfast voice protesting the shock doctrine of disaster capitalism, and the Haiti Grassroots Watch does its best with local student journalists. Listen to HLLN's Ezili Danto's Public Radio interview with Jeff Blankfort of Takes on the World here.
Haiti Grassroots Watch did an excellent investigative report on the public underwriting of private enterprise that makes it "cheaper and easier for foreign corporations to set up factories where they can hire workers for the lowest salary in the hemisphere."
The New York Times also asked why did the Clintons set up such a sweet deal with Korea in an area that was all but exempt from earthquake damage.
In exchange, thanks to a deal that Secretary of State Hillary Clinton helped broker, Sae-A looked forward to tax exemptions, duty-free access to the United States, abundant cheap labor, factory sheds, a power plant, a new port and an expatriate residence outfitted with special kimchi refrigerators.
Hurricane Sandy has exposed the underbelly of ignorance, greed and malfeasance. And most of all, she has exposed our inattention.
Sandy's path did not cross Haiti, but the rain and wind caused heavy damage in Sud, Grande-Anse, Nippes and Ouest. So, let's break the facts down from the latest UN Office for the Coordination of Humanitarian Affairs' (OCHA) bulletin. There are 54 dead, 21 injured and 20 missing. 21,107 people have been evacuated to 158 evacuation shelters. 100 IDP (internally displaced persons) camps were damaged, affecting 7,061 families. Yes, there are still IDP camps almost three years post earthquake. 350-400,000 persons are still living there.
OCHA head Johan Peleman said that between 15,000 and 20,000 people have seen their houses completely destroyed, damaged or flooded as a result of the storm.
Now, with this new tropical storm, we fear that a great deal of the harvest, which was ongoing in the south of the country, may have been destroyed completely. Already, the drought and the previous storm had hit the northern part of the country very badly, and we had seen the levels of food insecurity rise there -- with the south being hit now, we are going to face in the next couple of months very serious problems of malnutrition and food insecurity.
Perhaps Haiti should file a restraining order, or just divorce us (US) and get it over with. Not everyone knows. We have been cheating on her with South Korea ever since 2010.
Related
Popular in the Community