Michaele was 18 and pregnant with her first child when the earthquake hit. Within minutes, she was buried alive beneath concrete rubble unsure if she and her unborn child would live or die.
That was four and a half years ago. Michaele was among the fortunate ones to survive the devastating 7.0-level earthquake that shattered Haiti's capital, Port-au-Prince. Her home destroyed, she traveled north to a small, rural town called Saut d'Eau and tried her best to eke out a modest existence.
Now 23, she is a mother of two, a businesswoman, and a homeowner. Her life has been completely transformed -- all because someone extended a hand.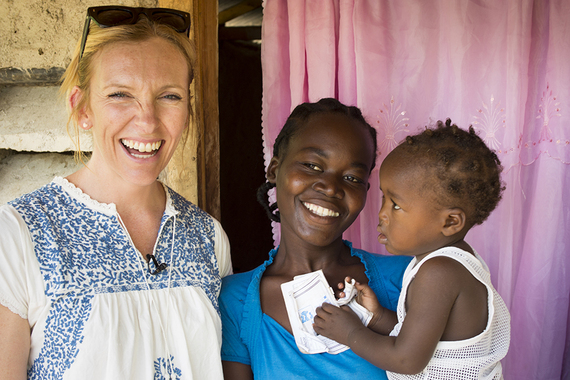 Michaele is one of many people I had the honor of meeting on a visit to Haiti with Concern Worldwide, an organization that is changing lives in Haiti one person, one family, and one community at a time. As their Global Ambassador, I traveled to Haiti to witness firsthand the work that Concern is doing on the ground and speak with those whose lives have been touched by their work as well as those who still desperately need support.
The first thing that struck me about Haiti was the chaos. While much of the rubble has been cleared from the streets and the earthquake is four and a half years behind them, millions of Haitians are still living in grinding poverty. More than 100,000 people are still homeless as a result of the earthquake. They are living underneath tarps and corrugated iron, unable to move to safer, more permanent housing simply because they cannot afford it.
They are Haiti's forgotten ones.
I visited one camp, Cité Cabrit, that is home to approximately 150 families. Sandwiched between a congested highway and the shoreline, the people who live there have next to nothing. No water, no food, no money and no way out. It is beyond heartbreaking.
One of them is Alta Pierre, 60, who lives with her husband and two grandchildren in little more than a tin box. She is caring for her two grandchildren because their parents abandoned them. One of them, five-year-old Angeline, is severely disabled and is unable to walk. When I visited the family she laid on her back on a mattress on the floor, her body limp, but eyes bright.
Alta Pierre used to work, but being a full-time caretaker made it impossible. Unlike most people living at the camp, her husband makes just enough money for them to scrape by but there is nothing left to send the children to school, let alone for rent on more spacious and safe housing outside the camp-turned-slum that they now call home.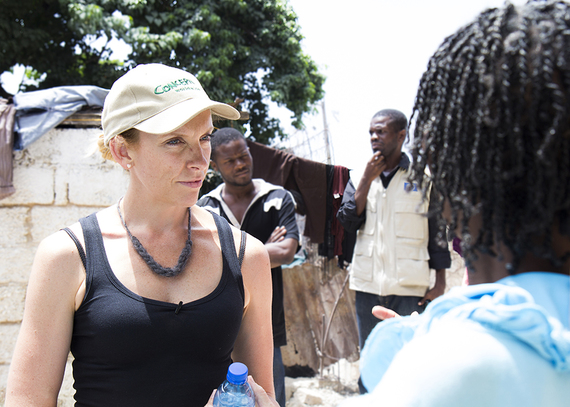 They did not know it when I visited them, but Alta Pierre and her family will soon receive help from Concern to move out of Cité Cabrit into a home, which they will help choose. Since the 2010 earthquake, more than 5,600 families have moved out of camps because of Concern. They do this by paying for a family's entire year's rent upfront so that they have time to save and get back on their feet. If the family needs it, they provide vouchers to send their children to school and work with them to start small businesses.
For families like Alta Pierre's it is completely life changing. For me, it was an eye opening education in how much work goes into helping one family. Everyone's circumstances are varied and different. Concern's approach reflects that. They do not provide blanket assistance to families. Instead, they tailor what each family needs so that eventually they can help themselves.
And just a little help goes such a long way.
I have never witnessed poverty like I did in Haiti. The kind that is so deep and wide-reaching that it feels impossible to make a difference. But I found in Haiti that lives can and are being changed. It may take a lot of work and time but Concern has, and continues to make, serious progress because they stayed long after the world moved on from Haiti. They listen closely to those who need help and believe me it makes all the difference.
For Michaele, it took approximately $40 a month for six months to give her the foundation she needed to completely turn her life around. She was looking for a way out, a better life for herself and her children. All she needed was someone to reach out and extend a hand.
Concern Worldwide is an international non-governmental organization dedicated to reducing extreme poverty through emergency response, recovery and development programs. For information, please visit concernusa.org or follow us on Twitter (@Concern).
Calling all HuffPost superfans!
Sign up for membership to become a founding member and help shape HuffPost's next chapter