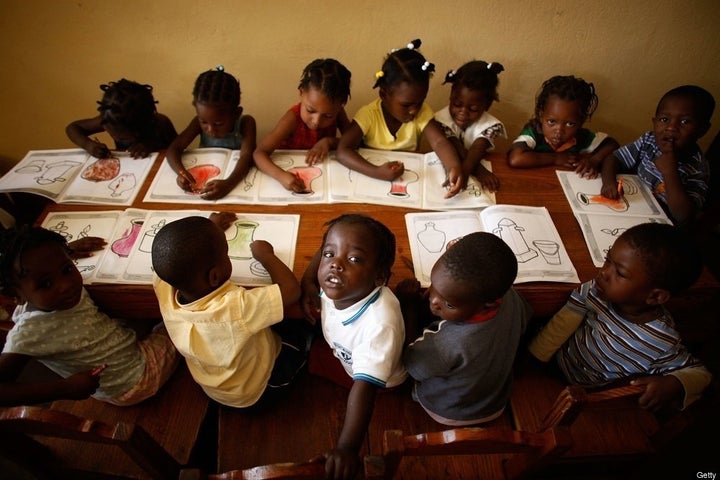 There are many ways to learn about cultures and people around the world. In Haiti, store signs are symbols or photographs, not words. That's because few Haitians read anything except the Bible. Literacy is very low. If I could change one thing for the people of Haiti, it would be to help everyone learn to read.

Illiteracy has huge implications for healthcare. Commercial medical labs are everywhere, listing the tests that can be performed: typhoid, malaria, tuberculosis, etc. Because there is very little access to medical care, the lab becomes a direct connection to the possibility of a cure. Desperately ill people spend money on tests that have no quality control and then ineffective/toxic medication is given at over-the-counter pharmacies without oversight or controls. A lot of illness and misfortune is chalked up to "voodoo." Without education, people are prone to paranoia and unreliable explanations. For doctors, getting at the truth can be both comical and sad. The questions you ask a patient could be based on your culturally backed notion of logic and common sense, but the answers will be mysterious and quizzical.
Today my colleagues and I visited a number of institutions, including St. Damien Children's Hospital, which treats about 50,000 patients a year. The building is open and light, with a lovely garden courtyard filled with wooden zoo animals. The children's rooms are located around the perimeter of the courtyard with outward-facing windows to let in the light. The emergency room and intensive care units appear clean and well-organized.
I've seen a lot of upsetting things in my travels, and usually somewhere along the way I reach my sadness threshold. It happened here at St. Damien's in the malnutrition room, where we met children with visible ribs, bowed legs and hair tinted orange and yellow from nutrient deficiency. Although many of these children were attended by a mother, aunt or grandmother, there was no interaction between the child and their family member. The adults sat silently, disengaged and tired. I'm told that even though hospitals offer nutritional training, families have a hard time adhering to the programs and kids are typically re-admitted with malnutrition a year after the educational program is complete.
In another room we encountered ill and malformed babies who had been abandoned at birth -- Haiti's newest orphans, left here because their families could not care for them. Children who are abnormal are an impossible drain on poor families and are considered "bad luck" all over the world. This is where we come in: WWO will be working in partnership with St. Damien's social services to provide programs for the abandoned children starting in May.
Next we visited Zanmy Benni, an orphanage run by the international organization Partners in Health. Zanmy Benni takes care of 64 special needs children and is a model of hope. Here, disabled orphans find a home filled with respect and love. Most of the children have cerebral palsy and are confined to wheelchairs. The orphanage has a physical therapy pool with blow-up plastic tubes and toys. The dormitory for the children is open and sunny with wooden sliding doors for each suite and the names of the children playfully painted on the walls. The cribs are netted to prevent malaria. There were playrooms, a library, a computer room and a huge playground with colorful equipment.
In the cafeteria we watched sweet, patient caregivers spoon rice and beans to happy kids. It was a very humane moment, especially when I think of all the orphanages I have visited in the last 25 years. Hats off to Partners in Health and its founder, Paul Farmer!
When we look for solutions for Haiti, some come easy and others seem impossible. The matter of social orphans -- those abandoned due to their family's extreme poverty -- is gargantuan.
By providing better nutrition and programming to educate and stimulate young minds, WWO will help Haiti's orphaned children grow up to strengthen their country. Part of our work will entail embracing cultural mysteries and not judging them; dodging and meandering about them until we find a way to work within their bounds.
I love how WWO is referred to in Haiti: "Doobla Vay, Doobla Vay Oh." That is "W" in French twice and then the "O." I heard this whimsical name many times this trip... it is fun and childlike and just right in my mind.
Calling all HuffPost superfans!
Sign up for membership to become a founding member and help shape HuffPost's next chapter