Literature in Haiti lost an ambassador and icon when Georges Anglade was killed, along with his wife, in the January 2010 earthquake. Anglade was a geographer -- a profession outside the U.S. that has a much broader meaning than cartography -- who served as an anthropologist of ladoyan folktales as well as an editor of numerous books. He was also the first president of PEN Haiti.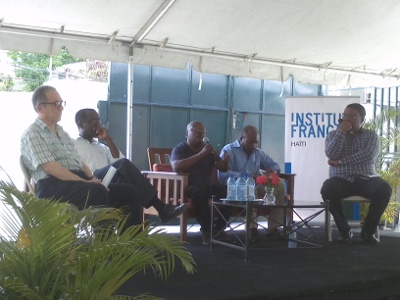 Gary Klang, Louis-Phillipe Dalembert, Lyonel Trouillot, Gotson Pierre, and Frantz Duval at the Liberez Parole festival.
Two years after Anglade's death, PEN Haiti announced its re-emergence on the international literary scene with full fanfare last weekend. I recently returned from its fantastic Liberez la Parole! (Free the Word) festival, which took place in the towns of Port-au-Prince, Gonaives, Verretes, Marchand Dessalines, and Saint Marc. Panel discussions ranged from topics such as "Free Expression in Times of Crisis" to "Women and Free Expression". Literary giants and journalists from inside Haiti and from abroad participated in the lively discussions, demonstrating the fluid nature of the Haitian diaspora. The speakers identified a range of troubling issues, not least the disdain and enmity President Martelly has shown towards journalists, at precisely the moment that vigorous reporting on rebuilding the country is more necessary than ever because of the hundreds of millions of dollars at stake.
Again and again, I was startled by the enthusiasm of local audiences. Young Haitians were not afraid to challenge writers such as the award-winning Lyonel Trouillot or the multitalented Emmelie Prophete on their views, and in one dynamic session a student even told a visiting politician to remain seated until he had finished speaking -- which the politician promptly did. The fact that the festival was not solely based in the megapolis of Port-au-Prince ensured a broader reach and response.
To ground the discussions, the festival examined the life of Jacques Stephen Alexis (1922-1961), a progressive doctor, novelist, and statesman who shaped Haitian literature with several landmark works before entering politics. He was disappeared by the Duvalier regime in 1961, yet left a profound mark upon letters in the country.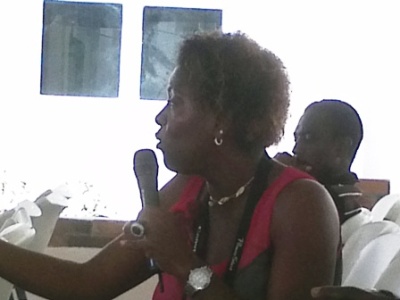 Writer, journalist, and radio host Emmelie Prophete speaks about women and free expression in Haiti.
Like PEN Haiti, PEN itself emerged from tragedy, having been created from the ashes of World War I 90 years ago to foster international companionship and dialogue. And PEN World Voices, PEN American Center's annual festival of international literature, was also born out of crisis, as an attempt to overcome the provincialism and fear that set in after 9/11 and to reconnect America to the world. The 8th annual PEN World Voices Festival of International Literature kicks off next week, bringing 120 writers from 31 countries together for 40 events around New York City. PEN Haiti's Liberez la Parole! festival took place in this mode, and promises to bring the ingenuity and creativity of the country to the world on its own terms.
Liberez la Parole! was co-sponsored by PEN Haiti, PEN International, and PEN American Center in conjunction with several local partners. We will be releasing highlights and interviews from the festival over the next few months.
Related
Popular in the Community