As a Global Maternal Health Advocate, I get to travel the world quite a bit meeting individuals and visiting programs with tremendous potential and incredible vision to improve the quality of life for countless others. These trips help to educate me about the challenges and solutions facing vulnerable populations, particularly mothers and children, in regions where maternal and infant mortality ratios are disproportionate. When I visit many of these places on behalf of Every Mother Counts (EMC), the campaign I founded to reduce preventable deaths related to pregnancy and childbirth around the world, I am reminded that what's often most needed is education and access to others who are educated. When I say education, that includes primary and secondary schooling, yes, but there are many other levels of education that are also required to meet and improve upon the health needs of so many. Sexual and reproductive health education and human rights education are almost always lacking, even when others are available. When you look at education through a global health lens, the ripple effects of higher education on communities and populations sharpens immensely.
One of the best examples I can think of to illustrate this point is in Haiti, where I last visited this past spring. My trips to Haiti over the past few years have taught me that the people of this beautiful country are quite capable of combating their current climate of high maternal and newborn death rates (the highest in the region) through training, mentoring and the education of nurses, midwifes, and skilled birth attendants.
Even though Haitian women are considered the "poto mitan"-- the "central pillars" of the family and their communities -- they are often the most underserved members of already poor communities. Like too many other developing countries, Haiti and its 10 million people suffer from a shortage of skilled healthcare professionals. There are only 25 physicians and 11 nurses per 100,000 residents, and only one midwife/nurse-midwife for every 1,000 live births.
Though I have seen this countless times in other countries, my travels to Haiti offered several opportunities to witness how access to trained maternal health professionals can dramatically impact the health and education of entire communities. I also saw how outreach to traditional birth attendants in rural communities can provide a much-needed bridge to the healthcare system. In a country where more than 70 percent of women deliver at home, it is essential to leverage traditional attendants so that women can be linked to skilled providers in medical facilities.
Back in January of 2012, Every Mother Counts visited the already impressive construction site of the Hôpital Universitaire de Mirebalais (University Hospital) with Partners In Health (PIH) and their Haitian sister organization Zanmi Lasante (ZL) for the first time. What struck us most then was the infectious enthusiasm of PIH co-founder Dr. Paul Farmer and his Haitian colleagues about what this facility represented to the Haitian people just two years after the devastating earthquake that destroyed much of the capital city, including the main public hospital there. The mission of University Hospital is to train a wide range of healthcare providers to deliver the highest standard of healthcare to the Haitian people. We were also impressed with the general layout and plan of this hospital, with easy access to the emergency room and its proximity to maternity and NICU departments. Since that first visit we knew we had to find a way for EMC to support the training of the staff that would provide care and support to expectant mothers at University Hospital. I returned last April for an opening celebration of University Hospital to see much of PIH co-founders Dr. Paul Farmer's and Ophelia Dahl's dreams for Haiti that began so close to this hospital's site -- nearly 30 years earlier -- much realized.
Now, four months since the hospital has been officially opened and receiving patients from a catchment area of roughly 3.3 million people, Every Mother Counts is thrilled to announce a new grant to support the training of Haitian nurses including auxiliary nurses, nurse-midwives, and birth attendants in normal birth management; how to better diagnose and manage complications; and to provide emergency obstetric care at University Hospital. The grant will also include the training of Ajan Fanm (women's health agents -- including traditional birth attendants, or matrons), to be able to identify high-risk pregnancies in their communities, so that they are better able to refer and accompany those cases to the appropriate level of care. We are so excited about the potential of this new group of health workers who will undergo training through this partnership because we know that the ripple effect of the knowledge and skills they will gain at University Hospital will spread beyond their communities and that someday, everyone in Haiti will have access to the same quality of healthcare.
As we've learned through our work in Haiti and elsewhere, the effective delivery of high-quality maternity care requires systems that link women in their homes to community health workers, who are their neighbors; to clinics able to provide the basic women's health services all women need and deserve; and to hospitals and health safety nets. Building the capacity of these systems requires dedicated partnerships integrating research, training, and service. So I'm grateful to Christy and the whole Every Mother Counts team for sharing this vision, and for helping us make it a reality at University Hospital in Mirebalais. This grant, and the clinicians and specialized community health workers whose training it will support, will improve the lives of women and children we serve at the new hospital -- and far beyond it.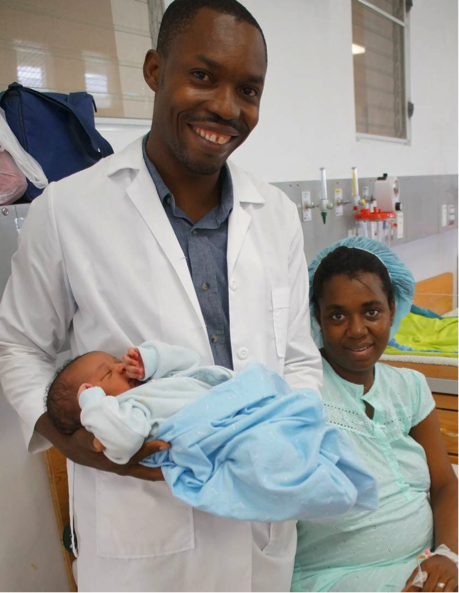 Rosane Mathieu, right, smiles as Dr. Christophe Milien holds her newest son, Germaine, who was delivered early in the morning on July 9, 2013, at University Hospital in Mirebalais, Haiti. Baby's weight: 9 pounds, 9 ounces
Credit: Rebecca E. Rollins/Partners In Health
Related