 The next time you are stuck in gridlock and cursing your wretched commute, imagine this for some perspective: waking up in the dark each morning to travel on dusty, unpaved roads by Tap-Tap -- a brightly colored, converted pickup truck in which you sit, squeezed together with nine other passengers in the flatbed, and tap the sides when you want the driver to stop and let you out.
This daily commute was the only thing that kept Anita Joseph's family afloat after her stock of pig feed, which she sold to locals in her Haitian village, was wiped out by floods earlier this year. Anita traveled 80 miles by Tap-Tap each day to buy goods to sell from her home, earning just enough to feed her family. Today, she no longer makes that trip -- Anita is one of 4,000 clients in Mercy Corps' microinsurance effort called MiCRO (Microinsurance Catastrophe Risk Organization).
Haiti, with a population roughly equal to my native Los Angeles County, has been often referred to as the "republic of NGOs" because of the nearly 10,000 nonprofit, nongovernmental organizations (NGOs) operating there. Despite this, millions of people still live in destitution and a substantial amount of work is needed to rebuild the basics of a functioning society following the 2010 earthquake. Even so, it is easy to understand why people are drawn to Haiti; it is less than two hours from Miami (one of our nation's richest cities) and it is entirely possible to create lasting change in this small nation.
In March, I was invited to attend a small Santa Monica event to learn about the work of Mercy Corps. The invitation found its way to me because of my involvement with The Dark Knight Rises and Mercy Corps' campaign with DC Entertainment called We Can Be Heroes, which enlists the Justice League to help fight famine in the Horn of Africa. Mercy Corps is 34-years-old and has quietly spent more than $2.5 billion helping people in 114 nations. Yet, due to their general aversion towards marketing, I knew nothing about the organization until the event that evening. Fast-forward three months; I touched down at the vibrant Port-au-Prince airport and was on my way to see Mercy Corps in action.
I drove with the Mercy Corps team through downtown Port-au-Prince, instantly awed by the contrast between the Royal Palace, which was still a heap of rubble, and the grand, chaotic Iron Market, an iconic building which was destroyed in the earthquake and rebuilt to meet internationally accepted building codes (prior to the quake, the country had no building codes). The new Iron Market, teeming with transactions, seemed to stand tall as a symbol of hope and progress.
My visit centered on a trip to Mirebalais, a city 40 miles northeast of Port-au-Prince, to learn about MiCRO, a microfinance program Mercy Corps created with Fonkoze, Haiti's first true bank for the poor. Mercy Corps saw a need and an opportunity after the earthquake: Haiti's geography and climate make it vulnerable to hurricanes, flooding and earthquakes, and its weak infrastructure provides no resources for the country's small-businesses -- which support most of the rural economy -- to recover after natural disasters. Mercy Corps decided to fill this gap by focusing on women, who are underrepresented in Haiti's business sector but often serve as the sole providers in rural families. They are aptly referred to as the backbone of the Haitian economy.
MiCRO is an innovative safety net and foundation for small business owners. When clients take loans, they are automatically enrolled in a unique form of catastrophe insurance (called parametric insurance). If a natural disaster occurs, an expedited insurance payout is issued depending on a client's proximity to the disaster's epicenter and its magnitude. Bypassing normally lengthy claims assessments, beneficiaries can quickly begin to rebuild their businesses, making them less likely to default on their original loans. In addition, loan recipients must also attend courses such as basic literacy, business skills, environmental rights, child's rights and healthcare. Under this female-centric, forward-thinking model, 98 percnent of loans are repaid.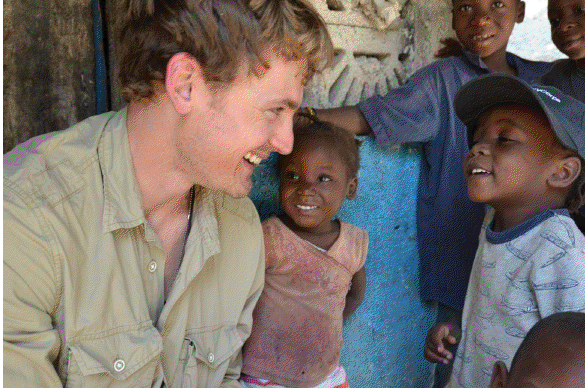 Playing with the children of a MiCRO beneficiary family in Mirebalais. Photo courtesy Jeremy Barnicle, Mercy Corps
We drove to a rural village outside of Mirebalais to see firsthand what Mercy Corps and Fonkoze have achieved through MiCRO. It was there we met Anita Joseph, whom I mentioned earlier. She was an affable, soft-spoken woman who told us about her home, her children and her business. Because she was enrolled in MiCRO, Anita received a payment within days and was able to build a roofed room adjacent to her home to safely store her pig-feed, the family's primary investment. She said the loans and expedited insurance payouts saved their lives.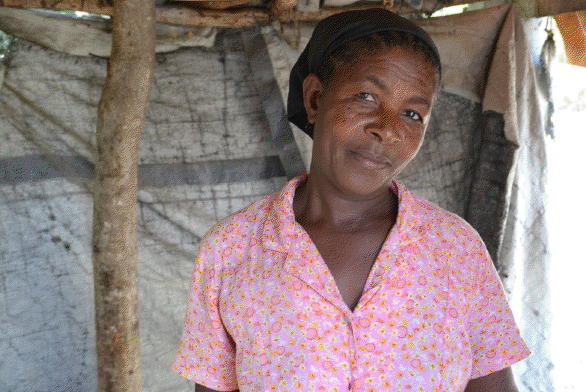 Photo of Anita Joseph in a room of her home. Photo courtesy Jeremy Barnicle, Mercy Corps
I heard many anecdotes about how support from Mercy Corps and other organizations has transformed lives in Haiti. Though I assumed that most organizations performed similar functions after a catastrophe like the earthquake, on the ground I witnessed an endless variety of needs addressed by a multitude of groups. What makes Mercy Corps truly remarkable is their innovation and focus on long-term results, through technology, education and microfinance, as well as their unfaltering determination to help re-build the country's capacity to thrive without the help of Mercy Corps and other NGOs.
I left Haiti inspired and uplifted by the lessons of a resilient, vibrant people, with an abundance of community and culture. As complicated as it may seem, with a surplus of available opinions questioning the efficacy of NGOs, in the end it is very simple: when you stand face-to-face with a person who is shedding tears of gratitude for the support they have received and witness their progress, it is clear that help is not in vain. Call it naiveté, call it blind faith, call it Pollyannaish. Or call it what it is: hope.
Calling all HuffPost superfans!
Sign up for membership to become a founding member and help shape HuffPost's next chapter