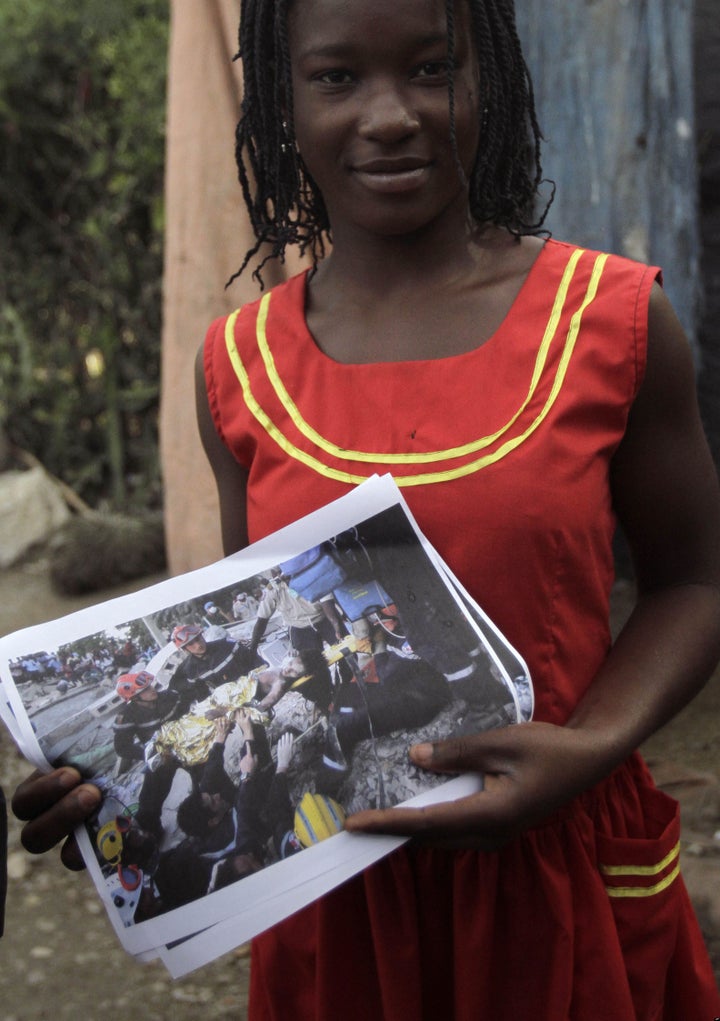 Today marks the one-year anniversary of the earthquake in Haiti that rocked the world. At least 230,000 people died during the quake. Thousands more have died since then.
People in the street I know like Reynald, Murielle, and Michaëlle plan on staying home or going to pray. Reynald lost both his aunt and uncle; Murielle, her father, and Michaëlle, her son. "He always promised me he would succeed in school so he could be a doctor to help his mother," Michaëlle said, for the first time since the goudougoudou (earthquake) able to shed a little tear in front of me and her neighbors.
For its part, the government will likely be responding to a leaked Organization of American States (OAS) report about the November 28 elections that many observers declared critically flawed (which were imposed by the international community, as "it makes my job easier" according to U.N. Special Envoy Bill Clinton). The report declared that President Préval's hand-picked successor (and also son-in-law) Jude Celestin was edged out by populist favorite Michel Martelly, a.k.a. konpa star Sweet Micky.
Late yesterday morning, Celestin and Préval were at the public dump in Titanyen where they buried Haiti's unnamed victims, just meters away from a camp in Kanaran, which was to be the site of a day of reflection for a network of social movement organizations including FRAKKA (the Reflection and Action Force for the Housing Cause), Bureau des Avocats Internationaux (International Lawyers' Office), Batay Ouvriye (Workers' Struggle), Bri Kouri Nouvèl Gaye (Spread the News), Inivèsite Popilè (Popular University), and a range of constituent groups, including camp committees. The sun was hot, the wind blowing dust from the eroded mountains. People stayed in their makeshift homes dotting the jagged landscape, possibly to ensure their belongings didn't gust away. But the paltry attendance was more attributable to politics.
In this camp -- not officially recognized -- where some 60,000 people live, there is not one but two official committees. In one "turf" was the camp's only water supply and toilets. On the other sat an empty and ripped UNICEF tent, on which graffiti denouncing the other committee representative was written (according to the committee member who gave me the tour). In the neutral zone, dwarfing everything around it, including the tents, toilets, and the wood structures that were to replace a makeshift school made on one side of the camp, people were building a sound stage using professional building materials and not merely scrap. "We're going to have a big crusade tomorrow," boasted this committee member. While not wanting to be too direct, I asked who was going to come. He continued, saying that international organizations, the government, and NGOs were going to be there yesterday afternoon.
A barber whose shop sat across from the sound stage said what was inevitably on many people's minds: "Instead of spending $1,000 driving people here, renting the equipment and all this, they could just give us food. We're starving."
Yesterday's setback highlights the fragility of the movement as well as its stakes. It also highlights a concern about representation and mobilization: who has the right to speak for Haiti's 1 million internally displaced people (IDPs), as some international agencies un-ironically call the "voice of the voiceless."
Despite yesterday's shortcomings, the popular movement network had progressively growing mobilizations the three days prior, in Cité Soleil, in the Industrial Park, and in the Carradeux area which housed the thousands displaced from the St. Louis de Gonzague camp. The events included performances from local artists, testimony from camp residents, and presentations from activist groups and scholars.
Most of the groups who will be staging events today are NGOs, to attract some foreign media attention to their efforts. Today will begin an onslaught of reports and figures about what they accomplished in the year.
To be fair, there has been some progress made in some areas. More children are going to school this week than last summer; more of the rubble has been cleared; more people have moved into homes.
In my neighborhood of Christ-Roi, Catholic Relief Services has partnered with Hospice St. Joseph who has been in the neighborhood for almost 20 years and who has been in touch with grassroots groups, to build 200 houses out of wood for people who could prove their status as landowners. CRS has also begun building these homes for people forced out of the St. Louis camp.
Women's organization KOFAVIV has opened a large center offering women victims of violence counseling, psychological support, emergency shelter, flashlights and whistles, referrals to emergency medical aid, and workshops on handicrafts so that women as young as 12 have options other than prostitution.
Despite figures coming from NGOs and individual success stories, life for the overwhelming majority of people in Port-au-Prince, especially the million-plus IDPs, has only gotten much worse.
One index of this is cholera. The last official count put out last week cited 3,600 people dead and 170,000 cases of cholera, barely two months after the outbreak began. According to UN cluster officials, this is very likely an under-count and is still not at its "peak."
"Cholera changed everything," said a government official.
Almost immediately the official population of the IDP camps plummeted. Said a sanitation expert, "Cholera most definitely played a role in individual families' migration decisions. People are, have been, and will continue to move around. Cholera tipped the balance in favor of leaving the camps."
In a camp in Carrefour informally called Ti Bato (Little Boat), 33 cases of cholera were recorded, of 350 residents. As of last week, almost a year after the quake, the camp still lacked a single toilet. The camp committee leader showed my research assistant where people defecate in the open air, twenty meters from the shelters.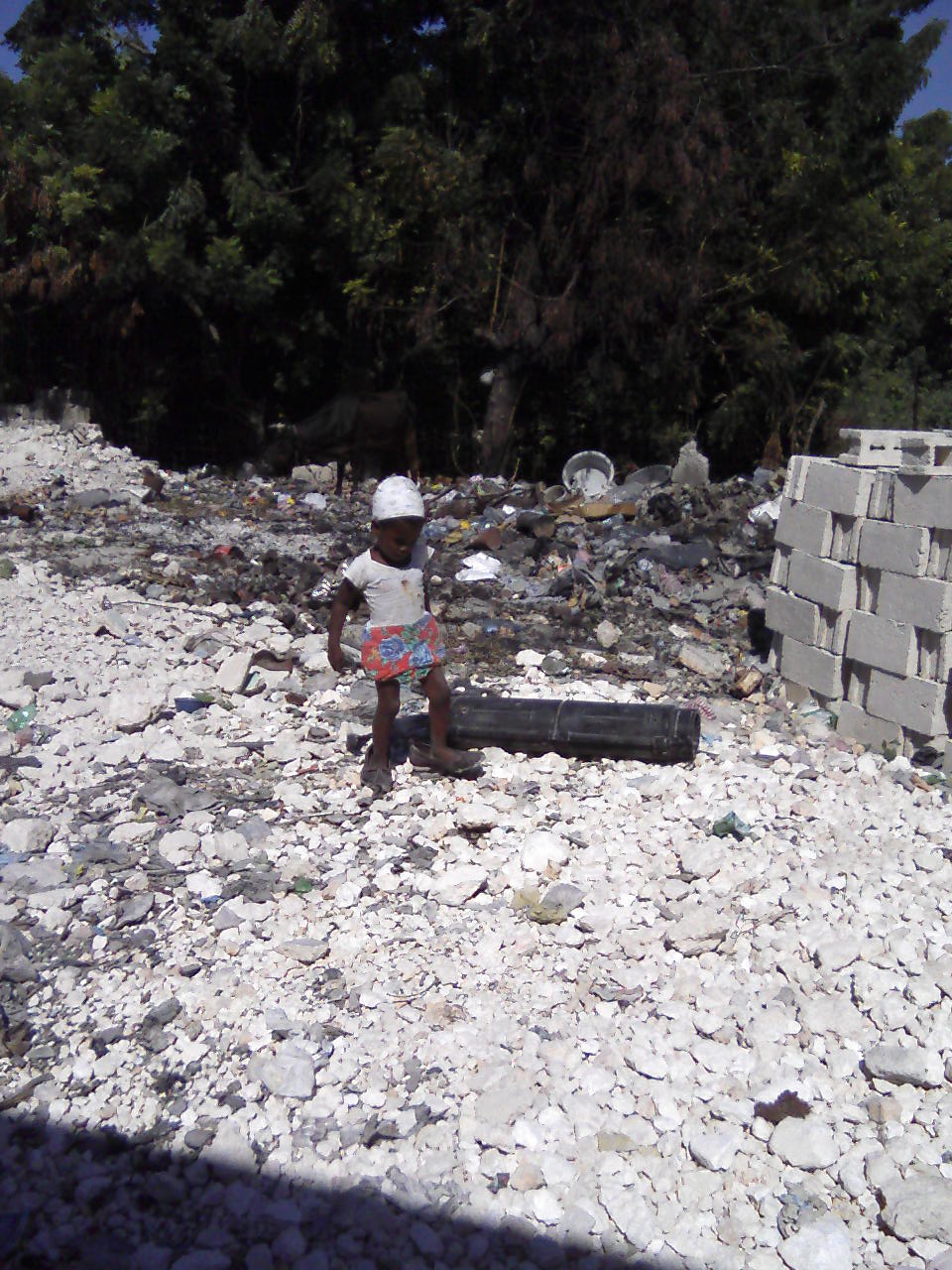 Also in Carrefour, at an Adventist Church, there were still no toilets when the cholera outbreak began late October, ten months after the earthquake. Church leaders had been giving verbal warnings for people to leave. People stayed until one day, eight cases of cholera were recorded in the camp. The next day, all 546 people fled the camp. Where did they go? Some went to another camp. Others pitched what was left of their tent after ten months of tropical weather in front of a friend's house. Some may have squatted on an empty house. Some may have gone to unofficial camps like Kanaran. Others may have created a whole new camp recently "discovered" by aid officials.
"The thing is, OIM (the International Organization for Migration) has responsibility to officially registered displaced people, not just people who live in camps. They have a responsibility to do some follow-up," decried a Haitian government mid-manager.
Many other examples can be cited about people abandoning their camp following the cholera outbreak, especially if the camp did not have essential water and sanitation services. One camp in Tabarre, Levi, is a shell of its former self: only 30 of 486 people remain following the cholera outbreak. The camp never had a toilet, so people went to a neighbor's house. Neighbors' generosity has limits, especially after the outbreak of the fecal-borne disease.
This summer I conducted a study of a random sample of over 100 camps, one in eight of those in the Port-au-Prince metropolitan area. Of this sample, as of August, 30 percent of camps lacked a toilet, and 40 percent lacked water provision.
How much progress has been made since the cholera epidemic, and the $173 million U.N. flash appeal?
Last week a group of State University of Haiti students followed up on 45 camps that lacked one or the other essential service to prevent cholera. Only 4 additional camps have water or toilets: 26 instead of 30 percent of camps still don't have toilets, and 37 instead of 40 percent of camps don't have water. Eight camps closed because of the lack of services. Still another three closed because land owners -- all three of them churches -- forced people off their land. In all, one in four camps has since closed, and this does not account for other camps that did provide both water and toilets.
Water is a more serious concern: donors have cut off emergency water rations at the end of 2010 in at least four camps studied. The last water distribution for Cité Soleil camps Tapis Vert (20,000 people) and Camp Nielo (763 people) was December 31. "This doesn't make sense. We're in a crisis!" said a WASH cluster employee. "To turn the spigot off while we're in the middle of a cholera epidemic is tantamount to genocide."
Why, despite the figures put out by NGOs and the international community and dutifully reported in the media, about service delivery, are we not only not making progress but in many indicators failing? "In short, a lack of accountability" said one international aid worker.
Even before the earthquake, donors' reward structure works against collaboration, coordination, communication, and participation. In particular, the NGO system before the earthquake has failed aid recipients in the following ways:•They can undermine the capacity of the state (NGO salaries, for example, are often triple that of the government) •As private actors NGOs have no structural accountability to the people served (if they fail to deliver the community has no recourse and often isn't aware of the promises made in the first place)•As private actors NGOs do not have to submit to state authority to work in under-served areas (only 10-20 percent even gave their annual report to the Haitian government, for example) •Lack of coordination and collaboration between NGOs, local entities, and the state•Etc.
The earthquake didn't solve these structural problems. By infusing the system with ever-increasing cash, it only got worse.
A solution proposed, following the post-tsunami experience was a "cluster" system. There are twelve clusters, each responsible for a sector (for example, education, health care, water and sanitation, etc.). Despite the promises, the cluster meetings exclude local voices: all but the WASH cluster were held in a U.N. base and many were in English. They are also performative, not deliberative space: instead of focusing on problem-solving the meetings tend to be spaces to communicate "messaging" or promote an NGO or for-profit service, for example. Again, the notable exception was the WASH cluster.
So in the end, no one individual agency has to take the blame for the collective failure. No individual agency can be compelled to provide needed services in the camps. The one agency that can, the Haitian government (national or local), is still under-resourced despite the billions in aid sent to Haiti.
To sum up, "The bottom line is we have no carrots and sticks. NGOs are private agencies and pretty much can do what they want." Many in Haiti speculate that this is exactly the way the international community wants it: foreign agencies in control, and the Haitian people and even the government on the sidelines.
Another big issue is the funding. Whether it's donors only sending 40% of what they should have for 2010 or NGOs only spending a fraction of what they collected, we have the power to turn the tap on. If we as individuals and governments do nothing else, sending the blocked funds to Haiti will save lives.
Despite all this, the IOM has declared the 31% decrease in camp population a success, even hailing it a "light at the end of the tunnel."
To claim success for the failure to provide water and sanitation services following a still-growing cholera epidemic is beyond being out of touch. Rather than seeing light at the end of the tunnel we need to act fast to stop this oncoming train.
Related
Popular in the Community