The anniversary of any disaster offers a moment to reflect, no more so than in Haiti where more than 1,000,000 people remain displaced a year after the 7.0 earthquake destroyed lives and livelihoods.
Even in the best case scenario rebuilding takes years. In Haiti, violence, political uncertainty and the recent cholera outbreak have slowed the work.
Despite these hurdles, my team at Architecture for Humanity is making strong progress. We started out with a plan for reconstruction when we first posted here on Jan. 17, 2010. To implement visionary plans you need to build a strong foundation, one that is responding to immediate needs but making sure we are enabling projects for economic stability and local ownership.
In this first year this is exactly what we did. We've established a rebuilding center, distributed a basic guide to rebuilding safely to thousands, funded masons training and building assessment programs, helped with the construction of temporary clinics, provided urban planning and construction expertise to our partners, and most critically, worked to rebuild schools. All told, our services have impacted the lives of more than 37,935 people to date. A relatively small start, but now we have a strong base in country I expect to see those numbers increase exponentially.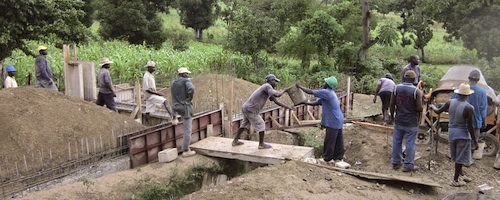 Our impact
Distributed Rebuilding 101 Manual to 5,000+ builders
Provided Mason training grant impacting 500 builders
Schools in design and construction: 7, impacting 3027 students
Hosted 58 visiting construction professionals (long-term and short-term)
Performed damage assessments of structures impacting 4218 people
Designed camp improvements and upgrades impacting 25,000 people
Number of Haitians employed on projects to date: 1,340
Total design and construction beneficiaries to date: 37,935
The Rebuilding Center
Looking ahead, we're excited about our partnership with the Clinton Bush Haiti Fund to help rebuild small businesses, restore jobs, and bring Haiti's economy back to life. The investment in our Rebuilding Center in Port-au-Prince will enable small and growing Haitian businesses to participate in post-earthquake reconstruction and ensure rebuilding incorporates better design and engineering.
The Rebuilding Center will serve as a one-stop-shop to provide technical expertise to Haiti's construction sector. It should help put more than 5,000 Haitians back to work and benefit the lives of 30,000 people within three years by providing workforce training, consumer education, and professional referrals. Part of this work will include supporting lenders and micro-finance institutions making construction loans. The goal: To make sure Haiti design and construction firms are aware of--and can compete for--reconstruction bids and tender opportunities while helping Haiti's entrepreneurs build back better.
Student Clients, Student Funders
Haiti not only changed the way we give, it changed the way we report back. Our largest individual donor block came from secondary school students as part of Students Rebuild, an initiative that has partnered us with the Bezos Family Foundation and Global Nomads Group. Teams of students are raising funds with a dollar for dollar match up to $2500. With hundreds of donations coming in we needed to adapt to the way we report. Instead of monthly updates, the team on the ground provided weekly diaries reporting on everything from design ideas, price gouging, post-election rioting to demo and clearance of schools. There was live videoconferencing between our Haitian student clients and student donors. The most poignant was one between a school in New Orleans displaced by Hurricane Katrina and one in Port au Prince. Additionally we developed a K-12 standards-based curriculum and hands on design workshops. Through Students Rebuild we're rebuilding schools, brick by brick, day by day with funds raised for students by students.
If you are a student or educator, why not join us.
Fall Update 2010: Global Nomads Group shows what's going on in Haiti.
Credit: Global Nomads Group
It's Hammer Time: Schendy Kenizan at a demolition site in Pele.
Design Matters: Eric Cesal on the role of architects in Haiti.
Credit: Architecture for Humanity Auckland
The Daily Jam: Architect Yves François on his daily commute.
Below are three examples 'on the boards' and ready to break ground.
Finally, the transition from humanitarian assistance to economic development takes at least five years. We need to give thanks to the patience and determination of the citizens of Haiti. They did not ask for this task but they are bound together by it. We are just fortunate enough to be asked to help support their vision and to build strong foundations for future generations.

Calling all HuffPost superfans!
Sign up for membership to become a founding member and help shape HuffPost's next chapter