Regine Simon-Barjon was the heart, soul, and conscience of the Haiti "reconstruction" conference at the Sofitel Miami Hotel on March 9-10. The International Peace Operations Association (IPOA) sponsored the event in conjunction with the UK firm, Global Investment Summits Ltd.
IPOA bills itself as a "nonprofit trade association," while journalist Jeremy Scahill prefers the label "mercenary trade organization." He may be right. Blackwater was a member of IPOA until a series of scandals broke in 2007 involving a massacre of unarmed civilians in Iraq by Blackwater guards. Global Investment Summits, imposing name aside, is a provider and organizer of business "summits." Why trade organizations use the term "summit" is beyond comprehension. Sure, luminaries like Bill Clinton and the Word Bank were invited, but they did not show.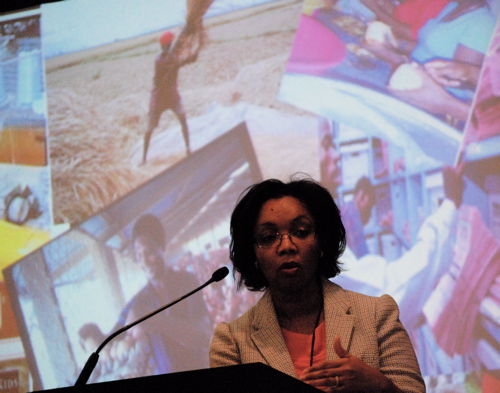 But Barjon, speaking for the Haitian-American Chamber of Commerce as the CEO of Biotek Solutions did, and she courageously faced off against a room full of companies, some well-intentioned and some not, who were poised to get paid lots of money to provide "aid" to earthquake-ravaged Haiti.
Providing an analysis of the intentions of the 21 NGOs, IGOs, government agencies, and representatives from private sector businesses is impossible in this limited space. Buzzwords were as numerous as malaria-carrying mosquitoes, which will multiply exponentionally and swarm mightily as the rains begin to fall on Haiti this month. There was plenty of talk of microfinance, housing, energy, agribusiness, development, remittances, and the need for Sab"security" as ominous predictions flowed from the podium and morphed into "fact" in private discussions. I thought of Naomi Klein ( The Shock Doctrine) and her no-nonsense admonition that anyone who was afraid of Haitians should get the heck out of Haiti. When there is societal breakdown as a result of natural disaster or war, the need for reasonable security is a reality, but the militarization of Haitian society by "security firms" bought and paid for with American dollars is certainly not the answer.
Case in point. After the mandatory morning coffee break, and before Barjon took the podium, there was a curious and frightening presentation by Sabre International. Founded by British Special Forces (SAS) veteran Thomas McDonald. Sabre's corporate vision is decidedly mercenary. You run into ex-SAS operators in Congo, too, but they are more often lone wolves looking to offer their "services." A former SAS mercenary artfully handed me over to the Congolese secret police a while back. You don't want to mess with them, period. Sabre has formed a hunting pack; let's hope they don't run free in Haiti. At least two years of experience in Iraq, Afghanistan, or other high-threat locations is a plus if you are looking for employment. Sabre's clients include CNN, the BBC, USAID, the Department of State, and the US Army, among others.
Other than its website, Sabre keeps a pretty low profile. The company was mentioned in an April 2009 article by the Associated Press (AP) that detailed security problems and possible malfeasance by security firms at Forward Operating Bases Delta and Hammer in Iraq. Sabre was operating under a $42 million contract at Base Hammer.
U.S. officers at Base Hammer said they did not feel secure due to the inadequate qualifications and training of the guards, according to information the commission has sent to military authorities, members of Congress and the State Department. The officers at Hammer required the Sabre guards to take a 40-hour course on security operations before they could begin working.

Sabre representatives could not be reached for comment. The company's Web site does not list a telephone number. An e-mail message was not immediately returned.
So, not surprisingly, Sabre showed up with a big presence at the Haiti conference, and no one was sure about who they are and what they intend. Journalists like to seek each other out at these events and the initial consensus as we traded email addresses was that intentions were "murky." Or were they?
Sabre spokesman Derrell Griffith issued the warning several sentences into his speech: "There will be civil unrest (in Haiti)," and "comprehensive security measurements" will be necessary in the next 60 days as the rains come. Scary stuff indeed, and he skillfully set the tone of fear before introducing the soft solution of housing. Heck, he even offered to offload housing containers as a gesture that Sabre was "more than a money-making scheme." So, the video played out and you can listen here --all flutes and soothing drumbeats supporting a Hal-like female narrator. There was an obvious problem, one that was hard to miss--the video was all about Iraq and Afghanistan and not at all about Haiti. Draw your own conclusions.
The company's "Corporate Capability Brief" was freely available at Sabre's booth and it wasn't about housing. Surveillance and counter surveillance, dogs, concertina wiring, mortar-resistant roofing, offshore rig security, sandbagging--you name it and the intent was clear. There was one page about modular housing, but the most fascinating use of the modules is as "unmarked containers to house entire security elements." The module holds up to 10 security team members, has a built-in armory, and requires only water and power hook-ups. These modules are advertised as "self-contained armed security forces for ships traveling on pirate routes." Beware the possible Trojan horse that Sabre has so freely offered in terms of modules they have already shipped to Haiti as a gesture of good will.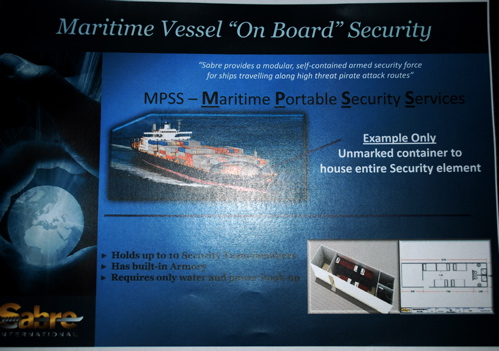 OK. So that was the bad and the ugly. The devil was in the details of the Sabre offerings, but Barjon offered a welcome oasis of sanity, common sense and truth after listening to OXFAM, "Harbour Homes," World Vision International, the Overseas Private Investment Corporation, and other companies who are in the disaster business make their pitches. Still, it was unclear to whom they were pitching, unless it was the Department of State and Congressional Research Services representatives who were clearly keeping their heads down.
Rebuilding Haiti's Economy
"We can grow our own chickens," Barjon said, and she was not joking as she faced the audience of mostly white males. Haiti imports some 9 million eggs A DAY, when the country is capable of producing its own food supply. Lending has been a problem and micro-loans are a decidedly weak link. $2,500 will set up a roadside stand selling Coca Cola and candy, but will not support the smallest agri-business or retrofit the rusting and dilapidated sugar cane grinding facilities. Pulling no punches, Barjon laid it out: 60% of the Haitian work force is in agriculture. Food security is a top priority and it will serve to put an end to Haiti importing much of what it can produce at home.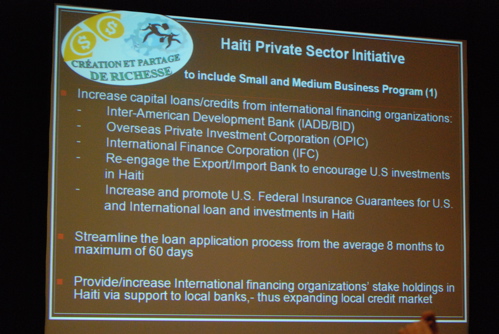 Sugar is a huge resource, but unless there is money to keep the mills in operation and unless the US sugar cane industry releases its stranglehold on imports, Haiti will never resume its annual production capability of 250,000 metric tons of raw sugar. This translates into $100 million a year. This is not a new story. If she were alive, you might ask Hawaii's dethroned queen Liliuokalini what happens when colonial interests destroy a society. These issues were paramount before the January earthquake, which took up to 300,000 lives and counting. Sugar, rice, and poultry imports represent 50% of the Haitian trade deficit.
Increase international capital loans and promote US federal insurance guarantees. US funding of mercenaries offers no return. The militarization of Haitian society is not an investment; it is jingoism and opportunism funded on the backs of US taxpayers.
While the international investment community is at it, they should also streamline the loan application process from eight months to a maximum of 60 days.
Increase rice production to meet its potential of $350 million per annum and poultry to a whopping $185 million per year.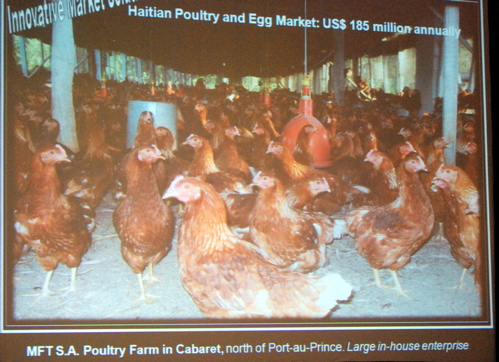 Haiti can take care of itself if it is not straightjacketed by the aid industry. Barjon made sense.
I was amazed that Barjon did not rise out of her chair when John Mercier of the American 501 (c) (3) Fonkoze suggested that she must have had all of her formidable statistics "written on her hand." Mercier went on, incredibly, to suggest that you couldn't just hand out loans to Haitian women without giving them "guidance." Women are basically helpless was the message, and his organization, by golly, would provide the needed "coaching"--for a price.
Barjon's family has 200 years of history in Haiti. She was very transparent in admitting that Haiti had been good to her family in terms of monetary gain. She succeeded without the help of an American aid organization.
And so it went on day one. Lunch was hard to stomach, served in plush surrounds, complete with white tablecloths.
This writer attempted to sit alone in the back of the room, but an American fresh from Haiti wanted to join me, and he might turn out to head one of the ethical security companies. Initially not wanting companionship or conversation, my Midwestern politeness took over and I agreed. Turns out there is a 40-year-old woman in a seaside town who needs orthopedic help.Her name is Jeannette and she is in a hospital bed with sub-orbital fractures, a broken nose, fractured arm, and crushed pelvis. American doctors saved her and about 70 others at this remote hospital, but they are gone now. Clocks punched out. There is no after care and the under trained and underequipped Haitian doctors are at a loss about what to do next.
This article was first posted at the LA Progressive. Dick and Sharon have offered an interactive format whereby readers can ask questions while we are on ground in Haiti. Thanks for the opportunity. Facebook is already picking it up.
When we check back in with the LA Progressive, hopefully, it will be after we have found Jeannette. Priority one. Let's hear her story. It will be a good beginning.
Related
Popular in the Community