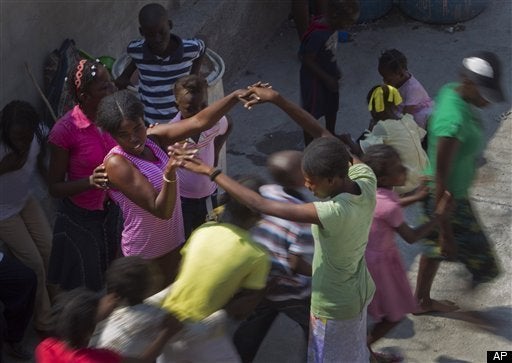 Think about the ingredients of this story: A classroom stacked with backpacks sewn by students. A ton and a half of donated shoes. A schoolhouse loaded into a plane and then flown to Haiti. A 5-year-old who saves food for his parents and in so doing, sacrifices his own life. The unstoppable vision of a sixth-grade teacher.
Let's put those ingredients together, starting the day after the earthquake devastated Haiti in 2010. Melissa McMullan, who teaches sixth-grade English in New York, came to school to find her 10- and 11-year-old students preoccupied with the disaster. She devised a school-wide interdisciplinary unit to help the kids participate, brainstorming the idea of sewing backpacks, filling them with supplies, and distributing them to Haitians evacuated to the United States.
Good plan. But it failed.
Back then, small groups didn't get traction when it came to helping, and the backpack effort might have washed out but for Jonathan Nash Glynn. He was a pilot planning a nice winter trip to Florida when the earthquake hit. He had a mid-life course correction, and instead he landed in Haiti. He spent 19 days flying medical supplies and doctors around the region. Melissa learned about him from a newspaper article, and when they met he said he could fly the kids' backpacks down to Haiti.
Success this time. But there was more to do. Melissa decided she needed to see Haiti herself. "The students are so invested in what we're doing, but I'm not connected with it." A few days later, she was there:
I think Haiti just took my heart. I couldn't get over the beauty and spirit of the people. I couldn't get my head around the suffering that was all around me, and still people were happy and moving about their lives as best they could. It generated a deep resolve to do what I could to remedy the situation.
Melissa saw on the trip that nobody had shoes. "I came back and said to my students, 'We need shoes.'" She and her students gathered one and a half tons of donated shoes and sent them to Haiti by way of bus, truck, and finally, the University of Miami football team, who helped load them onto a plane for Port au Prince. "My students were part of this whole big chain of people helping people," she told me. Good learning experience.
After all, she's a teacher. Melissa came to the conclusion that a school supporting critical thinking skills would be good to have in the part of Haiti she'd seen. She had no idea how to open one, but she went there with Shad St. Louis, a school guidance counselor and Haitian native living in the United States. He became the school's Haitian director. With Jonathan Nash Glynn as lead fundraiser, and Melissa as school director, they raised enough for a pre-fab school structure to be packed up and flown to Haiti. They had their classroom for 42 kids. They hired Haitian teachers and got the Internet working, but there was more to do.
One of the kids at the school died suddenly last June. "He was taking the protein bars we were giving him and giving them to his parents without our knowing," Jonathan told me. The 5-year-old boy's name was Jean Elie Cadet.
Melissa said that Jean Elie taught them to look at the whole family, not just the student. At the Wings Over Haiti School the families now prepare two meals a day.
"I tell the students here [in the U.S.] and the students in Haiti you have tremendous power in your hands," Melissa said. "Think about the power of one person." Some of the kids walk a mile to get to the school, and cross a river doing it.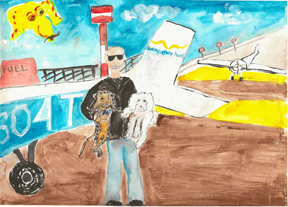 Wings Over Haiti is raising $70,000 to build a new self-sustaining solar-powered school that will be larger, with room to store books, supplies, medicine, and room for a garden. They are planning to sell a children's book about Jonathan's humanitarian plane flights to help raise money, but until that's ready you can see how they're doing and donate on their website. As Melissa says, think about the power of one person.
Related
Popular in the Community