Humanitarians were warning that Haitians were "eating their seed." Millions of dollars - along with seeds and tools - flowed into the country.
Agribusiness Monsanto got in the game, too, saying that farmers "may not have had sufficient seeds to plant this season." The generous agribusiness "gave" tons of their hybrid seeds, in direct violation of Haitian law and international convention (but with the approval of the Minister of Agriculture.)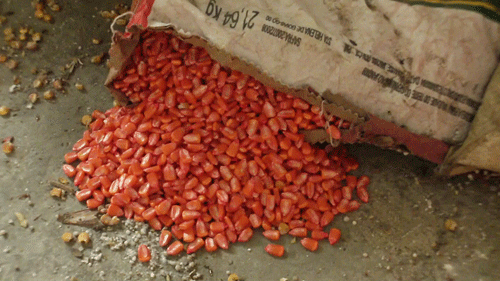 Monsanto hybrid corn seed, coated with fungicide and insecticide. A US taxpayer-funded program delivered the seed to farmers in several regions of Haiti.
The Haiti Grassroots Watch study -- conducted mostly by Haitian journalists: members of community radio stations, students at the State University of Haiti, and citizen journalists, and coordinated by me -- discovered that maybe farmers always "eat their seed."
Maybe the $20 million dollar distribution wasn't necessary.
Maybe it was even harmful in a number of ways.
Maybe it created even more dependency on foreign handouts.
Maybe it even further undermined government programs and the government's very legitimacy.
Certainly it provided seeds to farmers, but at what cost?
Certainly it introduced new seed varieties into Haiti's fragile ecosystem.
Certainly it allowed Monsanto get to a free, to-your-doorstep delivery, direct to farmers' fields.
Certainly it provided massive funding for INGOs ("international non-governmental organizations") and multilateral organizations.
A jumble of Monsanto, Pioneer and other hybrid "gift" seeds in a school room.
Did the risks associated with the $20 million program outweigh the benefits? Haiti Grassroots Watch feels that there ought to at least be a debate...
But recently -- and again, sadly -- we discovered something else:
Nobody seems to care much...
Yes, the study's findings ran in Haiti Liberté, on Truthout and in Haiti's Le Nouvelliste. Interpress Service ran the story, too.
In Haiti, dozens of community radio stations, and Radio Quisqueya, have played the audio version, but nobody else. And the seed distributions continue.
Haiti Grassroots Watch's video (in two parts) has not "gone viral" or even garnered many viewers.
Incredibly, none of Haiti's commercial TV stations have played the videos, or any Haiti Grassroots Watch videos. Not Radio-Tele Ginen, or Caraibes, or Metropole, or Bleu. None of them. At meetings, owners or directors express "interest," but the DVDs are soon lost. Unplayed.
In fact, many commercial stations have told Haiti Grassroots Watch they will not play any programming unless they are paid (!). (And yet these same stations steal and play US, French and Indian movies in French, a language only the minority speaks, as well as countless hours of stolen soccer matches...)
As for the state television station... its news director is locked in a battle with the Minister of Culture over his firing of employees for alleged partisanship during and after the recent election season, so he might not be the best person to sign agreements right now...
Haiti Grassroots Watch has also -- sadly -- discovered that these days, public interest journalism doesn't much exist in Haiti.
Investigative journalism? Even less.
What about progressive journalism?
Yes, but it is under constant assault.
One of the country's best community radio stations -- a new member of the Haiti Grassroots Watch consortium -- was completely destroyed by supporters of Inite, the ruling party, after broadcasting election results on April 21.
One of several torched buildings. Despite the fact that radio and coffee cooperative members filed complaints with local police, naming the attackers whom witnesses identified, as of April 30, no arrests had been made.
Radyo Tèt Ansanm ("Working Together" Radio), as well as a community library and the offices of the coffee cooperative (the station's "mother" organization), were all burned down by gun-toting thugs.
Without bodies in the streets and limbs protruding from rubble, its not quite as sexy and shocking... or is it?
An agricultural extension worker, trained by a US Agency for International Development program, holds up fungicide- and insecticide-coated Pioneer hybrid seeds which were in an open sack in a school room. Asked if the seeds were hybrids, he said: "No... they're Pioneer."
Please see http://www.haitigrassrootswatch.org for the full story, and for details on how the US Agency for International Development refused to share information or even grant any interviews.
REAL LIFE. REAL NEWS. REAL VOICES.
Help us tell more of the stories that matter from voices that too often remain unheard.