"In the last week, we have been deeply moved by the heartbreaking images of the devastation in Haiti: parents searching through rubble for sons and daughters; children, frightened and alone, looking for their mothers and fathers... In response, I have ordered a swift, coordinated, and aggressive effort... I have instructed the leaders of all agencies to make our response a top priority across the federal government." ~ Barack Obama, January 14, 2010.
When I gratefully walked through customs a few weeks ago in Miami following my first trip to Port-au-Prince, a smiling full-of-Christmas-spirit customs officer looked at my passport, welcomed me home, and asked, "How was Haiti?" Because I had received an education over the past few days on why Haiti is the top tourist destination in the Western Hemisphere for those seeking an injection of gratitude, I placed my hand over my heart and answered by singing, "Oh, say can you see by the dawn's early light..."
The horrors of Haiti were well-documented two years ago after a massive earthquake killed a quarter of a million people and injured hundreds of thousands more. Of course, a big ol' earthquake close to home makes for big news when it happens, but nowadays, even the biggest of disasters quickly disappear from the focusing eyes of the media, the public, and sadly, most of Washington.
While it's not surprising we don't hear much today about the continuing Hell in Haiti, I can cross my heart and hope to die -- after seeing a fly-covered baby girl lying dead on a slab of concrete shortly after getting off the plane -- Haiti is still the perfect backdrop for the film version of John Milton's Paradise Lost.
Candidly, the sights, sounds, and smells of Haiti built a bonfire in the part of my gut where I can't hide. So upon my return to the most powerful nation in the world, I got to checking if the Federal agencies that were "ordered" by President Obama in January of 2010 to embark upon a "swift, coordinated, and aggressive effort" in Haiti had followed his directives.
I started by reading last November's GAO (Government Accountability Office) report titled "Haiti Reconstruction". The words "swift" and "government" are in most cases antonyms so I was in no way surprised by the subtitle: "Factors Contributing to Delays in USAID Infrastructure Construction."
What the report says is in July, 2010, Congress appropriated $1.14 billion for Haitian reconstruction with USAID and the State Department in control of $412 million. In the year and a half since, they have obligated only $48.4 million (11.8%) and have spent a whopping $3.1 million (.08 percent).
The report is 58 pages of excuses as to why nothing is happening, but in all fairness to USAID and the State Department, I must say after spending time in Haiti that the main excuse isn't all that lame. Shortly after the earthquake, 10 of the 17 U.S Citizen Foreign Service Officers quit and came home. I hate saying this about myself, but if I had been one of the 17, 11 would have quit. The report goes on to say replacing these people and hiring more American staff, engineers, etc., has been a formidable task. Like I said, it's Hell, and the fire just gets hotter. In a sad post-quake relief irony, UN troops from Nepal (according to the CDC) inadvertently brought the cholera to 500,000 Haitians.
For the life of me, I can't figure out why USAID and the State Department are trying to develop American staff and programs for Haiti in the first place. Hell, they're hiring these people, taking six months to teach them Haitian Creole, and then turning them loose in a nation where they are neither "wired-in" nor have any understanding of the culture... a perfect recipe for failure.
Rather than just letting American funds sit in the bank, why not turn them over to operations that already have a "sustainable" presence in Haiti? As an example, I cite the "Shelter Sector" of the report. USAID has $56.7 million allocated for shelter with $10.1 million obligated and only $900,000 spent. They claim the holdup is due to their difficulties in gaining legal title to house plots. In a year and a half, USAID has yet to build a single home.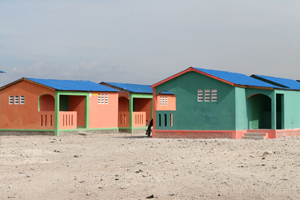 On the other hand, the St. Luke's/NPH operations have been kicking ass on the ground in Haiti for 25 years. No one in the world would question their "sustainability". It's run by founder Father Rick Frechette, a medical doctor and the toughest son of a bitch I ever met. I learned the later is especially important in Haiti.
Since the earthquake, his organizations -- which operate hospitals, schools, and an orphanage to the tune of 900,000 customers a year -- have built 10 schools, two hospitals, and six cyber cafes, all with limited funds. This past summer, Father Rick's organizations turned their attention to building homes. With funding from an Italian group, they have built 30 engineered, anti-seismic, anti-cyclonic homes in the last six months and have over 1,000 legally-deeded plots ready to go. The cost of the homes? $7,000 per unit or the price of a Department of Defense screwdriver. One group can do all this, and USAID can't figure out how to build one house?
The GAO report is clear. Because of conditions on Haitian ground, USAID is going to have a tough time ever getting anything done. Two years ago, President Obama promised the people of Haiti: "You will not be forsaken. You will not be forgotten." From what I've seen, working with those already in Haiti who have a record of getting things done is the only way the United States can fulfill that promise. This must become an immediate priority -- in Obama's own words -- "swift, coordinated, and aggressive."