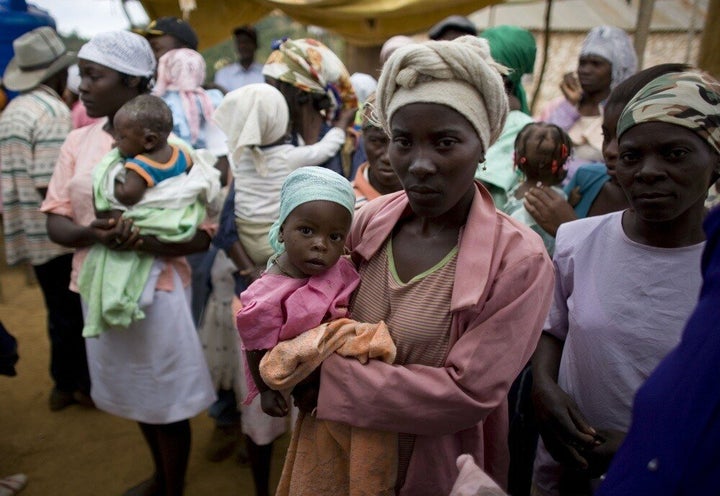 It is easy to give up on Haiti reading through the litany of articles about where the country stands after two difficult years since the January 12, 2010 earthquake. In many ways, that was true even before the quake -- in the last five years, there have been food crises, multiple hurricanes, and political and electoral crises.
With more than a half million people still living in the squalid displacement camps and cholera still threatening the health of thousands, what can be said about the recovery in Haiti that doesn't reflect only hopelessness? That doesn't make donor nations and their taxpayers throw up their hands in despair? That doesn't make forgetting about Haiti easier than following through on promises made in the months after the quake?
Women's rights is one example of huge problems and work ahead, and yet it also shows why no one should give up on Haiti. Groundbreaking work is being done to promote the rights of women and girls -- who have suffered immeasurably in Haiti's disasters and instability -- through new legislation.
Haiti's current criminal justice system does little to protect women and girls from rape and gender-based violence, and its health system is also failing victims. In 2010 and 2011, I interviewed over 120 women and girls living in shredded tents in displacement camps about sexual violence and health services, as well as scores of officials.
Rape survivors described brutal attacks and poor state health and justice system responses. I found that the government is doing little to inform the public about access to post-rape care, and few health providers are trained to address gender-based violence. Professional schools for doctors and nurses do not include instruction on treating gender-based violence as part of their core curricula or continuing learning programs. Medical and judicial communities cannot agree on the necessary forms to record forensic medical evidence of rape. The penal code fails to encompass most forms of violence against women, and provides virtually no victim protection measures.
But this under-developed and unwieldy system is capable of change, and in fact, it's under way.
Years before the earthquake, women's rights activists and the Ministry of Women's Affairs began preparations for legal reforms to address gender-based violence. A significant step was taken in 2005 when rape was redefined as a crime against a person with significant penalties. This came after almost two centuries when rape was treated as a "moral" offense in Haiti.
Sadly, the ministry and the women's rights advocates suffered heavy losses during the earthquake. Some of the strongest workers for reform lost their lives in the quake.
Yet, 2012 can be the turning point. The Ministry of Women's Affairs is forging ahead with legal reforms. A draft law it plans to introduce in parliament soon would provide new protections against gender-based violence and to women in the workplace, home and community. If adopted in its entirety, it would be nothing short of a rights revolution for Haiti's women.
Of course, much could happen to water down this bill before it passes, and the government will need outside support for resources to carry out some components, like a shelter system for survivors of violence. But the very fact that this bill is gaining momentum inspires optimism.
During my first human rights investigation in Haiti, a Haitian friend of mine looked through my camera and saw only images of despair. Disappointed, he asked me to look harder for positive images of his country -- something that I could capture with my camera to prove to people back in the U.S. that not everything in Haiti was bad. This was years before January 2010, and even then it was a difficult exercise.
Two years after the quake, with much still going wrong, looking for signs of progress, particularly for the rights of the most vulnerable, is not easy. But, we must keep reminding ourselves and others that not everything in Haiti is going wrong. Women's rights leaders in Haiti are proving this again with their remarkable work to change the laws to guarantee justice and equality for women and girls.
Amanda Klasing is a women's rights researcher at Human Rights Watch who has done research on post-earthquake conditions and services in Haiti.
Related
Popular in the Community