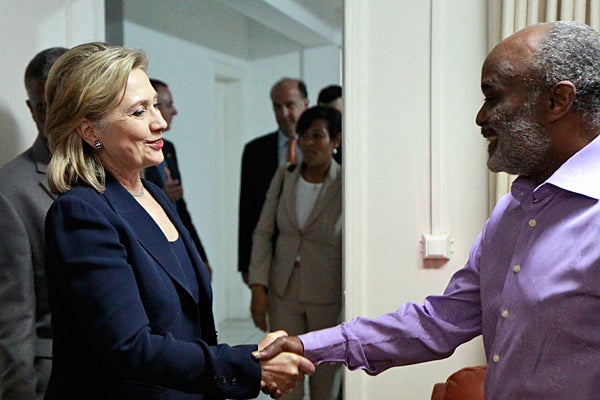 To understand the Clinton Foundation's activities in Haiti, it's important to look at the impact Bill and Hillary Clinton have had on the people of Haiti. Democracy Now states former President Clinton's trade policies "wiped out rice farming, seriously damaging Haiti's ability to be self-sufficient." According to Theodore Hamm in The Daily Beast, "Much of the blame for Haiti's chaotic political scene can be pinned on Hillary Clinton's State Department, whose handpicked president has only made things worse." For several decades, the Clintons have influenced Haitian politics, and their impact hasn't been positive.
Years before WikiLeaks released the Podesta Emails, The Nation published a 2011 article titled WikiLeaksHaiti: Let Them Live on $3 a Day. The Atlantic published a 2011 article titled America's Awful Treatment of Haiti, According to WikiLeaks. In 2011, during Secretary Hillary Clinton's tenure at the State Department, Business Insider published a piece titled WIKILEAKS: U.S. Fought To Lower Minimum Wage In Haiti So Hanes And Levis Would Stay Cheap. Fast forward to 2016 and ABC News recently discovered How Hillary's State Dept. Gave Special Attention to 'Friends of Bill' After Haiti Quake.
It's this controversial record that made me ask Haitian-born author and journalist Dady Chery about the Clinton Foundation's activities in Haiti. Dr. Dady Chery is the author of We Have Dared to Be Free: Haiti's Struggle Against Occupation. She is the Co-Editor in Chief of News Junkie Post and the Editor of Haiti Chery. Dr. Chery's answers to the following questions provide a comprehensive look into how the Clinton Foundation, and its subsidiaries, spent (or failed to account for) billions of dollars in aid.
Want all the latest news in politics that matters to you? Sign up here to get it delivered straight to your inbox.
Most importantly, where did the billions of dollars end up? Over 300,000 people died from the 2010 earthquake in Haiti and the country needed every dollar of the billions raised by Bill and Hillary Clinton. The Clinton Foundation and its associated Interim Haiti Recovery Commission managed to raise an enormous sum; without spending all of the money. To date, nobody truly knows where the money went, but Dady Chery provides an illuminating glimpse into the complexity of the billions in missing aid money.
Goodman: How much money did Hillary Clinton's Interim Haiti Recovery Commission raise? How much went to the Haitian people?
Chery: By contrast to the Clinton Foundation, which has raised a total of about $1.5 billion in nearly two decades, the IHRC raised about $10 billion in two years!
Every cent of this money was supposed to be for Haiti's reconstruction.

The IHRC was an organization in Haiti chaired by Bill Clinton and a nominal Haitian co-chair Jean-Max Bellerive. It lasted from April 2010 toOctober 2011 and gathered under 14 groups all the international aid money to Haiti from other nations, international agencies, charities, NGOs, and private donors.
According to documents distributed by the United Nations Office of the Special Envoy for Haiti, that is, Bill Clinton himself, after one year and $3.2 billion, the IHRC had undertaken 75 projects, but only five of them had been completed for $84 million. In September 2012, the IHRC reported that $9.5 billion had been pledged and $5.9 billion had been disbursed, "though disbursed does not always mean spent."
Anyway, on October 22, 2012, the IHRC inaugurated its centerpiece: a sweatshop complex in a beautiful spot in northern Haiti, well away from the earthquake-ravaged area, called

Caracol Industrial Park.
For this project, USAID contributed $124 million, and IDB gave $105 million. So, altogether, the IHRC could concretely account for only 3.3 percent of the money it received for Haiti's reconstruction.
Goodman: In your view, what happened to the money raised by Clinton's Interim Haiti Recovery Commission?
Chery: It has become a tradition in Haiti, on earthquake anniversaries, to search through the rubble and demand to know where the money went. In response, Bill Clinton has claimed at various times that he received only 10 percent of the pledged money, despite his own documents saying otherwise, or even that the IHRC has funded projects that were started before it came into existence in April 2010.
It is no accident that Hillary Clinton's initials are in the IHRC acronym. I often say it as: I, HRC. I think that much of the funds from the IHRC were meant to be her war chest for her presidential campaign.
Goodman: Does the average Haitian citizen know about the Clintons' activities in Haiti? Are there some citizens who have actually benefited, or is the population in general still waiting for the Clinton Foundation to fulfill its promises?
Chery: Jean-Max Bellerive wound up on the board of VCS Mining together with Tony Rodham, Hillary Clinton's brother.

That company tried to get a gold exploitation permit under cover of Christmas 2012 directly from Haiti's Mining Director, without an environmental impact assessment, and without any input from Haiti's Ministry of Public Works or the Senate.

I immediately made this information known, and the permit was invalidated when the Senate came back in session the following January.
By contrast to the Haitian politicians who were the Clintons' personal friends, most of Haiti's politicians were outraged by the IHRC's lack of transparency and its casual dismissal of them.
Average Haitians are well acquainted with the IHRC.
There were massive protests at its inception, because people realized that being run by a group of international donors led by Bill Clinton represented a loss of sovereignty for the country.
Haitians are, after all, extremely nationalistic. They also live everyday with the ruins of the earthquake, and they most definitely know that Bill and Hillary Clinton came to Haiti, put on their most sincere faces, made a lot of promises, raised money in the name of Haitians, and then delivered essentially nothing.
The Clintons are not welcome in Haiti any more. That is part of the reason why they are now pushing Chelsea Clinton to the forefront.
Goodman: Why was there such a disparity in money raised from Clinton's Interim Haiti Recovery Commission, the Clinton Foundation, and the Clinton/Bush venture?
Chery: Part of the reason why the Clintons are so slippery is that they've created numerous mechanisms to raise money.
If you look specifically at Haiti's earthquake, you'll find that the Clinton Foundation raised about $30 million after the disaster, mostly from small donations.
According to the Clinton Foundation's taxes for the period from 2011 to 2013, they took in $252 million but spent only about 10 percent of that money on charitable grants. The rest was spent on the foundation itself.
So we may expect that only about $3 million from the Clinton Foundation were spent on Haiti. That money presumably wound up in the "private donors" section of the IHRC, but it is unclear what's been done with it.
The Clinton-Bush venture raised $54 million and was more transparent than the Clinton Foundation or the IHRC, but it started out saying that the money would go to earthquake relief and wound up spending the money on other things. The lion's share, about $47 million, went to help Haitians get mortgages, and much of the rest was spent on microfinance.
Its most notorious aid to Haiti was $350,000 to upgrade a tourist hotel in the city of Jacmel, well away from the earthquake damage, and $2 million to complete a 130-room luxury hotel in a posh section of Port-au-Prince.
Goodman: How does the Haitian-American community feel about Bill and Hillary Clinton?
Chery: The Haitian-American community is well informed about the Clintons and hopping mad about what they did in Haiti.
The community blames Bill and Hillary Clinton, not only for the disappeared aid funds but also for the cholera

epidemics that UN troops introduced in Haiti in October 2010 and again after 2012.
Activists have organized protests at the UN, at Hillary Clinton's campaign headquarters, the DNC convention, and outside the presidential debates to urge Americans not to vote for Hillary Clinton.
We, who have seen how Bill Clinton ran Haiti for 18 months together with Hillary in the State Department, think that they are great danger to democracy.
The IHRC was the ultimate play-to-play government. In fact, I coined the term pay-to-play to describe governance by the IHRC. It was run like a board of directors of a corporation. It stipulated that every IHRC donor from the 14 agencies and groups that I mentioned in my answer to your first question had to contribute at least $100 million over two years or forgive $200 million of Haitian debt. The donors were at the table with Clinton, not out of the goodness of their hearts, but because they expected a return, mostly in the form of privatizations, sweatshops, and landgrabs.
Goodman: In terms of U.S. foreign policy towards Haiti, how do you think the Clinton Foundation helps or hurts U.S. foreign policy? Is it perhaps an extension, or does it operate as a distinct entity in this regard?
Chery: From what I've seen of the IHRC, I can tell you that the Clintons seem to think they can lead a country by peddling its labor and resources to the mega-rich, regardless of their affiliations, so long as they put a certain amount of money on the table.
They have taken Citizens United to a whole new level and erased all distinction between the government itself and its rich supporters.
This past week, Hurricane Matthew reminded us that in the next eight years of so, we should expect an impressive number of disasters that are related to climate change. Do we really want Hillary Clinton to be the most powerful person in the world through that critical period?
Dr. Chery ends the interview with a poignant question that a great many voters are asking at this moment.
No doubt, the people of Haiti and Haitian-Americans are wondering where the billions in aid went missing, especially since the Clinton Foundation and its associated entities like the IHRC raised this money. As Dr. Chery explains, the labyrinth of Clinton Foundation financial transactions never resulted in an overall positive impact for the people of Haiti. In 2016, it's important to ask Hillary Clinton where this money resides, and especially important to give Haiti the money raised to assist its recover from the 2010 earthquake.
Support HuffPost
The Stakes Have Never Been Higher
Related
Popular in the Community