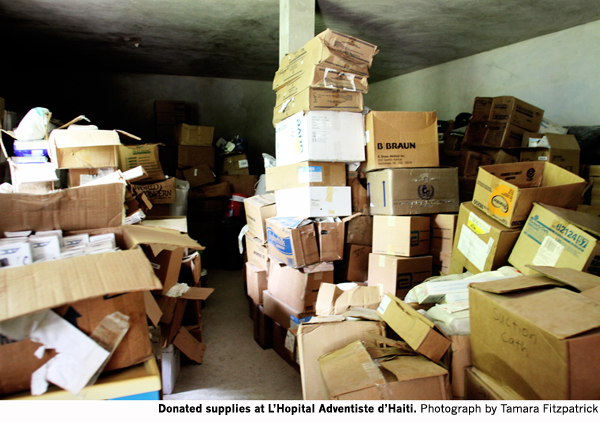 CARREFOUR, Haiti — Down a craggy pathway, past the open-air pews that line the emergency wing, to the right of a bright red shipping container packed with tents and toiletries that in five months has yet to be cracked open, is the Hopital Adventiste d'Haiti's "excess supply outpost."
Its two cavernous rooms are stacked to the ceiling with wheelchairs, walkers and sagging boxes that have, thanks to a dozen pre-med volunteers from Loma Linda University, just recently been arranged by theme. Among the stockpiles are three-dozen laryngoscopes, one-dozen disposable skin staplers, twenty-dozen tubes of diaper rash cream, a mountain of lovingly assembled personal hygiene kits, 3,500 hard hats, and a thousand-gallon box of dishrags.
"We have enough rubbing alcohol and peroxide to last us 20 years," said Nathan Lindsey, the hospital's assistant administrator.
In the months following the January 12 earthquake, donated medical equipment and supplies were shipped into Haiti by the container-full, overwhelming hospitals across this disaster-ravaged nation. Much of it will never get used, and even worse, the unopened boxes sometimes obstruct doctors from locating supplies they actually need to treat patients.
But organizations seem unwilling to donate the one thing Haitian hospitals say they desperately need: Money that can be spent at their discretion, for things like salaries, fuel for the generator, and oxygen.
A recent exception was at Port-au-Prince's largest general hospital, Hopital de l'Universite d'Etat. Its roughly 1,800 employees went on strike because they hadn't been paid since the earthquake, and people died as a result, prompting the American Red Cross to make a rare cash donation of $3.8 million toward salaries.
Still, all of the five Haitian hospitals that responded to questions from this reporter, including Adventiste, said that while they are awash with donated supplies, they struggle to pay basic operational expenses to keep their institutions afloat.
These hospitals were admittedly operating on a shoestring before the earthquake. But the Haitian government's six-month mandate that all medical care be free — during a time when thousands of people required expensive operations — put hospitals under so much financial strain that some simply went bankrupt, while others were forced to cut corners wherever they could.
Six months later, still struggling
"What we are able to pay now is about a quarter of what it was before the earthquake," said Lindsey.
On paper, Lindsey said Adventiste has a staff of around 100, but in actuality far fewer come in on a daily basis. Usually, only one Haitian doctor is on duty at the 70-bed facility.
"You can't just schedule people for work and demand things from them if they're not getting paid," said Lindsey. "And when we need gas for the generator, we have to pay cash to the people with the gas. We can't just say, 'Oh but we're providing this great service.' They say, 'No, the gas cost me money so you've got to buy it from me.'"
Dr. Thea James, a board member of the non-profit Unified for Global Healing, which brought 24 doctors, nurses and social workers to Adventiste for two weeks this month, said, "It's been kind of a crescendo, there were barely any doctors when we got here so the patients didn't bother to come. Word got out, and our [patient encounter] census has really grown exponentially."
In the emergency department, the group's census grew from 26 people on the first day to 107 patients on the last day.
"Before the earthquake, there used to be a normal volume of patients. Now there are too many for us to care for without the help of foreigners," said Dr. Erwine Dina Jeune, one of the few Haitian doctors at Adventiste.
Juene said she did get paid after the earthquake, but only works at the hospital part-time because she makes most of her money from her private practice clients.
Father Jean Bapiste Geordani, founder of the badly damaged Hopital Saint Francois de Salle in Port-au-Prince, said his medical staff "is patient because [they are] conscious of the difficult situation," but that he is oftentimes unable to pay even half of their $12,100 in monthly wages.
Monthly salaries range from $300 for a nurse or lab technician, to $1,000 for the medical director — comparable to the cost of a plane ticket from the United States, or a fraction of the roughly $5,000 price of shipping one container of worth of supplies.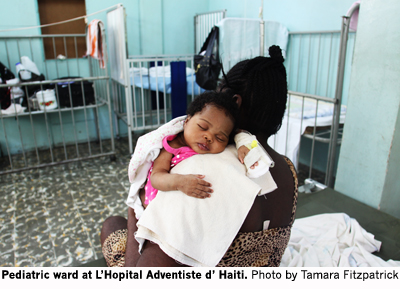 "To a large extent, donors are reluctant to contribute to ongoing costs. So many programs are concerned about beginning to pay salaries when they don't know what the long-term plan would be to continue paying those salaries," said Louise Ivers, the clinical director for Partners in Health in Haiti, which facilitated the $3.8 million donation to Hopital de l'Universite d'Etat.
"It's a lot easier for people to donate materials and supplies, and although those things are very welcome, there's no point in having stuff if you don't have people to use the stuff," she said.
The benefits of autonomous resources
Critics of the current system of philanthropy claim that the result is a system of hospitals dependant upon the supplies foreigners decide to donate and how many foreign volunteers are able to fly in that week; versus the more autonomous model of a hospital making purchases based on need, and hiring a local staff familiar with the local diseases.
"It's a frustrating situation because we know what our needs are," said Lindsey.
While he said many of the donations are useful — such as the new prosthetic lab that's been trapped at the port for months — the cash equivalent would have been more appreciated in some cases.
For example, Adventiste received boxes of heavy coats and IV pumps, which would leave an unattended patient dead when the electricity goes out, a frequent occurrence. Then there's that bright red shipping container parked in the yard.
Charmaine Lewis, the medical director of the rural Centre de Sante St. Vincent de Paul, said they received a pallet of advanced algebra textbooks written in English, when they can't even afford chalk.
In other instances, donors will send hospitals equipment without training the staff to use it, as was the case with an ultrasound machine shipped to Adventiste.
Ultrasound machines can quickly diagnose life-threatening emergencies like an aortic aneurysm or internal hemorrhage. But the use of the technology in emergency rooms is a relatively new phenomenon, even in the United States, said Dr. James, who is also an assistant professor of emergency medicine at Boston Medical Center.
"Although we have provided ultrasound training to general practitioners in Haiti and Jamaica in the past, this is not a skill that generalists receive in their medical training," she said. "Dr. Jeune was eager to learn about emergency department ultrasound, and Dr. Richard Zaidner, an emergency medicine resident at Boston Medical Center, was delighted to teach her."
Ideally, Lindsey said he wishes more foreign doctors would work in partnership with the Haitian staff, versus the in isolation of them, which can be demoralizing and counter-productive.
"Our local staff is spread thin and I think the foreign volunteers are necessary right now to ensure quality of care. But given more resources to have more local staff on board full-time would alleviate a lot of problems," he said. "Then the expat involvement would be more in a teaching and support aspect, versus more direct patient care."
Dr. James pointed out that foreign doctors learn a lot from working in impoverished countries like Haiti, where the doctors tend to be more skilled in physical examination because they don't have as much technology to rely on, and are presented with a whole slew of ailments that are never seen in the United States.
"I told the team to make working together with the Haitian staff our daily mantra and I asked them to pose their questions to our Haitian colleagues before asking me or one of our nurses anything," she said.
That mantra paid off when she was about to transfer a patient, who had all the symptoms of an acute abdomen and ruptured appendix, to a hospital with a general surgeon. But the Haitian doctor on staff immediately recognized the symptoms as typhoid and, effectively, prescribed antibiotics.
At this time it appears undecided whether major organizations will be willing to give more direct funding to Haitian hospitals.
"We are looking at ongoing, long-term support to hospitals. That might involve direct funding, it might not," said Matthew Cochrane, a spokesman for the International Federation of Red Cross and Red Crescent Societies who is working in Haiti.
"One of the issues that has to be considered is sustainability. Direct funding by an agency might not be the most sustainable solution," he said.
Calling all HuffPost superfans!
Sign up for membership to become a founding member and help shape HuffPost's next chapter