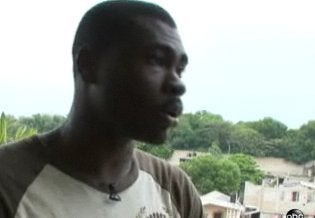 Bill Nathan was a child slave in Haiti. As a young man, he escaped, and built St. Joseph's Home for Boys, an orphanage that takes in former child slaves. The orphanage was, like much of Port-au-Prince, heavily damaged in the 7.0 earthquake that hit last Tuesday.
Fortunately, all the children managed to escape the building safely. Nathan, however, was severely injured.
Human trafficking and child slavery is common in Haiti, as it is in much of the Third World. Children are frequently sold by their families into slavery, as the payment can often be a Haitian family's only source of income. The UN estimates that 30,000 Haitian children are smuggled annually. That Nathan was able to escape and provide a rehabilitation for former child slaves is remarkable.
Bill Nathan's close friendship with American writer Ben Skinner proved beneficial, as he was flown to Broward General Hospital in Ft. Lauderdale to receive treatment for his injuries.
Skinner said he knows there are thousands here who desperately need help, but he said Nathan truly deserved special attention.

"He has been responsible for saving hundreds of lives. The orphanage has been responsible for changing thousands of lives," Skinner said. "He will be the change and the hope for Haiti in the future. If Bill doesn't make it, it will be a less hopeful place. So that's why we're getting him out."
Calling all HuffPost superfans!
Sign up for membership to become a founding member and help shape HuffPost's next chapter