SANTO DOMINGO, Dominican Republic -- Francis's father left the family a few hours after he was born. At age 6, Francis was moved by his mother from Haiti to the Dominican border town of Elías Piña so she could search for work. When an earthquake struck Haiti in 2010, Francis's mother returned home to check on family members. He never heard from her again.
Francis, who said he's now 18, has "gone here and there," since then, living with friends and acquaintances in Elías Piñas before traveling two years ago to the capital, where he works the night shift stocking watermelons at a local market for roughly 50 pesos per day -- a little over U.S. $1. Having heard about a plan to normalize the status of undocumented immigrants, he gathered his paperwork and went to the central administrative building on Thursday to register. He missed the deadline by one day.
"The process was complicated," Francis told The Huffington Post. "I got there too late."
Dominican officials have hailed their plan to regularize the immigration status of the country's estimated 500,000 undocumented immigrants, most of them from Haiti, and vow to resume deportations after the last week's deadline. Roughly 288,000 people registered for the plan, which offers a two-year legal migration status for those who are approved.
But the plan has been widely criticized for inefficiencies and the possibility that it will lead to deportation of Dominicans of Haitian descent who have been stripped of their citizenship. Haitian migrants and immigrant rights activists point to the more than 200,000 people like Francis, who failed to make the deadline and now face the threat of expulsion.
"It's an extremely expensive process for people who are in a very vulnerable situation," Jesús Pérez, 25, an accountant and volunteer at the Centro Bonó, an educational center dedicated to social justice that is helping Francis find a way to normalize his status. "And it's very tedious. They'll send back paperwork because of a misplaced comma."
For those who did apply before the deadline, uncertainty still remains. The government has approved fewer than 5,000 of the 288,000 applications it received over the 18 months since the program went into effect. On Monday, hundreds of people who have started applications, but have yet to complete the paperwork, again queued up at the central administrative building in the capital, many holding umbrellas to block the tropical summer sun, and most clutching folders or plastic bags holding the documents they need to finish applying. Those who haven't turned in the required paperwork after 45 days will be rejected.
The Dominican regularization plan allows undocumented immigrants to register as foreigners free of charge. The program required applicants to submit multiple documents to confirm their identity, demonstrate work history and financial solvency, and show ties to Dominican society.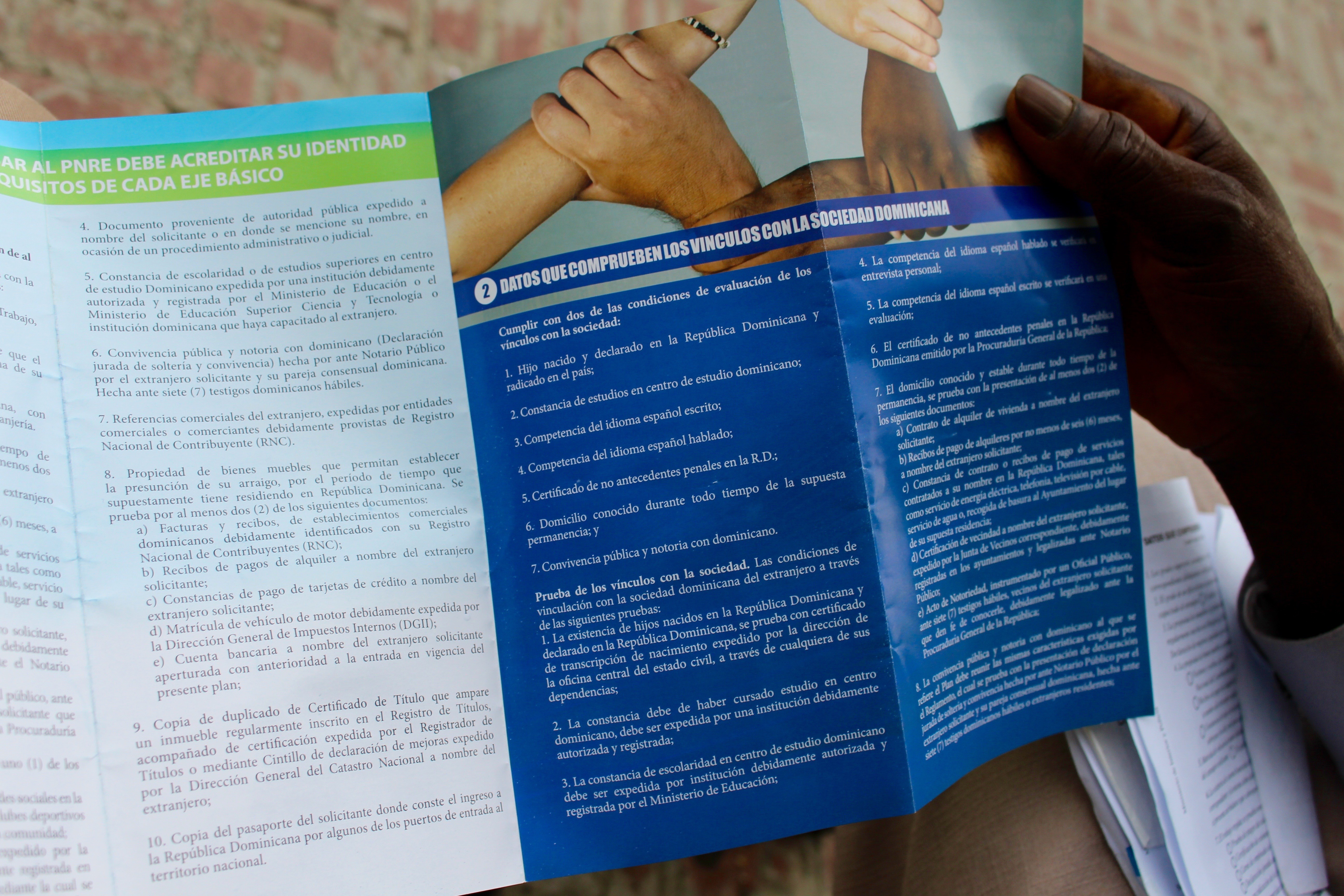 A man holds a government-issued pamphlet describing the requirements for registering as a foreign national under the Dominican Republic's "Regularization Plan," which expired last week. People who notified the government before the deadline have 45 days to finish turning in the paperwork. (Roque Planas/HuffPost)
But applications come with many hidden costs, those in line say. Several documents must be signed by a notary public before the government will accept them, at a cost of 1,000 to 1,500 pesos, the equivalent of U.S. $23 to $35. That fee can multiply if the applicant has to make more than one trip to a notary public. Others say traveling to cities where they used to live and paying administrative fees for documents like a criminal record compound the expense. Consulting an attorney to ensure proper compliance with the requirements can cost more than 15,000 pesos or more -- about U.S. $350 -- making it prohibitively expensive for many applicants, who often work low-wage jobs in agriculture, domestic service or construction.
Renel, 33, lives in Santo Domingo and works on a nearby farm. He said he has already paid 30,000 pesos, or U.S. $700, for lawyers, photocopies, notarizing documents and traveling to offices where he needs to pull papers.
"Our great worry is that we'll end up without papers and in debt," Renel told HuffPost.
For Renel, being an undocumented Haitian in the Dominican Republic carries additional costs. He woke up extra-early Monday to make sure he'd be in line by 5 a.m. to finish turning in his paperwork. On his way to the government office, he said he and his brother were stopped at the bus station by four military officials who put a gun to the back of his head, forced him to step into a truck, and stole 5,000 pesos from them.
"They grabbed us like as if they were criminals," Renel said as he waited in a line that barely moved for 20 minutes. "They know that we're immigrants, so they abuse us because we don't have a voice or a vote."
The Dominican Armed Forces Ministry did not immediately answer a phone call seeking a comment on the allegations.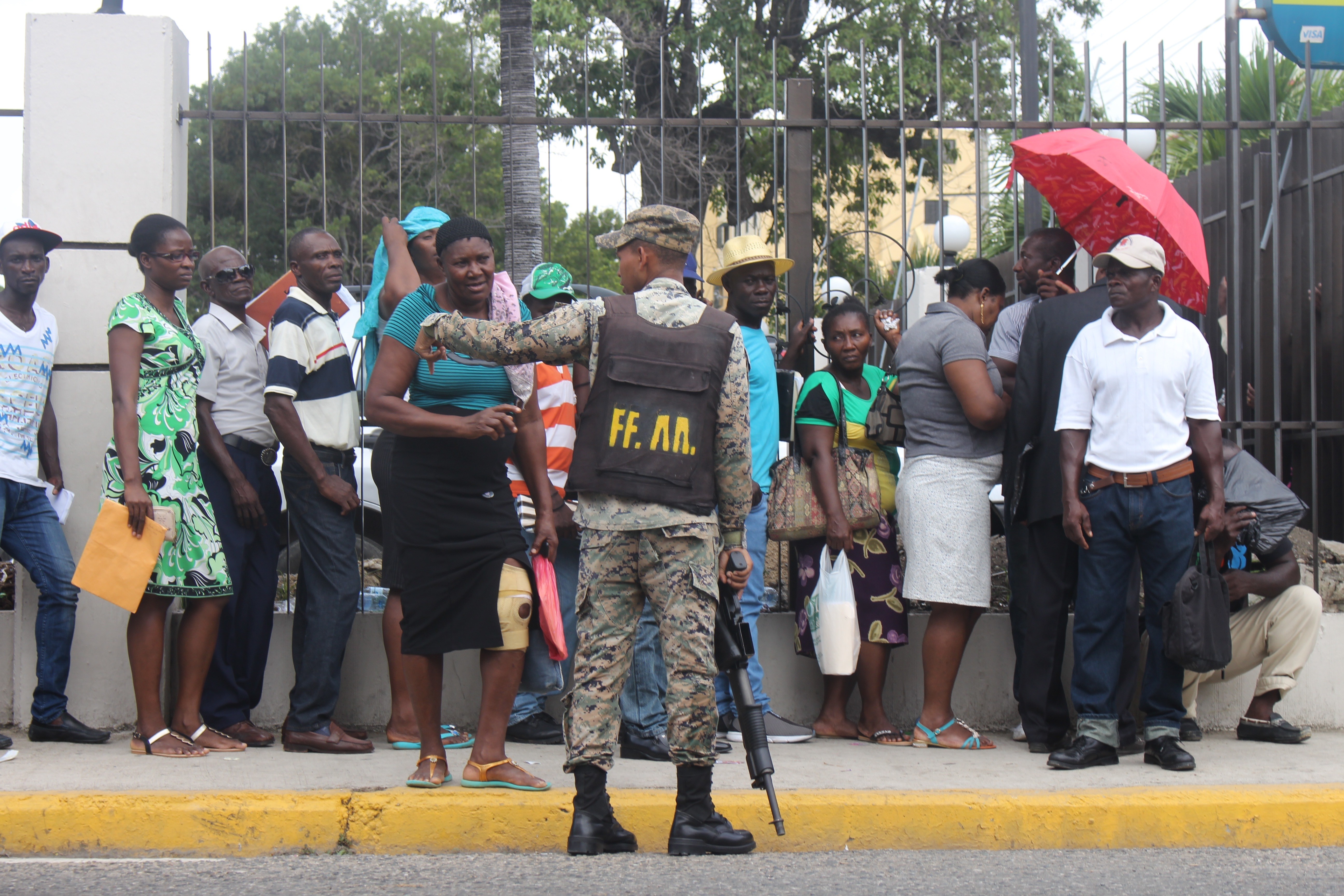 A soldier patrolled the area around the central administrative office in Santo Domingo, Dominican Republic, where hundreds of Haitian migrants gathered to finish applying for registration as foreign nationals. (Roque Planas/HuffPost)
Supporters of the regularization plan have bristled at criticism, especially that leveled by foreign human rights groups. President Danilo Medina on Friday called the issue "closed" in comments to reporters during the inauguration of a new resort in the beach tourism hub of Punta Cana.
Related
Popular in the Community