When 26-year-old construction worker Alex Mustivas was injured on the job in Brazil, fracturing his spine and arm, his employer offered him $70.
"If you want it, take it," the construction company's owner told him. "If you don't want it, you don't want it."
Mustivas, who had been doing the job off the books, refused the money. "I told him that my life is worth more than $70."
With the support of unions in the state of Santa Catarina, Mustivas was able to receive social security for a month. He says he couldn't get up or walk for a few days. "After a week, I was able to walk and stand up by myself," he said.
A year ago, Mustivas came to Brazil from Haiti. His home country is still recovering from the devastating earthquake in 2010, and he arrived in Brazil in search of better work opportunities.
It wasn't too difficult to find this construction job, Mustivas said.
"The boss used to pay me $18 a day, but he didn't want to sign my work permit. He kept saying that he would sign it the following week, but he never did. I had to pay rent and help my daughter," said Mustivas, whose 7-year-old daughter lives with her maternal grandparents in Haiti. "I couldn't be unemployed."
He is currently living in the city of Curitiba, where he works as a security guard at a private university and plays in a band. "I thought there would be more people to look after me," he said.
"The government is promoting a foreign policy to bring more Haitians to Brazil, but there is no public policy for Haitians here."
Mustivas is one of 65,000 Haitians who arrived in Brazil between 2011 and November 2015, according to data from the Federal Police.
According to the police, 3,500 Haitians are registered in Santa Catarina, but the numbers are likely much higher.
"The records we have here are only those who have requested refuge in Santa Catarina, but most did in the state of Acre," explains delegate Ildo Rosa. In July 2015, the government estimated that between 4,000 and 6,000 Haitians actually live in Santa Catarina.
"According to the Ministry of Labor and Employment, Haitians became the group of immigrant workers with the largest presence in Santa Catarina's formal market in 2013," explained Professor Gláucia Assis, coordinator of the Center for Migration Observation in Santa Catarina, which is affiliated with Santa Catarina State University. The center estimates that around 7,000 Haitians live in the state.
In the first five months of 2015, 2,259 work permits were issued to Haitians in Santa Catarina, more than double the number of permits given out in 2014, according to the Ministry of Labor.
Assis says the influx can be explained by the strong social networks in Haiti, which allow immigrants to pull others to Brazilian cities.
"This increased presence of Haitians in the state is due to the fact that the majority came and found work before the economic crisis intensified," Assis said. "It is also especially attributed to the fact that immigrants, once they are established and find work, tend to pass that information to their friends and relatives, who are more likely to go to a place where they know someone who is established and can help them find employment and housing."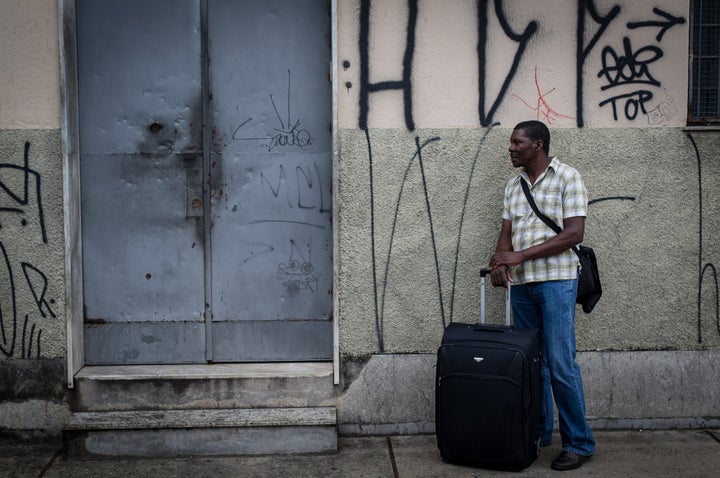 It was the prospect of a job and the possibility to further his studies that brought 28-year-old Alexandre Bladimy to Balneario Camboriu.
Bladimy worked at a refrigeration company in Rio Grande do Sul for a year before he was dismissed. After a year of unemployment, he started studying international relations at the University of Vale do Itajaí, where he works in the Department of Inclusion to help his fellow Haitians.
Bladimy, who had worked as the manager of a technical school in Haiti and gave language classes, criticized the lack of public policies serving Haitians in Brazil.
"The government is promoting a foreign policy to bring more Haitians to Brazil, but there is no public policy for Haitians here," said Bladimy, who says he was invited to come to the country even though he had a good job in Haiti. He is now preparing to return to Haiti.
"It wasn't too bad for me there," he said. "I used to make decent money, so I was able to pay for my ticket. A lot of Haitians come here to look for work, but I had a good life there. It was the good offer that persuaded me to come. I had hoped for better opportunities here, mainly in terms of being able to further my studies."
"Haitians are affected by racism in various everyday situations, like when they take a bus, and in gaining access to the labor market and to public services."
Assis points out that the lack of public policies to address immigrants, as well as the differences in culture, way of life and language are often factors that disappoint Haitians who move to Brazil.
"Situations like these show immigrants that the country that used to promote a welcoming image abroad is actually not that welcoming ― especially when the immigrant comes from a poorer country and is black," Assis said. "Haitians are affected by racism in various everyday situations, like when they take a bus, and in gaining access to the labor market and to public services."
National Secretary of Justice Beto Vasconcelos signed an agreement with the state of Acre to transfer resources and transport foreigners to other regions with more available jobs, such as Sao Paulo, Parana, Santa Catarina and Rio Grande do Sul. The project, which has a budget of approximately $500,000, seeks to facilitate coordination among federal, state and local governments.
In an interview with HuffPost Brazil last year, Vasconcelos said the Haitians arriving in Brazil "can definitely be absorbed into Brazilian society."
However, with the gap left by the state, it falls upon civil society to receive and help Haitians, explained Assis. In light of this dynamic, some government initiatives aim to recognize the work of civil society.
In the Balneário Camboriú City Council, a project is underway to recognize the Association of Haitians in Balneário Camboriú, or ASHABC, as a public entity. When the project is complete, ASHABC would be required to submit annual reports to the Municipal Legislative Branch.
"The organization's work allows us to better evaluate the factors that cause migration and the opportunities these immigrants have in Balneário Camboriú," said project founder Peter Francez. "In the absence of public policy, the ASHABC is in fact occupying a space that should be occupied by the government. The association has been active in receiving, forwarding and managing opportunities for immigrants in our city."
If the project is approved, the organization will work to foster agreements with city hall, including establishing projects to fight prejudice.
For Assis, a project like this shows the importance of integrating immigrants into society, rather than just regarding them as mere labor. "Projects like these can also contribute to a better initial experience for immigrants, to more intercultural exchanges, and as a consequence, less prejudice and xenophobia," she said.
Racism and xenophobia took on even more grotesque proportions on Oct. 17 last year in Navegantes, which is less than 12 miles from Balneário Camboriú. Fetiere Sterlin, a Hatian who arrived in Brazil in 2011 through a coyote network, died of stab wounds after a fight in Navegantes.
"This is an unacceptable xenophobic act. It shows hatred to others, the inability to live with differences. Even though the local authorities labeled it as a crime of passion, I would like to call attention to the possibility of it being a crime driven by racism and xenophobia," said Assis.
This post first appeared on HuffPost Brazil. It has been translated into English and edited for clarity.
Correction: An earlier version of this story incorrectly referred to Curitiba as a state. It is the capital of the Brazilian state of Paraná.
Related
Popular in the Community