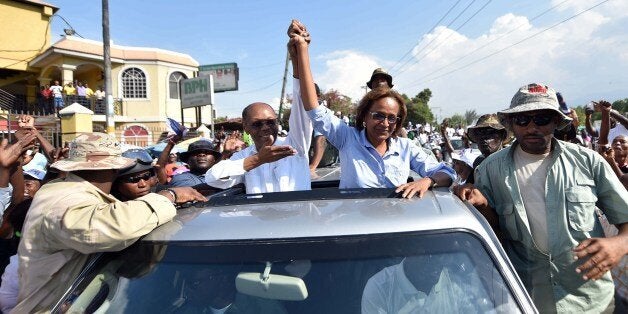 The United States isn't the only country in the midst of a drawn out election campaign marked by voter discontent and demands for bold, new policy directions that genuinely respond to the needs and aspirations of ordinary citizens. It is also election season in Haiti, and by the end of the year, both countries could elect their first ever female presidents, both of whom will face strong grassroots pressure to shift governance away from elites and take into account the interests of the majority.
Unfortunately, Washington has not always played a helpful role in Haitian democracy. Since Haiti's first democratic elections in 1990, the U.S. has become more and more deeply embedded in Haiti's political system, funding elections and judging their legitimacy, at times in a completely arbitrary fashion. But while international involvement has increased, Haitian citizens have become less politically proactive and less and less interested in going to the polls. By 2010, participation was just 20 percent, down from close to 80 percent in 2000.
In 2004, the U.S., Canada and France formed an alliance with members of the former Haitian military and the country's economic elite to oust the democratically elected president, Jean-Bertrand Aristide, whisking him into exile aboard a U.S. government jet. While Aristide and his wife were prevented from returning to the country they hold dear, Haiti's sovereignty was further eroded and his popular Fanmi Lavalas party blocked from participating in politics. United Nations troops, sent to consolidate the 2004 coup, remain there today. When a devastating earthquake struck in 2010, killing hundreds of thousands, Haiti's government was almost entirely bypassed by an international reconstruction effort that gave more money to Beltway contractors than to any Haitian entity.
But the upcoming October 9 election represents an opportunity for Haitians to begin winning back the sovereignty that they fought so hard for more than 200 years ago.
In March 2011, I flew to South Africa, where President Aristide had lived for the previous seven years, to accompany him on his return to Haiti. Thousands of Haitians greeted their former leader, who told the crowd that the times of political exclusion were over, that what Haiti needed was true political inclusion. After five years, and despite ongoing political persecution, a burgeoning grassroots pro-democracy movement is finally succeeding in making good on that pledge.
Upon returning home, Aristide, who remains one of Haiti's most popular political figures, kept a low profile, focusing on efforts to strengthen his university and foundation which has struggled for years to improve the lives of the vast majority, who have for so long been excluded from Haitian society. But the previous government, led by Michel Martelly, continued the decade long persecution of Haiti's first democratically elected president. In 2014, old trumped up charges were dusted off and trotted out again. With legislative elections around the corner and as it was no longer feasible to keep Lavalas off the ballot, many believed the Haitian government was afraid of facing a strengthened opposition in free and fair elections. Aristide was placed under house arrest, despite it not being allowed under the Haitian constitution; and his government-provided security detail was withdrawn, putting him and his family at risk.
But the 2014 elections didn't happen. Martelly, who himself owes his presidency to the intervention of the United States and its international allies in the 2010 election (which, again, excluded Lavalas), failed to hold scheduled elections during his first four years in office. In 2015, with the parliament no longer constitutionally functional due to the expiration of legislators' terms, Martelly began ruling the country by decree. One can only imagine the reaction from the U.S. and others if this had happened under Aristide, or indeed any left government in the hemisphere.
When elections finally did take place, in late 2015, they were so plagued by fraud, violence and abuse that it led to the formation of a grassroots protest movement that advocated for a full investigation of the vote. Haitian election observers documented a "massive fraud" designed to benefit Martelly's hand-picked successor, banana plantation owner Jovenel Moise. The U.S. and other international actors, however, simply wanted to move on -- regardless of how undemocratic the election was.
The new group has a rallying cry: "Nou Pap Obeyi" (We Do Not Obey). Dissatisfied by a flawed election that saw the relatively unknown Moise come in first place in the initial round of the elections, many thousands of Haitians braved tear gas and batons and took to the streets, eventually succeeding in having the fraudulent elections canceled.
This was an unprecedented victory for democracy in Haiti, in the post-dictatorship era. An independent investigation, taking place under a caretaker government after Martelly's term ended, confirmed what everyone knew -- the vote had indeed been plagued by massive irregularities and so-called "zombie votes" that couldn't be traced to any real person. By not simply obeying the dictates of the U.S. and its allies, the historic pro-democracy movement has given Haiti a second chance. New elections are scheduled for October 9.
No longer under the thumb of Martelly, Aristide and his Fanmi Lavalas party have begun campaigning in earnest on behalf of their presidential candidate, Dr. Maryse Narcisse, a medical doctor and longtime activist, who could be Haiti's first elected woman president. Together, Aristide and Narcisse led a peaceful march through Port-au-Prince, followed by thousands of cheering supporters. They want a government that will restore dignity to the Haitian people, that will fight for the decent schooling and health care, and that can provide real hope for the millions who have been excluded for far too long.
For decades, Haiti has been tightly controlled by a small clique of economic elites (the .001 percent) and their international allies. Fanmi Lavalas, the party of Haiti's poor majority, threatens to upend that dynamic. Fed up with the gains of Haiti's pro-democracy movement, the U.S. has decided not to fund the upcoming elections. Good. Haiti's democracy must be in the hands of Haitians. Haiti's leaders need to inspire its people, to send a message that through political inclusion, active citizen participation and progressive policies, Haiti can indeed enact bold change in favor of the needy majority of its citizens. Many powerful interests are working to prevent this from taking place, but that's why those fighting for a real democracy need our support so that their commitment to progressive change can be put to the test.
Related
Popular in the Community