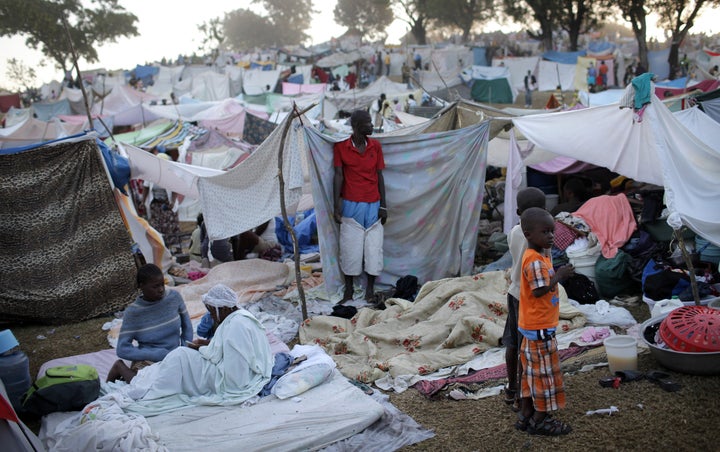 In the early morning hours following the shattering news that an earthquake hit my parents' homeland January 12, the phone rang. "Alain's in-laws died," said my sobbing cousin. Tragedy had hit home. Our anxiety increased as we wondered about the status of Alain's parents, as well as the dozen other cousins, uncles and beloved family members in Haiti. The countdown to find them began, despite limited means of communication into the besieged country. Intermittently glued to the TV screen searching for familiar faces and pretending to focus on the pressing tasks at my desk, every call brought feelings of fear, luck and guilt, while Port-au-Prince lay in ruins. Two heart-wrenching days later, we rejoiced as we heard that our immediate family was alive. In shock, they wondered how long their food and money would last. I also questioned the situation of women's safety in Haiti. Calamity continuing to unfold, the Haitian women's movement mourns three of its fiercest leaders, Myriam Merlet, Magaly Marcellin and Anne Marie Coriolan.
For many of us born of Haitian parents, tales of the westernmost portion of Hispaniola filled our childhood, depicting contrasts of beauty and struggle. While they bemoaned Haiti's tumultuous history as karmic payment for having dared to become the first black independent nation of the New World, in the same breath they sang its praises as the "pearl" of the Caribbean in their time, dominating in art and bearing natural genius for biting wit and poetry. I developed my own sense of Haiti as a land where entrenched patriarchy reigns and justice is scarce, but is nevertheless inescapably sustained by its women, pillars unrivaled in strength and grit, despite pervasive violence in their homes and on the streets. Who would ensure their protection in the aftermath of disaster?
The dust will not settle for some time in Port-au-Prince, but long before it does, human vultures will step into the mayhem, and target the most vulnerable for profit and human misery. The collapse of the capital's prison means some of the incarcerated have scattered back into the neighborhoods they once terrorized. The Haitian police, feckless in the best of times, have now tossed their hands to the heavens, scrambling to care for their own families and survival.
Violence against women is an unaddressed catastrophe in Haiti. Kay Fanm, a Haitian women's rights organization, estimates that 72% of Haitian girls surveyed have been raped and at least 40% of women are victims of domestic violence. Human trafficking and sex tourism were thriving businesses the day before the earthquake. In the aftermath of the tsunami in Asia, many feared a potential increase in human trafficking and urged respective governments to remain vigilant. With limited government capacity in Haiti, we can only shudder at the potential havoc criminal profiteers could trigger there, with probable impunity.
Scores of international agencies have documented the particular consequences of disasters on women and children. Following the tsunami, the US Agency for International Development in 2006 issued data from various organizations on the link between humanitarian emergencies and increased exposure of women and children to sexual violence and exploitation. Disaster relief efforts also often fail to give attention to the basic needs of women, the report indicated, which further jeopardizes their lives and safety.
Protection of human rights, particularly those of women and children, is as important as providing immediate medical attention, food and shelter. In Haiti, women come last in terms of protection from violence. One small example of the urgent need to establish special contingencies for women in post-earthquake intervention is underlined by images of men fist-fighting over UN-delivered food, while women, barely keeping hold of their babies, struggled in vain to reach the relief truck. Emergency assistance teams must ensure that coordinated security is in place to protect the most vulnerable and that the full participation of qualified women, in particular Haitian women, is secured to tackle gender issues in the response and management of disaster relief.
Invariably, foreigners leave Haiti enchanted by the kindness, easy smile and resilience of its people. If we want to invest in Haiti's recovery through which prosperity and stability will replace despair and chaos, we must ensure that protective measures and security systems for women and children are in place. Let us learn from our past mistakes and urge all international agencies in the earthquake relief efforts to implement urgently established guidelines (see for example the IASC Gender Handbook on www.ochaonline.un.org) to prevent avoidable unspeakable suffering and violence against women. Then perhaps, out of the dust, a diamond shall replace tears, and women will dance with hopes to thrive in a Haiti of their dreams.
Taina Bien-Aimé is the executive director of Equality Now, an international human rights organization.
Popular in the Community