Last week, TIME magazine decided that Hajj 2014 revealed itself as the Year of the Selfie. However, PITAPOLICY predicts that Hajj 2015 will be "The Year of Development" for a variety of social, health, spiritual, and economic reasons--whether Saudi Arabia is ready or not. True, both my mother and father practiced how to snap photos and use applications, like "How to Perform Hajj", on their iPads right before heading to Mecca, Saudi Arabia. But it was not to document themselves, but rather, to WITNESS the social, economic, cultural, and commercialized impacts resulting from about 2 million pilgrims gathering in a tight "public-private" hub. Going beyond the superficial "selfie" phenomena, review how shared pictures include enormous crowds, renovation and construction of sacred sites (a controversy to discuss later), and opportunities for infrastructural development. In scrolling through these pictures, opportunities for development mean avoiding logistical nightmares and health epidemics.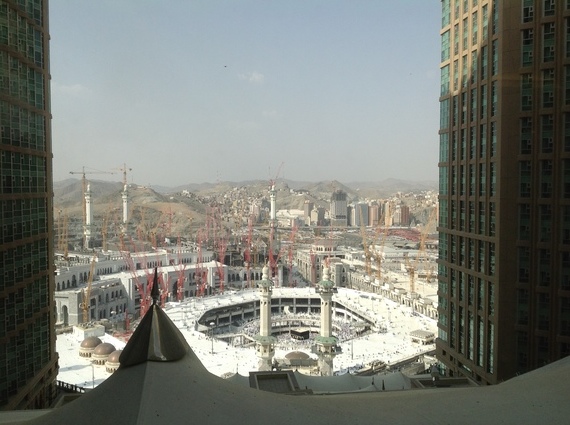 Kabah in Mecca on September 27, 2014
Ideas for Business & Technology
Hajj 2015 will be the Year of Development because more service businesses and technology solutions will have to step in and address the growing number of Hajji, or Muslims performing Hajj in Saudi Arabia. Mecca has about 2 million inhabitants. Once Hajj begins, the city size doubles. In 2013, almost 3 million people visited Mecca and Madina for the 10 day experience.
This year, the official number was reportedly lower, 1.4 million from abroad, but the critical challenges are traffic congestion followed by waste disposal.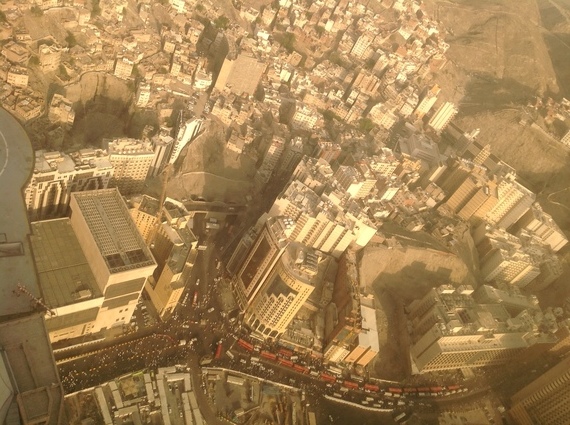 Bird's Eye View of Traffic in Mecca
Take note urban planners and environmentalists who advocate for "smart cities". Investments in a range of recycling programs could cut down on the waste factor as well as spark some creativity in the textiles department. I am still amazed at how airports market and SELL purses made of bottle caps and recycled aluminum cans for upwards of forty dollars.
Not Selfies, But Self-Help Applications
In a historical 21st century shift, Saudi Arabia allowed pilgrims to bring along smartphones into the sacred confines of the Kabah, the central site where Muslims believe Prophet Abraham reconstructed with his son, Prophet Ismail. When over 2 million people move within 15 miles, someone is destined to get lost in the crowds, or needs a place to sleep. How does he return to his buddy? Indians visiting Mecca used the "Haji Accommodation Locator" -- a tool that other tech startups in Arab countries will definitely refine for 2015.
Take for example the trend of phone applications development. Developing applications to troubleshoot spiritual journeys are not anything new. In an earlier essay, Huffington Post blogger, Dr. Nidal Guessoum foreshadowed the practical uses for pilgrims. Here are a few developed since Guessoum's 2011 observation:
HajjSalam - Founded by United Arab Emirates startup, Hajjnet. HajjSalam counts the required number of rotations, Tawaf, around the Kabah as many can easily lose count of the required seven rotations.
Hajj Monitoring System - Designed in Pakistan to sort queries and complaints from those performing Hajj. Its stated purpose is to inform better policy planning for 2015.
Healthy Hospitality
Muslims already represent about $100 billion -- 10 percent of global travel spending--and market analysts continue to predict their consumer behavior. It is no surprise that Europe held the "Halal Tourism" Conference (Halal meaning permissible in Arabic) occurred on September 22nd and 23rd, immediately before Muslims from over 30 countries entered the Muslim world's two holiest cities, Mecca and Madinah.
Many Muslims raise concerns about increasing consumerism while undertaking Hajj, and note the variety of hospitality services and luxury accommodations available. Moreover, there is a danger in removing authenticity in the name of renovation and development, as noted by Ziauddin Sardar. Rightfully so for those who marvel at sky-high hotels that overshadow the Kabah.
But in the same breath, not all business investment and technology ideas should be ignored when development opportunities for safer infrastructure and healthier conditions could mean preventing epidemics, like Ebola and meningitis, from spreading. Note to startups focused on health and ICT: looking forward to seeing how you launch Hajj 2015: Year of Development. #Godwilling
Popular in the Community