In the wee hours of Saturday morning, House Democratic leader Rep. Hakeem Jeffries (D-N.Y.) ascended the podium for his first remarks in his new role after House Republicans finally picked Rep. Kevin McCarthy (R-Calif.) as their leader.
Jeffries thanked his colleagues, paid tribute to former House Speaker Nancy Pelosi (Calif.) and introduced himself as the highest-ranking Democrat in the chamber. He acknowledged that the new Republican majority signaled the House was "at a fork in the road," though his party would still work to "extend our hand of partnership" across the aisle.
Jeffries handed the gavel over to McCarthy ― but first, he had a bit of fun.
"I also want to make clear that we will never compromise our principles," he said, before diving into a list that encompassed the entire alphabet.
"House Democrats will always put American values over autocracy," Jeffries began. "Benevolence over bigotry. The Constitution over the code."
As the Democrat spoke, McCarthy stood just off to the side of the podium.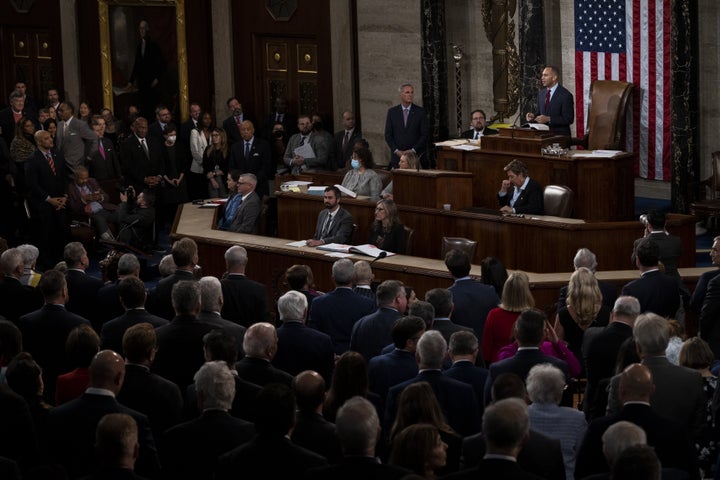 It took four days and 15 rounds of voting before McCarthy secured the support needed to win, despite the opposition of a contingent of far-right hard-liners within the caucus, including Reps. Lauren Boebert of Colorado and Matt Gaetz of Florida. McCarthy spent the week enduring rejection after rejection and meeting with his detractors to figure out how to win their support.
In the end, six of McCarthy's opponents voted "present" late Friday night. A person becomes speaker when they've received a majority from House members who are present and voting for a candidate. The "present" votes lowered the threshold McCarthy needed to reach to declare victory, allowing him to win with 216 votes to Jeffries' 212.
Popular in the Community