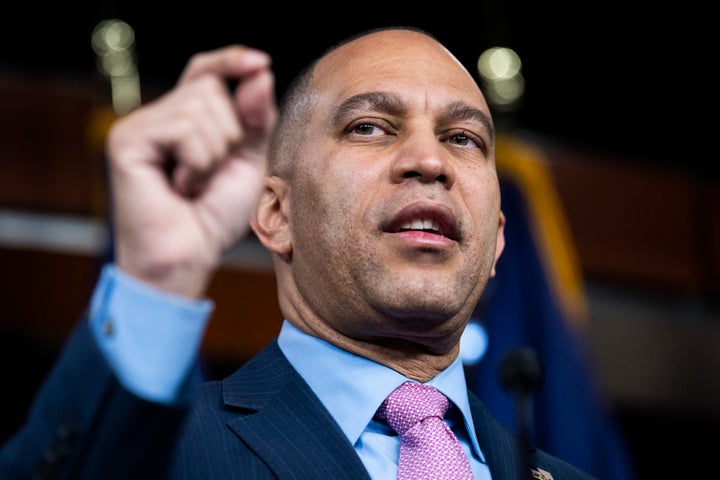 Together with New York Gov. Kathy Hochul (D) and Sen. Kirsten Gillibrand (D-N.Y.), Jeffries is assembling an elite team inside the New York State Democratic Party that will run a coordinated campaign aimed at flipping Republican-held U.S. House seats and defending vulnerable Democratic House incumbents, according to three New York Democrats familiar with the matter.
Although Jeffries' initiative, which is still being finalized, would operate inside the New York State Democratic Party, its very creation reflects top Democrats' concerns that the state party, in its current form, is not equipped to become a central node in Democrats' campaign to retake the House.
"You need someone to quarterback the development of the infrastructure, a message and a brand to create an environment in which Democrats can win," said a New York City-based Democratic consultant who knows about the initiative and requested anonymity to protect professional relationships. "That quarterback is not going to be the New York State Democratic Party."
Even a handful of wins in New York could have a major impact. Nationwide, Democrats currently need to flip just five Republican-held seats to win back the majority in the U.S. House. In that scenario, Jeffries would be virtually assured to become the nation's first Black speaker of the House.
"What we need is a year-round operation that is continuing to talk to real people every single day to be able to make sure that we're communicating the messages of the party, up and down the ballot, in every single race and every single year," said a New York progressive strategist who is familiar with the strategy and requested anonymity to preserve professional relationships. "Layering operations on top of the essentially blank canvas that exists has to happen."
New York's coordinated House campaign would function like coordinated campaigns overseen by state parties across the country, but that had until now been absent in New York. Coordinated campaigns allow state parties to communicate directly with candidates, campaigns and other groups that have "hard" side electioneering arms, as well as raise and transfer unlimited sums to candidates with whom they are aligned.
Under Jeffries' plan, the new entity within the state party would be responsible for recruiting candidates, crafting coherent messages and pooling resources — all in the interest of helping Democrats win in New York's many competitive U.S. House seats.
The existing personnel inside the state party will continue to oversee the party's coordinated work on other campaigns, such as Gillibrand's bid for reelection to the U.S. Senate and the campaigns of numerous Democrats in the New York State Legislature. To that end, the party is currently seeking to hire an Asian American and Pacific Islander outreach director, a Hispanic outreach director, a press secretary, and a regional political director.
"The State Party has always worked closely with the State's elected leadership," Alex Wang, executive director of the New York State Democratic Party, told HuffPost in a statement responding to a request for comment on Jeffries' initiative. "Earlier this year, the Executive Committee convened to discuss 2023 and 2024 election planning. We have many exciting updates that we will be announcing soon."
The House-focused coordinated campaign's list of priority districts is identical to that of the Democratic Congressional Campaign Committee, House Democrats' official campaign arm, which declined to comment for this story. Both New York and national Democrats are hoping to flip six GOP-held seats — New York's 1st, 3rd, 4th, 17th, 19th, and 22nd Congressional Districts — and help U.S. Rep. Pat Ryan (D) hold on to New York's 18th.
"New York finds itself in the position of, while everyone was sleeping, becoming ostensibly a purple state."
In addition to the new coordinated campaign, New York Democrats are set to get significant help from national groups. House Democrats' main super PAC, House Majority PAC, announced plans in February to set up a $45 million "New York Fund," solely dedicated to helping Democrats win House seats in the Empire State. As a super PAC, House Majority PAC can raise and spend unlimited sums, which it usually spends on TV and digital ad campaigns. At the same time, it would lack the coordinated campaign's ability to communicate directly with candidates and command the lowest possible TV advertising rates.
Democrats' multidimensional strategy to shore up the party's standing in traditionally blue New York is part of a larger realization that New York Democrats' performance, or lack thereof, has national consequences.
Even as Democratic candidates outperformed expectations in states like Michigan and Pennsylvania this past November, New York Democrats, unaccustomed to being put on the defensive, were a weak link that significantly contributed to the party's loss of the majority in the U.S. House.
Democrats' underperformance in the Empire State started at the top of the ticket. Hochul won a full term by less than 7 percentage points in a state that President Joe Biden carried in 2020 by more than three times that margin. Buoyed by former U.S. Rep. Lee Zeldin's strong showing against Hochul, Republicans flipped four U.S. House seats formerly held by Democrats — the 3rd, 4th, 17th and 19th. (In 2020, Biden won in all seven New York congressional districts that Democrats are prioritizing this time around.)
While New York Democrats are still developing an overarching message that they will use to advance their candidates and attack Republicans, they have already set the stage for a referendum that is designed to boost turnout among socially liberal voters. In January, the state legislature approved an "equal rights" amendment to the state constitution that would, among other things, enshrine abortion rights and transgender rights in the state constitution for the first time. The amendment heads to voters for ratification as a ballot measure in November.
Putting the amendment on the ballot resembles a tactic that Michigan Democrats used this past November, when they benefited from a referendum to change the state constitution to protect abortion rights.
While comparisons to the precarious position of Michigan Democrats might once have rankled New Yorkers, Empire State liberals are now embracing parallels to Midwestern battleground states.
"New York finds itself in the position of, while everyone was sleeping, becoming ostensibly a purple state," said the New York City-based Democratic consultant. "And that means a different way of running elections."
New York's coordinated House campaign will be run by a three-person steering committee at the top, composed of Jeffries, Hochul and Gillibrand. André Richardson, a veteran political adviser to Jeffries, is expected to play a prominent role in the campaign.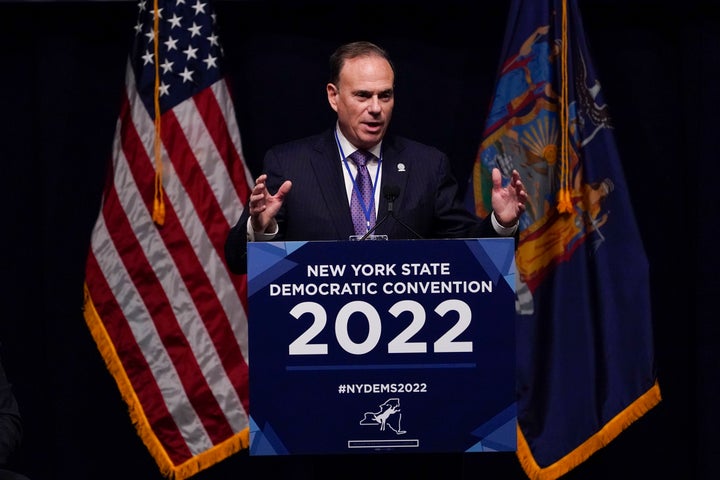 The Democrats setting up the new coordinated campaign are taking pains to build a broad coalition that includes progressive groups like the New York Working Families Party, which has clashed with Jeffries and other establishment Democrats in the past.
"We're all in a position, quite frankly, across this broad spectrum of the Democratic Party to know that we have to be able to move together and talk to the biggest tent of Democratic voters to take back Congress," the New York progressive strategist said.
In the wake of New York Democrats' embarrassing performance in November, many progressives called on Hochul to fire Jay Jacobs, chair of the New York State Democratic Party. Jacobs, an ally and appointee of former New York Gov. Andrew Cuomo (D), has engaged in some high-profile sniping with the Empire State's activist left, suggesting that the "far left" is more to blame for the party's challenges than he is. Hochul, now locked in a series of legislative battles with progressives in Albany, has refused to get rid of him.
But even some of Jacobs' critics acknowledge that replacing him alone would not, in itself, create a competent state party.
"The dude can go and all of the infrastructure issues remain," the New York progressive strategist said. "What we actually need to do is to build a new organization."
Meanwhile, Republicans are already previewing plans to revive their 2022 playbook of casting New York Democrats as too soft on crime.
Specifically, the GOP has seized on 173 House Democrats' votes in February against a bill to override the District of Columbia's progressive criminal justice reforms. The bill passed the Senate with some Democratic support, and Biden declined to veto it.
"Hakeem Jeffries forced his most vulnerable members to walk the plank for a politically toxic crime bill that President Biden wouldn't even support, and now he thinks he should direct strategy for the state party," said Will Reinert, a spokesperson of the National Republican Congressional Committee, House Republicans' campaign arm. "To think New York Democrats thought it couldn't get worse than Jay Jacobs."
Popular in the Community