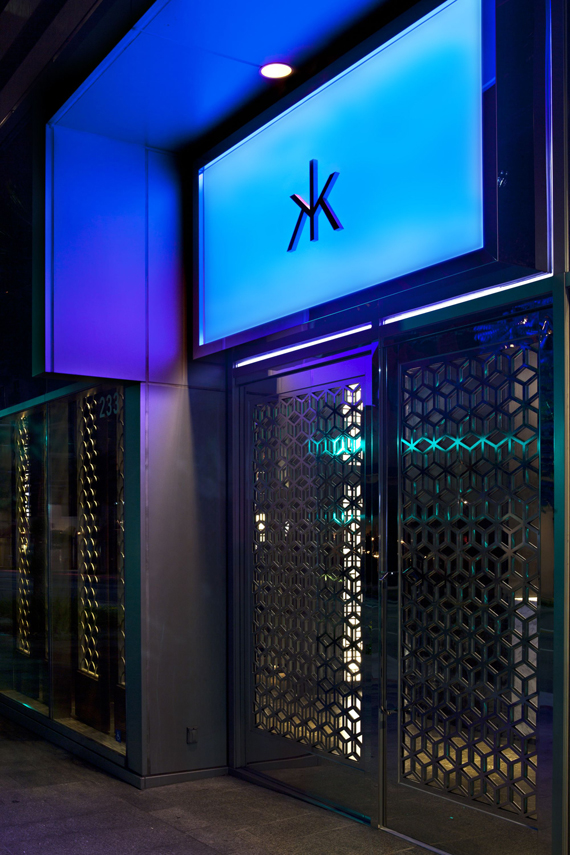 all photos by Jay and Hakkasan
I once visited China in early October and found the entire nation in chaos. Millions of people fighting to get onto trains and planes. It seems that Golden Week runs for two weeks then; it's the most popular national holiday in China. By law all Chinese employers must grant a paid three-day vacation to employees, so it sets off a madness as hordes of Chinese travel back to their hometowns or villages, though the more affluent now travel abroad as well. I was reminded of this event when I had dinner last night at my new favorite restaurant, HAKKASAN (233 N. Beverly Drive, a half block above Wilshire in Beverly Hills, (310) 888-8661). To honor Golden Week, their International Development Chef Ho Chee Boon told me that he was offering all guests (not just Chinese) a special set menu until October 12th for $138 a person. You may recall that I wrote that the most expensive dish in the city was probably their Peking Duck with imperial caviar priced at $288 per person (although it is actually enough for several people). Well, Chef Boon gave me the menu for his special $138 dinner ....and on it as one of several main courses was Peking Duck with caviar! (The caviar is from northern California, but good.) Note this immense menu for that dinner: Dim sum platter, Spicy Szechuan rib-eye beef with enoki mushrooms, Roasted crispy chicken with wild mushrooms in oyster sauce, Fried rice with diced abalone, plus the aforementioned duck. And to finish off the meal, you get deep-fried Black sesame and chocolate dumplings with ginger and yuzu tea. Plus every guest will get a take-away gift box containing hand-made golden macarons.
The Beverly Hills manager also told me that to assure the experience is enjoyable to their Chinese clientele, they will have Mandarin-speaking staff on site and in reservations, and they will even accept China Union Pay, the Chinese credit card of choice. Menus and website will be Mandarin-translated and staff has been fully trained in Chinese etiquette. I asked if this was only for their Beverly Hills location and they assured me that several Hakkasan restaurants around the world - Las Vegas, New York and San Francisco - will also be celebrating Golden Week, with exclusive menus, though each location's menu will vary.
Listen up, this Special Menu is actually a sensational opportunity, to enjoy the stunning Hong Kong-style Chinese banquet food of the most elegant, sophisticated restaurant in the city of Los Angeles. (I don't include the lovely Joss in this category, since it only has 25 seats.) What did he say? You heard me, this restaurant, Hakkasan, which has just undergone a slight redo - is so far beyond anything else we have here that I stand stalwartly by my words. It was one year ago that I did a series of dinners upon its opening and declared it to be an L.A. treasure. Last night my stalwart reviewing team of Penny McTaggart and David Rapoport joined me in revisiting the restaurant to see the renovations. The 10,000 sq. ft. space is full of warm, dark and romantic small dining rooms which have been made a bit more open and friendly. But it was their bar area where we headed, my favorite place there. It is a stunning, long blue-lit bar with a shimmering back wall highlighting a display of spirit bottles second to none anywhere. Their extensive wine list, which I know well, is fairly expensive, lacking any Laetitia and Justin/Landmrk wines, my favorites. There are some 3,000 bottles on hand and two sommeliers to handle your requests.
The bar area has been expanded slightly, and I quickly garnered the back corner table, my favorite place to eat in my favorite new eatery. And my favorite server was on duty, the wonderful Victoria Nicolever, who has been there since it opened. I told her that we were hungry but also thirsty for some of the new bar cocktails we had been hearing about, and she smiled and said she knew exactly what to bring. But first, the food I had been craving...an assortment of Hakka dim sum, the Shanghai dumplings, and Penny's favorite, the Vegetarian dim sum ($22).. We noted that there is a passel of Chinese cooks preparing these dim sum and dumplings in the kitchen. The Hakka Steamed Dim sum platter ($28) offers some exotic choices: a black pepper duck dumpling, scallop sui mai, Har gau and Chinese chive dumplings. (I still think the skin on the pan-seared Shanghai dumplings ($12) is a little tough, my complaint from last year, but David offered to take them home.) Victoria then brought the much-heralded Crispy Duck Salad ($28), another McTaggart favorite, with its pomegranate, pine nuts and shallots amidst the duck slivers and greens.
The Pipa Duck ($34) is the Peking Duck without the elaborate caviar and buns, a treat we enjoyed. The Black Pepper Rib-eye ($32) has been stir-fried with a Merlot sauce and is succulently delicious. One signature dish which we all adored is the Roasted Silver Cod in champagne sauce ($39) although I often order the Chilean Sea Bass ($42) prepared in Chinese honey, in its stead. I enjoy the way Chinese chefs prepare vegetables, and here is a dish of Four Style Vegetables. ($14) which is wonderful. This past year I have enjoyed so many sensational dishes here. One evening my date ordered the Jasmine Tea-smoked Chicken ($26), silky and smooth and damned delicious. Being a lamb lover, I usually order the New Zealand Lamb Chops ($36), seared and served with a sauce they said was Mongolian, tasting of sesame and soy and a few other spices. Another wonder is the Sampai Chicken Clay Pot ($24), corn-fed chicken with spring onions, dried chilies and Thai sweet basil. The Grilled Wagyu Beef ($68) comes with enoki mushrooms and onions in an osmanthus sauce. Pan-seared scallops at $28 is a steal, especially when topped with yellow chive flowers.Lobster, tofu, noodles, a spicy hot-and-sour soup, so many exquisite dishes it would take a lifetime to try them all. (I am willing to try.)
Victoria brought out three cocktails which she thought we should try, and I was surprised how much I Iiked all three. (David had ordered the Special Margarita, ($15) which was undrinkable, too, too spicy for words.) We had Shanghai's Eden ($15), with Pisco, Riesling wine, black grapes, rose syrup and lemon juice. Strong, tangy, delicious. Then she emerged with a drink called Dragon's Fury ($12), vodka, yellow Chartreuse, yellow bell peppers, grapefruit juice, tarragon, and Firewater bitters. Again, a surprise...I liked this. The third was actually amazing, Pearls of Paradise ($18), D'Usse cognac VSOP, El Maestro Sierra Amontillado sherry, coconut, Matcha green tea, Luxardo espresso-infused tapioca pearls! A little sweet but really unique. I have never seen a beer/wine/cocktail/spirits list like this menu. I actually took it home to study it, and it gave me a high just reading it.
You may recall that in our previous review we noted the New Yorker article which detailed that Hakkasan is owned by the young Sheik Mansour bin Zayed al Nahyani, a Prince in Abu Dhabi's royal family, who also owns the Manchester City soccer team in England. Which explains why everything here is so elegant and first class, for expense is obviously not an issue....a rarity in today's tight restaurant world. The 44-year old Sheik attended Santa Barbara's community college, which explains why he is so conversant with American modes. Everything in this restaurant is run so smoothly that you don't notice it. The beautiful young women on staff are all dressed in tight black dresses, a stunning sight. And they are trained within an inch of perfection. Ms. Albu, the attractive new assistant manager, told me she has been here only two weeks, from England, but she commanded the crew as if she had been here forever. I told her that I had visited the first Hakkasan in London in 2001, which had a Michelin star, and had been a fan ever since. David noted to her that the background music, a mix of modern jazz and pop, was not intrusive, a welcome innovation.
Hakkasan is open for lunch Monday through Friday from noon to 2:30 pm, on Saturday from noon to 2:45. Dinner Monday to Wednesday is 5:30 pm to 9:45 pm, while Thursday to Saturday is 5:30 pm to 10:30 pm.
As a fierce aficionado of all things Chinese cuisine, I am thrilled that this superb, smart, sensational restaurant is here and growing in our fair city. I continue to welcome such an upscale dining experience and thank Sheik Mansour for bringing it here....and now how 'bout a great soccer team for LA.?
To subscribe to Jay Weston's Restaurant Newsletter ($70 for twelve monthy issues) email him at jayweston@sbcglobal.net
REAL LIFE. REAL NEWS. REAL VOICES.
Help us tell more of the stories that matter from voices that too often remain unheard.