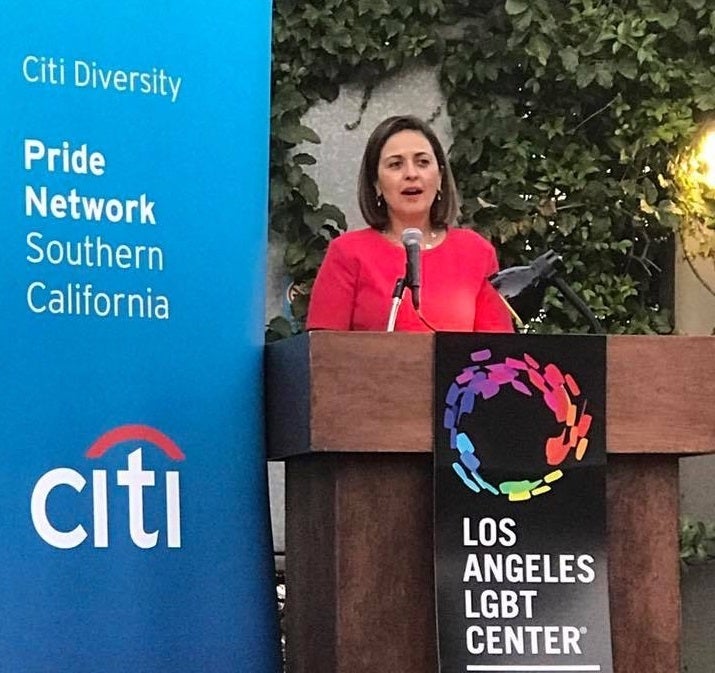 With the goal of harnessing the untapped potential of Iranian-Americans, and to build the capacity of the Iranian diaspora in effecting positive change in the U.S. and around the world, the Iranian Americans' Contributions Project (IACP) has launched a series of interviews that explore the personal and professional backgrounds of prominent Iranian-Americans who have made seminal contributions to their fields of endeavor. We examine lives and journeys that have led to significant achievements in the worlds of science, technology, finance, medicine, law, the arts and numerous other endeavors. Our latest interviewee is Halé Behzadi.
Halé Behzadi is a Managing Director and Global Market Manager of the Western Region at Citi Private Bank. She was most recently Regional Market Manager for Southern California and Arizona where she was responsible for managing the Los Angeles, Beverly Hills, Orange County and Phoenix offices. Currently, Halé chairs the Mentoring Committee at Citi Private Bank and Chairs Citi's California Leadership Council.
Prior to joining Citigroup in 2002, Halé enjoyed a long and distinguished career with Bank of America, where she was a Senior Vice President directing a team of private bankers in Beverly Hills. Halé has three decades of experience working with ultra-high net worth families and their business and philanthropic ventures.
Halé is a graduate of Georgetown University with a BA in Economics. Throughout her career in financial services, she has played an active role in numerous civic and charitable organizations that provide social services, education and health care in the local community. Currently, Halé serves as the Chair of Committee on Trustees for Viewpoint School and serves on the Advisory Board of the Asia Society of Northern California and the Iranian American Women's Foundation.
Tell our readers where you grew up and walk us through your background. How did your family and surroundings influence you in your formative years?
I was born and raised in Tehran. My family and I lived there until I was 16 years old, we were forced to move due to the revolution of 1979. Up until the revolution I had a relatively normal upbringing; I attended international schools where I became fluent in English. Both of my parents were educated abroad, my mother in the UK and my father in the US. As a result of their Western schooling, my parents very early on impressed upon me the importance of thinking globally and thinking about an internationally focused career. Both my parents and grandparents always pushed me to do well in school and think beyond borders. There is a pervasive stereotype that women in Muslim-majority countries are repressed and not encouraged to be educated and succeed in business. This was not the case for me or for many of my female friends growing up. My father only had daughters, and he was my biggest supporter growing up. He taught us all to believe in ourselves and our abilities. Both he and my grandfather reinforced that we girls were more than capable. My mother always pushed me to stretch myself beyond my self-perceived limits. She would tell me over and over again that I could succeed in business. My parents and grandparents—specifically my grandfather—instilled resilience in me that I still have to this day.
What has been your personal key to success? What were the biggest inspirations for your career?
My personal key to success has been family. Early on it was my parents and grandparents strongly encouraging me, and now my husband is my biggest advocate. They all saw something in me and believed in me more than I believed in myself. Without them, I would not be where I am today. That kind of support system enables me to engage fully and be all-in at work. I have two children, and with each pregnancy, my mother would look me in my face and say, "Halé, you must go back to work. You love what you do, and you have so much more to accomplish."
Over the years, I have had many mentors throughout my career. Jane Fraser, who used to manage Citi Private Bank globally and now runs Latin America for the firm, was a strong leader who always pushed her team to operate at the highest level of service. Peter Charrington, the current global CEO of Citi Private Bank, emphasizes being "all-in" all of the time to provide world class advice and solutions. Tracey Warson, who heads the North American business for Citi Private Bank, has always championed stretching people beyond their comfort zones and consistently challenges us all to think big and consider all possibilities. She also showcased for me the importance of sponsorship for future leaders. In the Private Bank we foster a culture of mentoring, and I have been so fortunate to have these great mentors—I feel very passionate about paying it forward. Mentoring has helped me so much, and I am keen to repay that, so opening the door for the next generation is critical for me at this point in my career. Citi Private Bank has a robust mentoring program that I chaired for 3 years and it's a privilege to continue to play an active role.
How did you successfully grow Citi Private Bank's share of the market in the western U.S?
Citi Private Bank is dedicated to delivering private banking services for Global Citizens. Globally, our clients are Ultra High Net Worth Individuals and Families, Family Offices, Entrepreneurs, Law Firms and their Partners/Associates, as well as Private Equity, Real Estate and Media/Entertainment executives, many of whom who have assets in multiple geographic regions. We help clients grow and preserve wealth, finance assets, preserve legacies, and serve family and family business needs. Our clients are very financially sophisticated with a high level of business acumen. They have many private banks and wealth management firms to choose from. I think what sets Citi apart from our competitors is that we really listen to our clients. We take the time to build trust and determine what their private banking needs are. We lead with advice, not product. The Citi Mission & Value Proposition is also at the heart of everything we do. I reinforce for my team that we must always maintain a moral compass and have real empathy. This will ensure that we are always acting in the best interest of our clients and doing the right thing.
Having solid financial strategies is a given and an important objective, but being a problem solver for clients and designing creative and flexible solutions for what's top of mind is how solid relationships are formed and that upon which a business is built. I also believe it is critical to build teams with diverse perspectives and welcome those ideas. Alternate vantage points create a rich culture in which employees can thrive and clients feel well cared for. Ensuring that team members have a voice has been a competitive advantage for us given how global Citi is and how organic internal mobility is for the firm. Just as I bring my experience from growing up in Iran and finding stability and resilience, so too does my team bring their varied and valuable life experiences.
What is the biggest challenge you have faced in your career?
By far, the biggest challenge was going through the financial crisis in 2008. That experience stretched me in ways I couldn't have imagined, and I learned so much about leadership. It was difficult to navigate the personal and professional responsibilities which I felt I had to our clients, employees, and community at large. Every day there was yet another challenge or problem to be solved, but I learned to keep my eye on the horizon and take a long view. So many of our clients did not think we would be able to weather the storm, and I maintained my resolve to constantly reassure them that we would be here for them. I've been at Citi for 15 years and never before have I had to lean on the firm's deep roots more than I did during the crisis. I had to trust in our global reach and the rich history of our organization. It was such a trying time for everyone. I felt this great weight on my shoulders knowing that I was responsible for my clients' livelihoods. That moment in history taught me not to be myopic and to remain steadfast and focused. It tested my managerial grit and gave me a new perspective on leadership as I had to set the standard for my team. Sometimes you have to lead from the front, and there are other times when it's equally important to lead from behind.
What factors do you consider the most important when you are working with ultra-high net worth families, their businesses and philanthropic ventures?
Aside from listening and understanding their needs, which I mentioned earlier, I find that clients are also incredibly appreciative when I show them the full breadth of Citi's capabilities. Many times, we have clients who come to us for one specific transaction or service, but when I demonstrate the full power of our platform and the ease with which they can utilize it, they stay and work with us in more areas. Individuals and families that have amassed as much wealth as our clients have tend to have additional complexities in distributing and investing that wealth. We make it easy for them, and we are very transparent throughout the entire relationship. It is for this reason that many of our clients refer and recommend their friends and business associates to do business with us.
All of our clients are different and require customized strategies and portfolios, but one thing they almost all have in common is that they want to pass down their legacies to their heirs. We understand that and help facilitate that in many different ways, for example, through our NextGen or Family Office programs. Our clients understand that we're not just here for their lifetime, but the lifetimes of their children and grandchildren. That type of trust and dedication cannot be bought, and our clients recognize this. This goes back to my earlier point of maintaining empathy.
What advice do you have for students who may wish to enter the financial services industry?
I tell junior members of my team that academic and intellectual talent is a given, but only carries you so far. You need to truly care and have compassion and empathy in finding solutions to clients' objectives. Soft skills are critical; I also advise them to have patience. Building lasting relationships with clients starts with building trust, which does not happen overnight. Also, communication is key. You need to know how to communicate well and in a compelling manner.
What does being an Iranian-American mean to you?
I am proud to be Iranian-American. We were welcomed in this country, and as I look around at this diaspora community and I can't help but be proud of how they have thrived and added value to our local economies and communities. This is further evidence that having a level playing field where all talented people can shine regardless of their skin tone, gender or whom they love adds a richness not found in uniformity.
As an individual, it makes me more culturally sensitive to others with diverse backgrounds and helps me understand nuances and unspoken messages. I also believe that my identity is what drew me to work at Citi. I crossed borders at a young age and came into contact with so many different types of people, people who enriched my life for the better. I see the benefit in diversity and so does Citi. That diversity is present in our client base, and by creating an environment which celebrates everyone's unique perspectives, both clients and employees feel heard and valued, building meaningful relationships so germane to a successful private banking business.
REAL LIFE. REAL NEWS. REAL VOICES.
Help us tell more of the stories that matter from voices that too often remain unheard.
This post was published on the now-closed HuffPost Contributor platform. Contributors control their own work and posted freely to our site. If you need to flag this entry as abusive,
send us an email
.