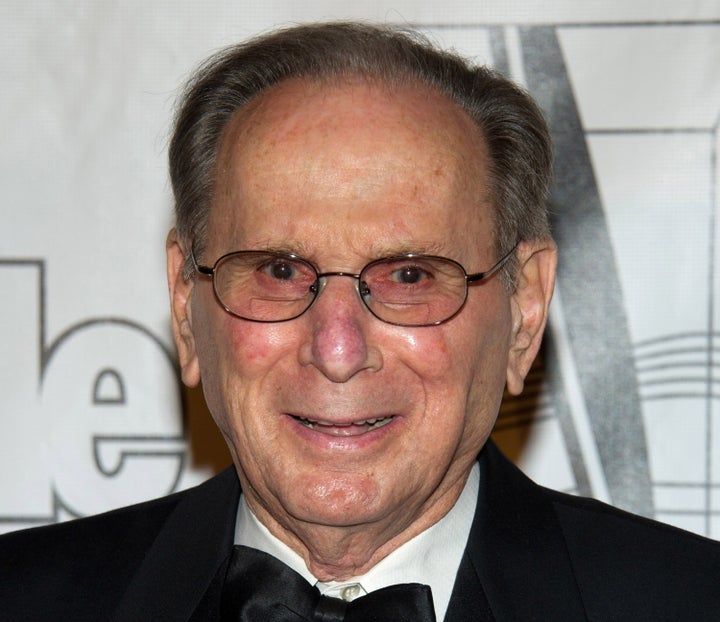 "Poems are written to be read and lyrics are written to be sung. I am a lyricist and the lyrics on this page were written to be sung," Hal David matter-of-factly explained on his website.
Lyricists, often a forgotten footnote, breathe life and meaning into a melody. It is the lyrics that tie the emotion of both the music and the singer entrusted to it, to deliver a message that can touch our hearts, something few can really accomplish. Moreover, for someone of David's remarkable talent, even his passing is powerless to strip his words of their profound meaning for those who continue to be touched by them.
Hal David, longtime songwriting partner to Burt Bacharach, passed away on Saturday at 91 following complications from a stroke. His demonstrated genius, is not adequately captured in short obit clips, but rather by the fact that decades later, millions of us so very much still take his songs into our hearts. His life, like his lyrics reflected the immigrant-born romanticism of so many whose parents struggled in a new land that was soon hit by the double shock of economic depression and World War. David, the son of Jewish-Austrian immigrant delicatessen owners finally got to follow his dream into New York songwriting after service in World War II and some limited success in the late '50s. He finally hit it big in the decades that followed and simply never looked back.
Included in his stunning repertoire of forty top ten hits were the first number one songs in the careers of the Carpenters: "(They Long To Be) Close To You" in 1970; B.J. Thomas', "Raindrops Keep Fallin' on My Head" in 1969, and Herb Alpert's 1968 smash "This Guy's In Love With You." There are simply too many songs to briefly list. Other hits include many of Dionne Warwick's, whose career he helped launch, like "I'll Never Fall in Love Again" and "Walk on By," the 1965 Vietnam War-era hit by Jackie DeShannon, "What the World Needs Now (Is Love Sweet Love)," and the Fifth Dimension's last top 10 in 1972, "One Less Bell To Answer." "Always Something There To Remind Me" became a top 10 hit in 1983 for Naked Eyes two decades after it was penned and the Neil Simon-inspired revival show Promises, Promises featuring Bacharach and David songs wrapped up a run on Broadway just last year. He also had hits with other partners including 1984's top five "To All the Girl's I've Loved Before," with Albert Hammond.
His accolades include a Grammy, Oscar, a star on the Hollywood Walk of Fame, a Tony nomination, chairmanship of the Songwriter's Hall of Fame and presidency of the American Society of Composers, Authors and Publishers (ASCAP) from 1980-86. ASCAP noted:
David, a native of Brooklyn, New York, teamed with composer Burt Bacharach beginning in the late 1950s to create a legendary body of hit songs -- that remains unequaled to this day-- that were recorded by artists including Marty Robbins, Perry Como, Bobby Vinton, Gene Pitney, Dusty Springfield, Tom Jones, Herb Alpert, Jackie DeShannon, B.J. Thomas, Frank Sinatra, the Fifth Dimension, the Carpenters, Barbra Streisand, and, most notably, Dionne Warwick. In May of 2012, President Barack Obama presented the prestigious Library of Congress Gershwin Prize for Popular Song to David and Bacharach at a White House musical tribute.
David, while dazzlingly successful, was different from the robust songwriting of an era that included the likes of Lennon-McCartney, Motown's Holland-Dozier-Holland and Stevie Wonder, John-Taupin, Laura Nyro, John Denver, James Taylor, Carol King, Bob Dylan, Paul Simon, Jagger-Richards and others. It is no easy feat to have one's songs stand out during an era that produced not only a wave of captivating music, but upheaval as well. As the period was rocked by war, economic downturns, civil strife, crime waves, poverty and assassinations, David's simple embrace of the gentle and romantic enabled his lyrics to resonate during an otherwise cacophonous time. Take for instance his 1965 top ten hit "What The World Needs Now" during the escalation of the Vietnam War:
Lord, we don't need another mountain; There are mountains and hillsides enough to climb. There are oceans and rivers enough to cross, Enough to last 'til the end of time. What the world needs now, Is love, sweet love. It's the only thing, That there's just too little of.
On his website, David explained:
In writing I search for believability, simplicity, and emotional impact. Believability is the easiest of the three to accomplish. One thing a lyricist must learn is not to fall in love with his own lines. Once you learn that, you can walk away from the lyric and look at it with a reasonable degree of objectivity. Often I discard a good line because it is inconsistent with the basic idea. If the line happens to be witty or sad in a particularly fresh way it hurts me to take it out. But that's part of the pain of writing.

Simplicity is much harder to achieve. It is easy to be simple and bad. Being simple and good is very difficult. The sophisticated Cole Porter, the earthy Irving Berlin, the poetic Oscar Hammerstein, and the witty Lorenz Hart all have one thing in common - simplicity, the kind that is good. I must also mention a special favorite of mine, Johnny Mercer. Whether he is being poetic or humorous, he is never complicated. I seek this elusive thing called simplicity always. I hope I sometimes achieve it.

Above all, I try to create an emotion to which others can respond. Unless I can create an emotion to which I can respond, I throw the lyric away. Although I cannot know how others will react, I assume that if it moves me it may do the same for them. Sometimes I am right, sometimes I am wrong.
As someone, who probably like millions of others, has found comfort and a tear or two, in the embrace of his music at times of not only great joy, but occasional sorrow, I think the safest bet in town today is that this humble gentle genius, who often eschewed the limelight, was most often right.
Partial List of Hal David Songs
"Do You Know the Way to San Jose"
"It Was Almost Like a Song"
"Make It Easy on Yourself"
"My Heart is an Open Book"
"One Less Bell to Answer"
"Open Your Arms to the World"
"Raindrops Keep Falling on My Head"
"The Man Who Shot Liberty Valance"
"There's Always Something There to Remind Me"
"This Guy's in Love With You"
"To All the Girls I've Loved Before"
"Trains and Boats and Planes"
"What the World Needs Now is Love"
"You'll Never Get to Heaven (If you Break My Heart)"
Popular in the Community