Let's talk about Hal Gurnee, who directed David Letterman's NBC daytime show (1980) and both late night shows ("Late Night with David Letterman" on NBC and "Late Show with David Letterman" on CBS) for 13 years (1982 - 1995). That's where I come in. It was 1989 -- the year Taylor Swift was born and the year this cub reporter was assigned to do a behind-the-scenes feature story on Dave's director for Us Weekly magazine. I got to spend a day with Dave, Hal, and the eclectic group of staff writers and crew who showed up that day.
Photo of writer Pat Gallagher and Hal Gurnee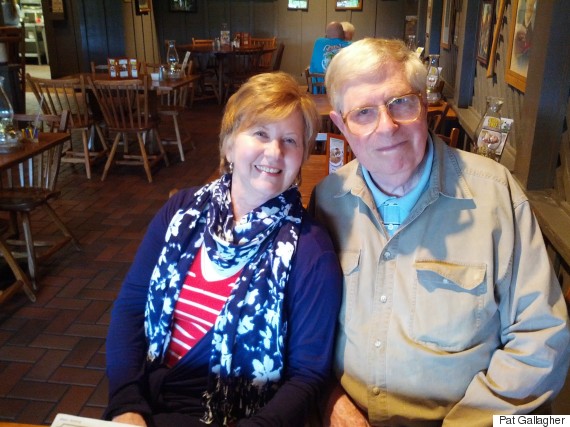 Just before the feature was to be published, Hal's wife, Joan, died suddenly so Us Weekly decided to put off running it. To make a long story short, time passed, staff editors at Us Weekly slowly left, replaced with a newer crop, time marched on and the story never ran. So, in the name of nostalgia -- and to pay tribute to one of the best directors David Letterman ever had the pleasure of working with -- here is that piece in it's entirety (which will give you an idea of just how a late-night comedy talk show gets off the ground each day).
Fade In: It's 9:30 AM on a cold, blustery day in New York City (1989). "Late Night" director Hal Gurnee, dressed in tan chinos, a blue oxford shirt and brown loafers, sits alone in his toy-box size, 14th floor office, eating some dry cereal laced with skim milk, waiting for staff members to show up to discuss various details of that vertiginous late-night show he directs: "Late Night With David Letterman."
A visitor entering Gurnee's office would immediately become mesmerized by his decorative walls. They're covered with over 50 framed pictures of celebrities who have been photographed holding a "picture" close to their face of his beloved dog, Bert. The office looks like a correctional facility for tiny tots who tease small puppies. One could sit in the small office for hours gazing at the many huge stars who show kindness to animals by posing for these unique 8x10s (Burt Reynolds and Bert; Pee Wee Herman and Bert; Mickey Mangle and Bert... and the list goes on and on.)
When this reporter enters his domain, Gurnee begins to talk about his past -- directing the likes of Jack Paar, Joey Bishop, David Frost and Jimmy Dean's puppet, Rolf). His friend of 27 years -- associate director, Pete Fatovich -- pokes his head in the door. "Hal's a great director, and a great human being," Fatovich announces.
Gurnee turns the tape recorder toward Fatovich, saying playfully, "Pete, when you do the positive things, speak up. And if you're gonna trash me, keep your voice down."
A moment later, producer Robert Morton peeks in to offer a rehearsed statement about Hal: "Hal...is...the...kindest...sweetest...man...I've...ever...met."
"See," jokes Gurnee, "he's been brainwashed too. I'll be in later to reprogram you, Bob."
The staff and crew love this jocose, mild-mannered director. Show business reeks of horror stories about directors who are temperamental, unreasonable hotheads. But after spending many hours on the set of "Late Night," it became obvious that Hal Gurnee is, indeed, the kind, witty, generous soul the "Late Night" staffers brag about. And his contributions to the show are priceless. He invented the sky cam and the thrill cam -- which is one of his favorite inventions. "I thought it would be great to create a camera that seemed to zoom through space out of control," laughs Gurnee.
So let's jump on that thrill cam and take a Gurnee's Journey. Or, the theme paper might be titled: "A Day In The Life Of A Big-Time Network Director Plus Some Harmless 'Late Night' Trivia."
Throughout the day, Gurnee makes contact with many of the 85 staff and crew members who come together each day to put a fresh new show on the air for the purpose of entertaining the moles and insomniacs who stay up until the wee hours of the morning. Writers stagger into his office to solicit his opinion on and off during the day. This minute, Gurnee has to make a decision which Goodyear Blimp slide to use for this evening's taping. (It's the "Goodyear 'Bite Me' Blimp Night.") The special-effects guy needs to discuss the electronic sparkles they'll be using to introduce the new set.
Take One: 2:30 PM. Time to rehearse. Inside NBC Studio 6A, where the temperature is so low you could store a side of beef, Gurnee strolls past two lighting guys who grab him. They have to decide how to fix the glare that bounces onto the studio floor. It detracts Dave. After that mess is cleared up. Gurnee sympathizes with Kevin, the cue-card-guy, who claims to have had pneumonia three times since he's worked there; then he wanders into his professional cubby hole, the "Late Night" control room filled with monitors and hundreds of buttons that control only God-knows-what. It's located just outside the double doors, down the hall to the right of the studio (where Dave has taken inquisitive viewers many a night to watch Hal do his shtick). Hal cooked chili in the control room one night, flavoring it with a rusty old headset, then serving it up to hungry crew members.
Take Two: Gurnee poses for a photographer (assigned to take photos for this piece) inside the dark control room. He tells the crew that "Boy's Life" is doing an article on him. "They've been trying to get me for years," he jokes. As the avuncular, soft-spoken director leans back in his blue cushioned sway-back chair, hands clasped behind his head, he announces: "This is my Ted Koppel look." Another pose: "This is my ironic look."
Gurnee's slick, buoyant humor serves him well. "Late Night" is, after all, a comedy show which means the creative team has to deliver the goods or the studio audience goes home unamused. (And if the audience stops laughing, Letterman and his staff will wake up one day in a GE warehouse threading tungsten wire into light bulbs.) Gurnee's contribution to the humor of the show is essential. Letterman says it's immeasurable. "Hal contributes in ways that I could never have imagined or dreamed of, both with his directing and also with his suggestions about almost every aspect of the show... I think that if somebody else were directing this show, the finished product by comparison would be greatly diminished," Letterman boasts.
Take Three: Control room etiquette. Head writer Steve O'Donnell walks in like he's checking crew members for lice. He paces back and forth behind Gurnee, who now has his mind on camera shots. O'Donnell is dressed in a brown outfit that suggests maybe he has little, or no sense of fashion. This wise reporter asks him to recite in 25 words or less how Hal Gurnee contributes to this program. "Most of us are really afraid of him," O'Donnell says with a straight face.
(Then comes the truth and O'Donnell's version of the infamous show business pie theory.) "There are three funny slices to the show pie," O'Donnell volunteers. "Dave would be a big funny slice,the writers contribute another slice, but Hal's selection of what he decides to cut away to and the way he zooms in on things -- whether it's the stoney-faced audience member or a stagehand just smoking a cigarette behind the production doors -- it just always makes things very, very funny."
"The real job," Gurnee offers, "is to see things and seize the opportunities to make things look good and to surprise people. That's where your value as a director is."
Gurnee likes to take random camera shots that surprises even Letterman. Sometimes he'll take a spontaneous shot of bandleader Paul Shaffer, catching Shaffer off guard. The audience laughs because Shaffer is usually in his Goober-like trance. "It gives a wrap-around view of what's going on in the studio," Gurnee points out. "On another show, the host might say, 'What the hell is that? People have come to see me, not Paul Shaffer,' but Dave is not that way. Dave understands and likes the fact that other people are included."
Ready, action: Letterman walks by the control room sticking his head in to say, "Hal, I'm here." Dave, who is rehearsal ready wearing sweat pants and a heavy-duty college sweatshirt, walks through the double doors to the studio, sits down at his desk on the set, then hollers: "Hal, you've got to fix that shower in my office! Every time I get in, I get soaked!"
Hal responds, dry humor in tact: "Sure, Dave, I'll have somebody look at it."
Of course, Gurnee is used to great comebacks. Letterman has been introducing him as Hal Gertner for years. And the late-night viewing audiences have been listening to his retorts: "It's Gurnee, Dave." It's a running joke that Gurnee laughs about. "We did a little remote with some actors, and after it was over, one of the actors wrote me a little note saying, 'Thank you for hiring me, I think you're a terrific director, Hal Gertner.' I showed it to Dave, and Dave got a big kick out if it so about a week later, sure enough, he used it."
Remote visit: During a lull in the festivities in the control room, it's back upstairs to the office complex where Gurnee reflects back on his seven years with "Late Night" and talks about Dave's personal life. Most viewers would probably never guess, for instance, that Dave dates a woman named Betina who has a huge black mole in the middle of her back. (Not sure how Hal knows this... but he kids.) In the meantime, two more unnamed writers run into the office to give more testimony about their director: "Hal is the Dean of Directors," says one writer whose clothes are on the verge of dry rotting.
Take four: Dave takes a moment to share a deep dark secret about his close personal friend, Hal Gertner: "I know for a time when Hal got out of the service, he worked in some clubs here in New York City as a female impersonator."
Cue Top 10 List: If Dave were pressed to do a Top Ten list of television directors that anybody had ever heard of since about 1947, the list would be redundant. All 10 would be: Hal Gurnee. Short TV quiz; Who directed "Pete and Gladys" in 1960? Who directed "The Merv Griffin Show?" Who directs "Rosanne?" Answer: Who cares? The point: Hal Gurnee is possibly the only living television director who is so intimately involved in a television extravaganza both behind and in front of the camera. Real people actually know his name.
Flashback: Summer of '88. During that unfortunate writer's strike, Gurnee helped Dave by offering up "Hal Gurnee's Network Time Killers," his idea to have circus performers come in and tumble some time away during the slow parts of the show.
The bit, though, that seemed to generate the most excitement was Dave's rendition of "What is Hal Wearing?" Every night for what seemed like weeks, Dave would check in the control room asking, "Hal, what are you wearing tonight?" Each night Hal would stand up to show off those preppie threads: tan Chinos, a blue oxford shirt and brown loafers. The truth is, he really does wear this same ensemble every day. "I have five oxford shirts, three pair of Chinos that will last a week... and the shoes," Hal admits.
A group of high school students from East St. Louis High School went into a state of fabric shock after watching this bit every night. They dressed themselves up in the Gurnee outfit and declared a "Hal Gurnee Day." "I got a big kick out of that because it was one of those silly ideas Dave had and look what happened to it," Gurnee laughs. (He has a picture of this senior class wearing the Gurnee threads hanging on office wall.)
Cut to: 5:30 PM. Show time. Control room crew in place, Gurnee cues the theme music. Bill Wendell gives the introduction. Dave enters stage left. The show is under way. Just before bit player Chris Elliott makes an appearance on stage, he moseys over to his pal Hal, plants a big fat wet one on his lips and hands him a little payola. (Close-ups seem to be important to Chris.) Hal, who is watching Dave closely on several monitors, raises his thick eyebrows and accepts the cash.
After the show, the crew disburses. Gurnee holds a cold compress on Dave's forehead while other staffers hand him some old clothes to change into. Then it's back upstairs to the office complex for a meeting to discuss the next day's show. After all is said and done, Gurnee vacuums Dave's office, walks four blocks to his apartment and reads silently.
PHOTO GALLERY
Emmy Award Winners Over 50
REAL LIFE. REAL NEWS. REAL VOICES.
Help us tell more of the stories that matter from voices that too often remain unheard.