In a letter to a boyhood friend, Mark Twain (1835-1910) wrote, "Public shows of honor are pleasant, but private ones are pleasanter, because they are above suspicion."
In 1888, Mark Twain received his first honorary degree -- a Master of Arts from Yale University. Mark Twain, of course, began life as Samuel Langhorne Clemens. He grew up in Hannibal, Missouri, within a stone's throw of the Mississippi River that he would later exalt in Adventures of Huckleberry Finn and Life on the Mississippi.
The degree from Yale was not his first "public show of honor." During his brief stint as a schoolboy, Clemens consistently won the "good spelling" medal, which he wore around his neck on a string. When his father, John Marshall Clemens, died of pneumonia in 1847, Sam's mother, Jane, could no longer pay the 25 cents per week tuition for Sam to continue his education. Worried about making ends meet and providing for the rest of the family, Jane apprenticed Sam to Joseph Ament, editor of the Missouri Courier newspaper. And in this "poor boy's college" as a printer's apprentice, young Sam's education continued, spelling and all. Call it an unpaid internship, room and board notwithstanding.
Although Jane Clemens had predicted some measure of greatness for Sam because of the presence of Halley's Comet in the sky when he was born, none in that small Missouri river town could have imagined what was to come. The same could be said of another boy from a later era: Harold Rowe Holbrook, Jr. -- Hal Holbrook.
Born 90 years after Clemens, Holbrook was only two years old when both parents abandoned him and his sisters. His childhood, which included being sent off to boarding school where he endured beatings and other cruelties, instilled in him a survival mentality. He penned in his memoir, Harold: The Boy Who Became Mark Twain, "Was it worth it, this awful struggle to survive, no matter what the cost?"
The cost, as he described it, included a toll on his own wife and children in later years. Holbrook may be perceived as something of a workaholic. His IMDB profile lists more than 100 film and television appearances. At 87 years old, he shows no signs of slowing down. He appears as Francis Preston Blair in Lincoln, Steven Spielberg's newest film, and in Promised Land, with co-stars Matt Damon, Frances McDormand and John Krasinski.
Holbrook's career is a perpetual work in progress of multiple projects and sometimes surprising roles sandwiched around the singular role that has come to define him: Mark Twain. Holbrook launched Mark Twain Tonight! in 1954. This means that he has performed as Mark Twain 11 years longer than Sam Clemens carried the name. The term "mark twain" was a river term by which a leadsman measured the water's depth at two fathoms, or 12 feet. This depth ensured safe water to a "steamboatman" like Clemens.
Holbrook won a Tony for his portrayal of Twain in 1966. He has performed the role more than 2,000 times with a repertoire so vast that no two shows are alike. Audiences can expect to hear Twain's observations of current events, whether politics, religion or business. Holbrook has memorized volumes of Twain's writing, allowing him to comment -- in Twain's voice -- on any subject. Upon exiting a performance, audience members can be overhead quizzing each other: "Did Twain really say that?" Yes, he did.
Holbrook's honors include Emmy, Cable ACE, Golden Apple and Los Angeles Film Critics Association awards. He was nominated for an Academy Award for Into the Wild (2007). Holbrook enjoys the respect and admiration of his peers and a global audience. And he is revered by Twainiacs for obvious reasons. This year, the Mark Twain Boyhood Home and Museum in Hannibal, Missouri and the Mark Twain House and Museum in Hartford, Connecticut will confer their own honors on Hal Holbrook.
The Mark Twain Boyhood Home and Museum announced on its 100th anniversary earlier this year the establishment of the Mark Twain Lifetime Achievement Award. The award is to honor someone whose life work has significantly furthered Twain's legacy. Holbrook is the obvious first choice. He will accept the award in a special celebration in Hannibal on November 18 following a performance the night before in Mark Twain Tonight!
One week later, the Mark Twain House and Museum will honor him on November 25 with the dedication of the "Hal Holbrook Hall" in the Mark Twain Museum Center. After the event, Holbrook will be on hand for a book signing. Both events attest to the affection, respect and gratitude felt by the Twain community for Holbrook's immense contribution in preserving Twain's legacy.
Sam Clemens was a world traveler, often living abroad, and these two homes are where he lived longest. He resided in Hannibal from age four to 17 before launching himself into the world. He and his wife, Livy, raised their family in Hartford. They lived there from 1874 to 1891, and Clemens wrote his great books there, frequently drawing upon his childhood in Hannibal.
The homes provide a geographically bound testament to his legacy and are open to the public, offering visitors a glimpse into the struggles of both his boyhood and adult years. Holbrook carries the persona of "Mark Twain" out on the road to an international audience, not unlike Sam Clemens who frequently left the comforts of home to earn the family's keep on the lecture circuit.
Only one of Clemens' children, Clara (1874-1962), lived into adulthood. Hal Holbrook called on her in the early years of developing Mark Twain Tonight! She was living in California, and her husband, Jacques Samossoud, greeted the young actor at the door. No doubt Holbrook was nervous in seeking Clara's approval for his portrayal of her iconic father, but it was important to him to do so. Clara gave her blessing, and so anointed, Holbrook went forth to regale audiences around the globe in his incomparable one-man show.
No other actor has sustained such a role. To even suggest such a performance in this climate of big budgets and special effects is unthinkable. Yet audiences flock to see Holbrook pace the stage in a white suit, shaking his fist and thundering at all forms of hypocrisy. It is a testament to Mark Twain's lasting impact on American culture, and Holbrook's legacy as a gifted actor.
In 2013, director Scott Teems will release a feature-length documentary, Holbrook/Twain: An American Odyssey. Teems directed Holbrook and his late wife, Dixie Carter, in the critically acclaimed That Evening Sun. The documentary will examine this unique relationship between two men who never met, yet will forever be intertwined.
Although his formal education ended in childhood, Sam Clemens/Mark Twain went on to receive a Doctor of Laws degree from the University of Missouri-Columbia in 1902 and a Doctor of Letters from Oxford in 1907. Yale seemingly had second thoughts about the M.A. they presented in 1888, because in 1901 they ponied up for a Doctorate as well. Not bad for a kid from Hannibal who left school to support himself at age 12.
Hal Holbrook's earliest goal in life was to be a survivor. He exceeded that goal to somehow flourish through adversity. Like Clemens, he is no stranger to awards and recognition, and just as the two Mark Twain homes seek to honor him in the coming weeks, so will any who have the opportunity to see him perform. And "opportunity" is the operative word.
Twain wrote, "I was seldom able to see an opportunity until it had ceased to be one."
Go to Hannibal, or go to Hartford. Just don't miss the opportunity to see Holbrook as Twain -- especially on Twain's home turf.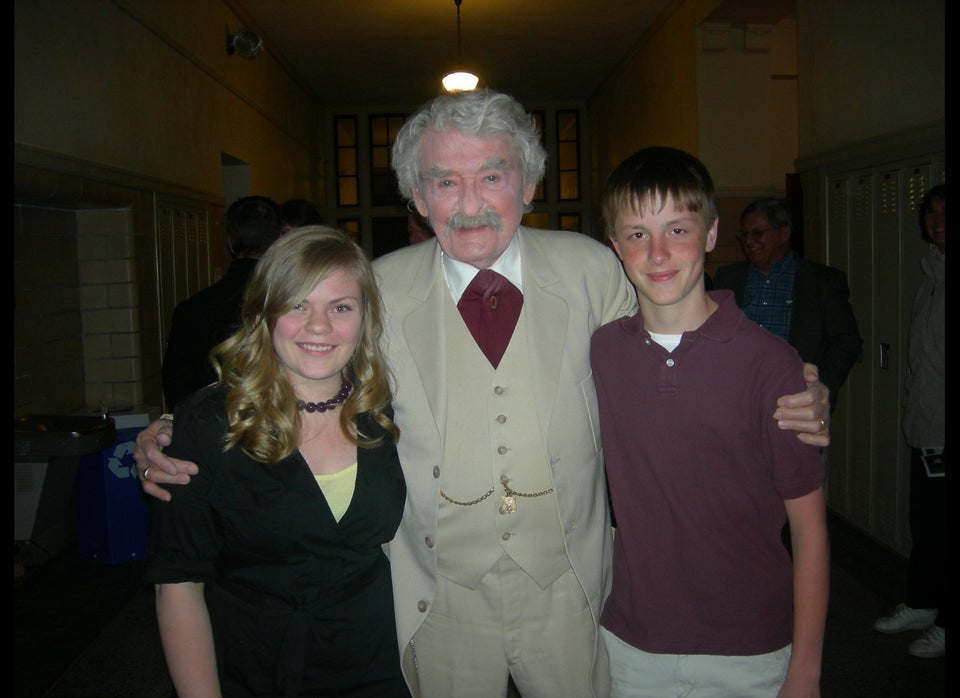 Hal Holbrook in Hannibal and Hartford: Mark Twain Comes Home
Related
Popular in the Community