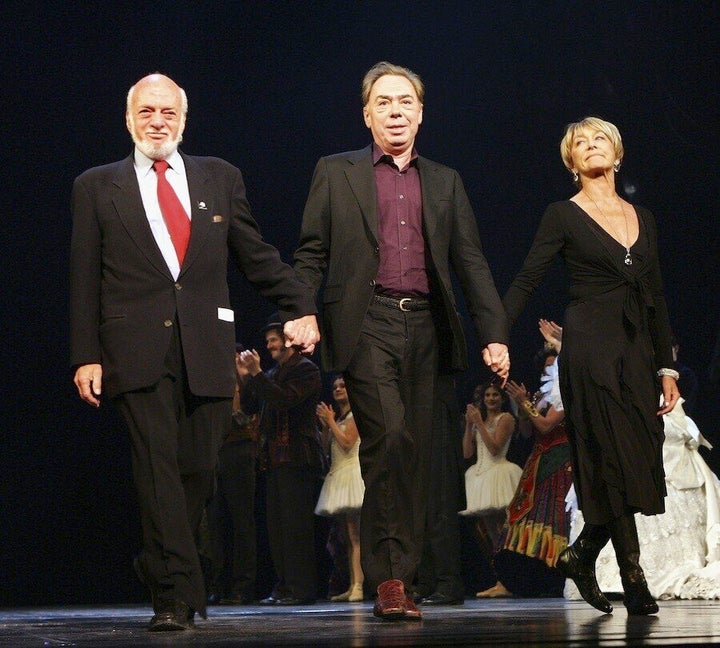 Even if you haven't seen "Phantom of the Opera" before, you know what it's about: Disfigured musical genius in mask seduces innocent young opera singer, chandeliers crash down from the ceiling, madness ensues, music plays.
This might be because it's been around so long -- "Phantom" is the longest running show in Broadway history and will celebrate its 25th anniversary this Sunday in London.
Harold Prince, the legendary director and producer, led the original London production of the Andrew Lloyd Webber spectacle. With more than 60 years in the business, Prince has won 21 Tony awards in his time, more than any other person.
The Huffington Post caught up with Prince by phone to talk about how he views the musical today, what he's working on now and the challenges of directing for the stage.
Why do you think "Phantom of the Opera" has run longer than any other show you've directed?
It's not something you figure is going to happen. You don't do shows expecting that. It's a happy surprise. I don't know -- I guess I think that it's perhaps more escapist than any show I've ever done. You just go into the theater and you enter a Victorian world and it's a little, thrilling, it's sexy, it's beautiful to look at and what you do is you can't too much relate to it in terms of your everyday life outside of the theater -- like a great romance novel.
How did you get involved?
Andrew [Lloyd Webber] and I were having dinner at separate tables at a restaurant in London. He said, "Come on over and have some coffee." He was sitting with Sarah Brightman, who was his wife at the time [and the original Christine]. He said, "I was thinking of a musical of "Phantom." And I said, "God, yes, do it." And he asked me if I wanted to direct, and I said yes. Both of us knew that we wanted to work on a romantic, unabashedly romantic show, and this was the subject. You think, 'Musicals, they must always be romantic' -- You'd be surprised how few of them historically have ever been romantic.
A lot of it was good, I certainly wish it well.
What were you trying to accomplish with the staging?
Every scene in "Phantom" contains a surprise and that was very important to me -- a piece of scenery almost hits someone or flames come out of a piece you don't expect or a piano plays itself or the Phantom's voice appears disembodied from someplace.
It sounds like putting together "Phantom" went relatively smoothly -- is it always like that?
Most shows undergo certain changes. In ["A Little Night Music"] we replaced an actress because we wanted to have a song in the second act ["The Miller's Son"] so we had to replace her to get an actress who could sing that song. I like to do everything you can possibly do before you go into rehearsal, because once we are in rehearsal or on the stage there will be a problem I didn't anticipate. It's really good to think we got it all nailed -- of course you've never got it all nailed.
Of all the shows you've done, which has been the most difficult?
One of the hardest, and it has the best score in the world, is ["Merrily We Roll Along"]. I could never figure out visually what to do. I didn't know how it should look and to this day, I still don't know. I count a lot on having a handle on what a thing should look like -- the scenery is part of the motor, the energy of the show.
If you had the chance to revisit "Phantom of the Opera", would you change anything?
No, I would leave it alone -- it works. The first public performance is the same show that's playing in New York and all over the world.
Broadway has had a lot of revivals in recent years -- including of some of your own works -- how do you feel about the trend?
Producers want to put their music behind revivals but I don't think that's a good trend for the theater at all. Stuff I've directed is coming at me from all sides because I've been around so long. But really what interests me is the future of musical theater. Revivals cut off that potential. I don't know why people don't want to take the chance. Audiences are very willing to be taken somewhere, and to ask an audience beforehand what it wants is probably, I think, a mistake. Much better you should tell them what you want and hope they agree with it.
What are you working on now?
A show called "Prince of Broadway" with Susan Stroman and Tommy Thompson. [It will debut next summer, in Canada.]
I guess I have to say, don't I? It's about my career -- it's material from 32 musicals at least. It's going to explore, in a way, how a career develops and what came out of it -- though I'm not through yet. It was an offer that he made -- Mr. Dan [Aubrey Dan, the producer] and his group -- and I couldn't resist it. And I thought, 'My god, that's sort of arrogant.' Then I thought, 'Do it!'
Popular in the Community