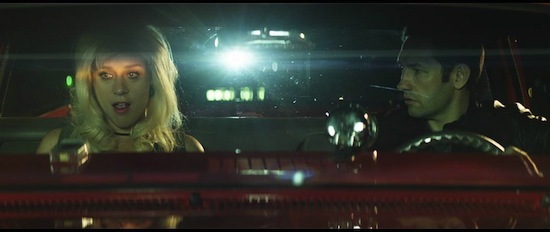 Most probably each one of us has, at some point or another, dreamt of writing the perfect film. And an important part of that fantastical blockbuster, which will certainly turn us overnight into the most sought-after filmmaker on earth and greatest object of envy, is the casting. I know I've stared ahead many a time, daydreaming of the film I've written and directed, starring Bradley Cooper and Dame Judi Dench.
But Bahraini filmmaker Hala Matar didn't just daydream. She wrote it, went to Chloë Sevigny and asked her to star in her first film, a 9-minute short titled Streetcar. And Sevigny said yes. As did Hollywood stuntman Nash Edgerton, English thespian Harry Treadaway and the legendary Buck Henry. The rest, as they say, is history.
Matar's film was shown at the recent Abu Dhabi Film Festival and it was recommended to me by the festival's short films programmer, Alice Kharoubi, who is also in charge of the Cannes Court Métrage section at the Cannes film festival. Kharoubi simply said "this first-time filmmaker who got Chloë Sevigny and Buck Henry to act in her film, you just have to watch it!" And watch it I did. Streetcar is a magical blend of style and substance, with a dash of film noir thrown in. I found it thoroughly enjoyable and was left wanting for more, which is always a good sign in a film.
I sat down over lunch inside the Emirates Palace in Abu Dhabi to ask the fashionable Matar a few questions. Short and to the point, like her film.
Your film is quite risqué in what it shows and what it hints at. How did you get the idea to make it?
Hala Matar: I was meant to do a film for this series that basically was about artists' interpretations of sexual reality. Matthew Bromley did something, Marina Abramovic, a few other artists and a friend of mine curated it. So I actually wrote Streetcar for that. I was trying to go into a man's head and his fantasies of this woman. That's why I wrote it.
How come the film is now shown on its own?
Matar: Because the series didn't happen. And then Vice ended up doing it instead.
How did Vice get into it?
Matar: I just asked them.
Is that how you usually do things? Just ask...
Matar: Basically, you just ask everyone. I first asked Diesel and if it wasn't for Diesel the film wouldn't have happened. I wrote a feature before this film and that was intellectual, more Fellini-esque and I was kind of in a sad state, I realized that I wanted to do something fun. I didn't want it to be really heavy. After you write a really bad feature, you can write a short.
Did you write a really bad feature?
Matar: I did. It wasn't made thank God. But it was very intellectual, that's why I felt like getting over my misery. I learned from writing a bad feature, and hopefully this is a good short.
This is also supposed to be part of a series now, through Vice. What will be the second installation?
Matar: The second one we have the cast but can't mention it yet. The series is called "Comics" so we try and translate comic book language into cinema. For Streetcar we did it with bubble gum and the other is with smoke. What I'm really happy about with the next film, which is called Desire, is that I concentrate a lot on acting and directing the actors. This one I was really visual, and wasn't really heavy on acting because it was more about camera work.
American filmmakers never get asked this of course, but you're from Bahrain so do you feel a special responsibility that you're representing your country each time you make a film?
Matar: That's really hard because a part of me does but at the same time my films are so western, and I'm really free when I want to express something. I think when I'm writing a script it's what I'm interested in, I don't ever think I'm from this part of the world... I guess when I'm writing I don't think about the culture I'm from but then I really do want to inspire people from Bahrain, from the GCC to do things. I was really happy, so lucky that with this film I was able to work with everyone I wanted to work with. In terms of the cast and crew, in this part of the world it's really hard for us to have access to that. I want people to know it's possible. If you want to do anything, anything is possible, you can make it happen. We got all the funding just three days before shooting...
Did you consciously want to make a fashion statement with this film?
You yourself are a fashion statement.
Matar: Yeah, I guess I'm about art direction, if it's not beautiful... To me beauty is the most important thing.
Image courtesy of the Abu Dhabi Film Festival, used with permission
Popular in the Community