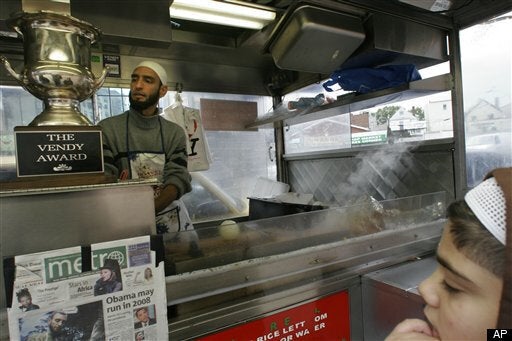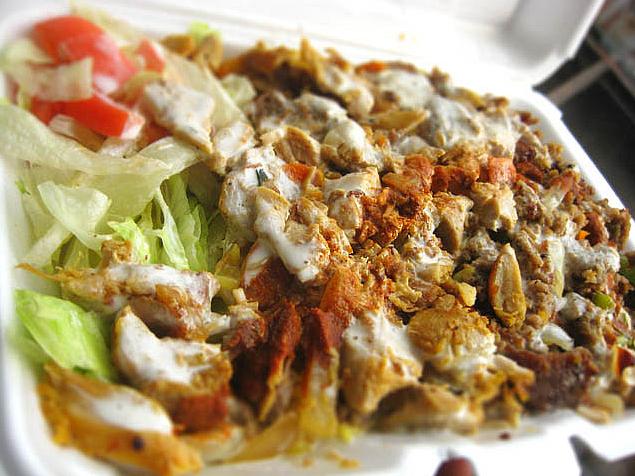 Photo by Jason Lam
If you are a New Yorker... or know a New Yorker... or know someone who knows a New Yorker, you know about the best halal chicken and rice cart in the city. It's on the corner of 53rd and 6th and on any given Friday or Saturday night, you may be stuck in line for 45 minutes waiting to get your $6 bite of heaven.

After being on my feet all evening, the sight of this line is enough to bring tears to my eyes. I just want my chicken and rice with the white sauce that tastes so good and so bad for you at the same time. This caused me to join forces with my good friend, fellow foodlover, and producer of new PBS documentary show Kimchi Chronicles Eric Rhee to embark on a quest to uncover the recipe for legit halal.

Now, there are a lot of wildcard factors with trying to recreate the ambrosia from that cart. First of all, their ingredients are not exactly high quality; I think they just clear the mark of safe-to-eat. We wanted to use high-quality and fresh ingredients. Secondly, the chicken seems to change day to day, ever so slightly, from the cart. Sometimes there are more spices in the meat, sometimes there are less. And then, there is of course, the question of the white sauce. It was our belief that it was a mixture meant to imitate the flavors of a good Greek yogurt-based sauce, without having to spend the money on the actual good yogurt.
So here is my qualifier: Our chicken recipe is not exactly what you get from that cart. In fact, it's better. It makes the chicken from the cart seem over-salted, under-flavored and almost uninteresting.
Yes, that is a bold statement, but try this recipe and see. Our chicken was juicier, had more depth of flavor, and paired flawlessly with our fresh and delicious white sauce.

The best part? As long as you marinate a bunch and stick it in your freezer, you can make this in less than 45 minutes.

So we started by eating off the cart for a few days and compiling a list of ingredients we thought may be in the chicken, while also doing extensive googling. After 3 hours of clicking I was convinced that we should just go to Middle East and buy every spice we could find and then calculate all the different permutations of said spices. (Anyone wanna sponsor me on a trip?) Given the impossibility of that scenario, we compiled the following:

Possible Spices:
turmeric
cumin
coriander
cloves
garlic
paprika
curry powder
salt
pepper

That's a lot of spices. We decided to also use Greek yogurt during the marination process. I strongly suggest this.
We did two combinations of these spices. Eaten side by side with the original off-the-cart halal, I can confidently say, our second rendition was the best. The meat was juicy, the flavors were balanced, it paired with the yellow rice and lettuce beautifully.

There were a couple tricks we pulled. First off, we used chicken thigh meat, which was fattier and more flavorful. Secondly, we marinated our chicken for 24 hours. Lastly, Eric came up with a bangin' white sauce recipe. I wanted to eat that white sauce on everything... from pita chips to cucumbers to off my fingers.

We were able to procure all of the ingredients from a NYC grocery store. If you live in Montana, it may be a little tough to get these, but if you are motivated to try, I suggest spiceplace.com.
So without further ado...

Chicken and Rice NYC Street Meat Style
By Eric Rhee and Michelle Won
6 chicken thighs, fat trimmed, cubed (you can use bone-in, but boneless will be easier to work with)
3/4 tsp turmeric
2 tsp ground cumin
1/2 tsp ground coriander
1/2 tsp ground cloves
3/4 tsp paprika
1/2 tsp curry powder
6 garlic cloves, minced
2 Tbsp lemon juice
3/4 cup greek yogurt
sea salt
freshly ground black pepper
3 tbsp olive oil
I large onion sliced lengthwise, thinly
Combine all the spices, garlic, lemon juice and 1 tablespoon of olive. Generously salt and pepper. Then work in the Greek yogurt. Add the cubed chicken thighs and onions and let it marinate overnight. You have the option of adding saffron as well, if you want your chicken a little more yellow and savory. Put 2 tablespoons of olive oil in a hot skillet. Add the chicken and onion mixture.
Heat and serve over yellow rice.

ER's White Sauce
8-10 oz. Greek yogurt
1/2 c. mayonnaise
1 Tbsp. salt
1 Tbsp. white or red wine vinegar
1.5 Tbsp. lemon juice (½ lemon)
1 Tbsp. olive oil
3 garlic cloves, pureed
1-2 tsp dill (dry or fresh)
1 tbsp cold water
Mix all together and serve aside chicken and rice.

The perfect thing to watch while eating you new creation? Eric's show: Kimchi Chronicles, starring Marja Vongerichten, Jean-Georges Vongerichten, Heather Graham and Hugh Jackman. You think that's an unexpected group of people to talk about Korean food? You've got to watch it to see how genius it really is.

Related