Molokai, Hawaii--The moment I stepped off my small aircraft onto the tarmac of the Molokai Airport in Hoolehua, I immediately sensed this would be a visit to Hawaii unlike any I'd experienced before.
The tropical island had been previously described to me as an example of "old Hawaii," but those words hardly do Molokai justice. During my visit, the tiny island seemed alive with Hawaiian ancestors, legends and spirits of days long past.
That feeling remained for the duration of my five days on the island, but never so much as when I had the opportunity to watch Kupuna (respected elder) and storyteller Anakala Pilipo Solatorio make poi (paste made from taro plants) from scratch using a well-worn, shallow wooden bowl treasured by his family for decades.
As Solatorio worked, he told the small crowd gathered for the demonstration stories about the great tsunami and flood that swept through Halawa Valley on Molokai in 1946. I wasn't the only one transfixed as the elder brought us back to that fateful night when the waters tore through the fishing village also known for its taro farms.
Today, Halawa Valley is considered a sacred site. It's thought the valley was first inhabited as early as 650 AD and still today there's evidence of former heiau (places of worship). History aside, the valley is stunning with towering waterfalls and a beach that on this day was inhabited by about six other tourists swimming and sunning themselves on the sand. That's right, not 60, 600 or 6,000, but six, and I instantly had a feeling of privilege in that I had access to this sacred valley and beach.
After spending some time near the crystal, blue ocean, my tour guide for the day, Molokai native Julie Bicoy, took me on a short hike through the jungle past the home and taro fields of Kupuna Solatorio. It was at the far end of the property when Bicoy stopped at the modest dwelling of Solatorio's nephew Kumu Pa'a Lawrence Kalainia Kamani Aki. Standing at the edge of the outdoor living area, Bicoy sang a beautiful chant asking for permission to enter the space. In response, "Lawrence," as he's known to friends and family, came out of his home to welcome us with offers of juice and chocolate.
Kumu Pa'a Lawrence Kalainia Kamani Aki is a 50th-generation descendant of storytellers and teachers of Hawaiian knowledge. Today, Lawrence's knowledge, passed down from Kupuna Solatorio, is sought after by groups from around the world and he regularly travels to share Hawaiian culture and stories. Despite his title as a revered elder, on this day Lawrence looked more like he was ready to go surfing rather than impart the wisdom of his ancestors. Dressed casually in a sarong and muscle shirt, his long black hair flowing loosely down his back, the handsome Hawaiian jokes with his unexpected guests as he tells stories of his recent travels while showing photos on an iPad. Also on the property this day, was Lawrence's apprentice Mana O Kahiko LLC. Kawika, who was also quick to welcome us as guests by touching foreheads and sharing an exchange of "ha," the Hawaiian word for the breath of life.
As I stood on the lush green property surrounded by mountains, waterfalls, swaying coconut trees and taro plants, in the company of two of the most revered teachers of Hawaiian culture in the world, I could almost feel the spirits enveloping us. And while the bright lights of Waikiki were just minutes away by plane, I felt like I had been granted a rare glimpse of old
Guided hiking tours are available through Halawa Valley Hiking at 808-551-1055. (There is no email or web address.) For more information on Molokai, visit visitmolokai.com/visitor-center.php.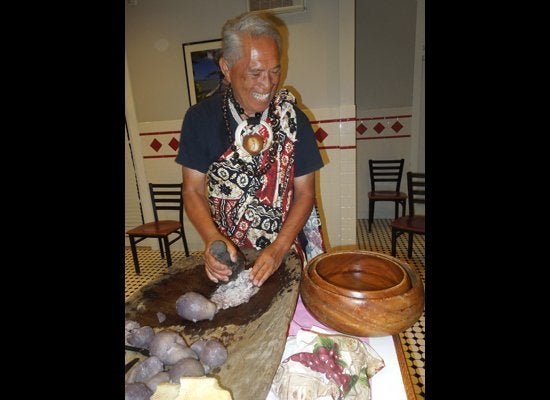 Visit to sacred Halawa Valley on Molokai