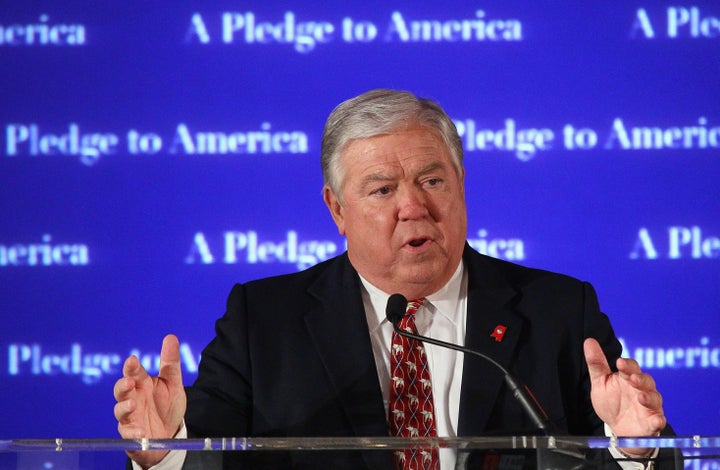 As Haley Barbour neared the self-imposed deadline for his decision on a possible presidential run, the Mississippi Republican governor was weighing counsel from two camps within his network of close friends and advisers, according to knowledgeable sources.
One camp, headed by Barbour's former lobbying partners Ed Rogers and Lanny Griffith, was telling him he should go for it. Foremost in the lobbyists' minds were his unique political abilities and connections, plus his imposing resume: mid-1990s chairman of the Republican National Committee, GOP power broker, governor. This group included many of Barbour's allies in Washington.
But there was another group of advisers who told Barbour he should not run. This group included Ed Gillespie, one of the GOP's most influential political advisers who worked for Barbour when he headed the RNC, and Don Fierce, a Washington lobbyist who is among Barbour's close personal friends.
Gillespie and Fierce were concerned for Barbour and his family and the price they would pay in a campaign, and did not see a path to the White House for the 63-year old southerner, though they did think he could win the nomination, people familiar with the matter said.
Barbour's nephew, Henry Barbour, and Scott Reed, who was chief of staff to Barbour at the RNC and is now a political consultant, were the governor's two most impartial advisers. Neither is said to have taken a side, but both helped Barbour debate the pros and the cons.
The barriers for Barbour, the skeptic camp thought, were too high, especially in the general election against President Barack Obama. While Barbour's past career as a lobbyist offered a mother lode of potential targets for other candidates in the primary and in the general election, sources said the governor's southern roots made the skeptics see a campaign against Obama as doomed.
For his part, Gillespie told The Huffington Post, "I believe Haley Barbour would have made a great president and could have won the GOP nomination."
Political analysts say Barbour's good-old-boy profile – his thick accent, the fact that he does not look particularly presidential, his difficulty talking about racism during the civil rights era – presented such a politically unpalatable contrast with Obama, a much younger, TV-savvy incumbent president who also happens to be the nation's first black president.

The media storyline against Barbour "would have been too easy to exploit," said one Republican operative who talked to those around Barbour regularly.
"While I don't think GOP activists considered this a major factor, it would have been awkward in some ways for a white Mississippian to run against the first African-American president," said Larry Sabato, a professor of political science at the University of Virginia. "Haley Barbour thought he had good arguments against these attacks on him, but he surveyed the scene and realized it would be a tough and sharply uphill struggle for him to succeed in 2012. He was absolutely right."

Barbour's lucrative career as a lobbyist would also have caused problems. He lobbied Congress on behalf of the Mexican government regarding a path to citizenship for illegal immigrants, and also worked against ethanol subsidies, which would likely have hurt him with Iowa voters.
"I think he's lobbied for all of them and apparently very well. His talent obviously lies inside the Beltway influencing, making money, using money, persuading people," said Joseph Parker, a political science professor recently retired from the University of Southern Mississippi who has followed the governor's career closely. "That's a talent, but I don't think that's normally the career that gets you to the White House."
Parker, a self-described "Democrat by choice" who lives in Hattiesburg, said that after Utah with its Mormon population, Mississippi would be second as "the longest shot to be a launching pad" to the presidency. While Bill Clinton came out of Arkansas, Parker noted, it was by way of Georgetown, Yale and Oxford.
One source who has known Barbour for many years but does not work for him speculated that the accomplished politician and power broker was likely upset about the conclusion he had reached regarding whether he should run, but expressed admiration for Barbour's self-discipline.

"They spent three months saying, 'Okay, let's run. Don't fake it. Let's run and see what happens.' Clearly at the end of the test they realized it wouldn't work," the source said. "He's such an adult. But my guess is he's pissed. He wanted to run."

Indeed, Barbour appeared very serious about a run during his trip to New Hampshire earlier this month. He had hired one of the best Republican consultants in New Hampshire politics, Mike Dennehy, who ferried him through a thorough and intensive 24-hour trip to the Granite State. Barbour then traveled to South Carolina to attend meetings and further gauge voters' opinions of him.

During Barbour's trip to New Hampshire, three different people at a voter meet-and-greet asked race-tinged questions, and a prominent politician in the state, Ovide Lamontagne, later told HuffPost that Barbour had not answered the questions fully.

"Whatever he says publicly, he knows he just wasn't selling to the party faithful in most places the way he needed if he were to grab the nomination," Sabato, the UVA professor, said. "Early polls aren't terribly useful, but he wasn't even polling well in some southern states."

Now that he has decided not to run, Barbour faces the question of what he will do instead after his second term as governor ends early next year. He is expected to become an even more prominent kingmaker figure within the Republican Party, not least with his presidential primary endorsement.
"Haley will be one of the most sought-after people for a candidate endorsement. He will continue to be one of the most respected political and policy leaders at a national level," former Florida Gov. Jeb Bush said.
The burnishing of Barbour's image as a Republican godfather began within hours of his decision not to run.
"Nobody has done more than Haley to build the Republican Party over the last three decades," said former Minnesota Gov. Tim Pawlenty, who is planning to run for the GOP nomination and now has one less rival in the primary to worry about.
The Republican source who has known Barbour for years said: "He's the new Jim Baker and this adds to that. He's a person everybody in the party will go to and listen to."
Gillespie, who told reporters for months that he would help Barbour's campaign if he ran, wrote on Twitter Monday: "My friend Haley Barbour would make a great president. Sorry he's out. Suspect his phone now ringing off the hook for his support!"

Calling all HuffPost superfans!
Sign up for membership to become a founding member and help shape HuffPost's next chapter