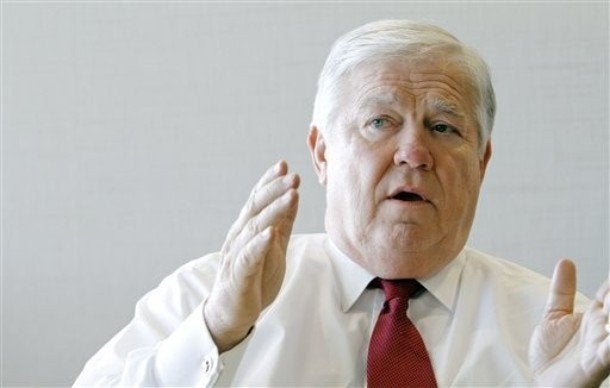 WASHINGTON -- Mississippi Gov. Haley Barbour (R) attempted to distinguish himself from his potential 2012 rivals on Tuesday night by endorsing cuts to defense spending and questioning the large U.S. presence in Afghanistan.
"What is our mission?" Barbour asked, according to Politico. "How many Al Qaeda are in Afghanistan? ... Is that a 100,000-man Army mission? I don't think our mission should be to think we're going to make Afghanistan an Ireland or an Italy" or a Western-style democracy.
On the issue of the budget, Barbour said, "Anybody who says you can't save money at the Pentagon has never been to the Pentagon. We can save money on defense and if we Republicans don't propose saving money on defense, we'll have no credibility on anything else."
Politico reports that when pressed by reporters after his speech, Barbour was unable to name any specific programs he would cut from the Pentagon's budget but said savings could be found across the board.
In November 2009, however, Barbour backed sending additional troops to Afghanistan. On NBC's "Meet the Press," Barbour said, "I think everybody in the country knows we need additional troops. And I will tell you now, for myself and I think a lot of Republicans, if the President will stand up, make the tough decision to send more troops, Republicans like me will stand up and say the President's doing the right thing. He doesn't have to worry about Republicans trying to politic this. If he stands up and does the right thing that the military's asked for, we will say good for you, Mr. President."
Barbour is not the first potential 2012 candidate to voice skepticism on the war. Rep. Ron Paul (R-Texas) is a long-time critic. In late February, former Arkansas governor Mike Huckabee told reporters he sees no "end game" in sight in Afghanistan and lacks confidence in Afghan President Hamid Karzai.
"My doubts about Afghanistan happen from being there in January 2006," he said. "And when I say my doubts I believe our military is capable of doing whatever they are assigned to do given the resources to do it. But I came away from that experience wondering: What does the end game look like here? I can't see a conclusion."
Republican leaders in Congress remain, at least publicly, relatively united in supporting the war in Afghanistan. While there are a few Republican lawmakers actively pressing their colleagues to explore alternatives, Barbour's stance is significant because he is an influential mainstream voice within the GOP, including as one of their leading strategists. He previously served as head of the Republican National Committee and the Republican Governors Association.
Calling all HuffPost superfans!
Sign up for membership to become a founding member and help shape HuffPost's next chapter