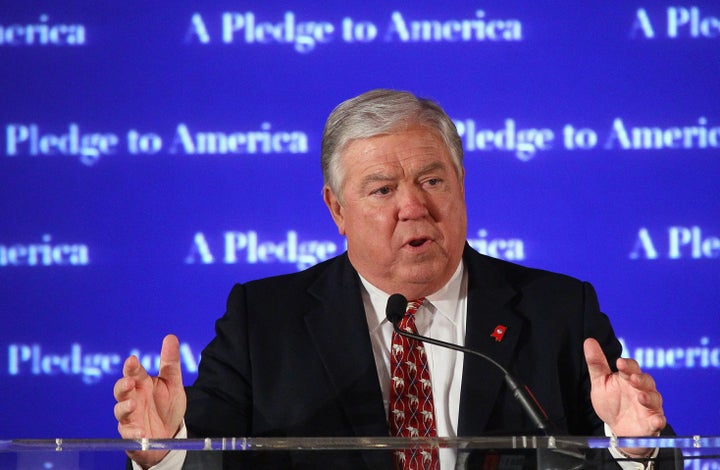 BOW, N.H. –- Potential GOP presidential candidate Haley Barbour on Wednesday night defended the deal House Speaker John Boehner (R-Ohio) cut with President Barack Obama to fund the federal government through September.
Barbour described the deal in measured terms as a first step toward larger federal spending cuts, but that left him considerably more bullish on the package than increasingly-dissatisfied grassroots conservatives -- as well as as least one other possible 2012 hopeful.
"I am pleased that the Congress has hit a single in the first inning on the deficit reduction that they got here as we're going along, getting a budget for this year," the Mississippi governor told a group of 30 or so New Hampshire voters who gathered in an area residence to hear him deliver a short speech and take questions.
"For those who criticize the Republicans that the cuts weren't enough, just remember that if the Democrat Congress had done its job — this was a budget that was supposed to have been adopted before October 1 of last year," Barbour said, referring to the fact that former House Speaker Nancy Pelosi (D-Calif.) did not pass a budget out of the lower chamber for the 2011 fiscal year.
But Barbour's voice of support for Boehner was a lonely note amid a rising chorus of protests against the deal, which was reached late Friday night after lengthy negotiations with the White House and Senate Majority Leader Harry Reid (D-Nev.). Much of the conservative backlash has been driven by reports that the spending cuts were actually far less than the $38.5 billion advertised by Boehner's office.
The Wall Street Journal editorial board estimated the cuts at $20 billion. Conservative radio show host Hugh Hewitt claimed the figure was $14 billion. For its part, the Associated Press reported that in the current fiscal year –- not including savings compounded over a 10-year period –- the cuts amounted to only $352 million.
"What had looked in its broad outlines like a modest success now looks like a sodden disappointment," wrote the editors of the conservative National Review Wednesday night. "The exact numbers are still shrouded in confusion, but it is clear the cuts are much less than meets the eye — the gimmickry is not merely around the edges."
"The episode is strike one against the speakership of John Boehner," the National Review editors added.
In the wake of these reports, rumors have swirled on Capitol Hill that Boehner and the House GOP leadership may face a full-scale revolt within their 241 member-strong Republican conference. It seems certain that Republicans will need Democratic support for the spending provision when the House votes on Thursday.
Even one of the top-tier 2012 presidential hopefuls, former Minnesota Gov. Tim Pawlenty, has come out against the compromise budget bill.
"The more we learn about the budget deal, the worse it looks," Pawlenty said Wednesday. "It should be rejected."
Barbour's support for the budget deal did not seem to bother any in the crowd inside the home of Jayne Millerick, the former state party chair who hosted the gathering.
Though she has not committed to supporting any of the Republicans weighing a 2012 presidential campaign, Millerick said she was pleased with Barbour's focus on the need for cuts in both spending and taxes, as well as a shift of the health care sector to a more consumer-oriented approach -- that is, away from current federal commitments to Medicare and Medicaid.
"He picked the right issues," she said, explaining he cast himself as a candidate who will give the country "plain-spoken, common sense truth telling."
"I think the American people are tired of happy talk, and they're ready to have a president who trusts them enough to tell them the truth. And the truth is, we got some tough decisions to make in our country and some of them aren't going to be popular," Barbour said.
Barbour, formerly a Reagan White House aide, Republican National Committee chairman and powerful Beltway lobbyist, said he had not watched Obama's speech earlier in the day, but said he understood "he reiterated his desire to have the largest tax increase in American history," referring to the president's pledge to let the Bush tax cuts for those making more than $250,000 a year expire.
"Raising taxes will make it much less likely that we're going to have economic growth and job creation," he said. "The government doesn't have any money except what it takes away from all of us and the taxpayers."
Barbour was at ease speaking to the small group during his first trip this year to New Hampshire, the second state to vote in the primary process. He declared himself "tickled" to be there and reassured Millerick that he was not bothered when her children could be heard running around on the second floor.
"Don't worry. I got kids," he said, smiling. "They're trying to tell you what time it is."
Millerick and others said they were impressed by Barbour's personal touch. In both her remarks to the group and in an interview with HuffPost, Millerick mentioned that the 63-year-old Barbour made a point of personally greeting every single attendee.
"From a New Hampshire perspective, we've seen a lot of candidates come through. Some are better than others at connecting with people and understanding that small groups like this are important," she said. "[Barbour] knows that is important here."
Millerick's sister-in-law, Noreen Burd, an investment representative, said she was more impressed with Barbour's personal history, noting the fact that he said he will celebrate his 40th wedding anniversary in December.
"It kind of says a lot," said Burd, adding that she knew little about Barbour before hearing him speak at her sister-in-law's home.
"I wasn't sure how to pronounce Haley, him being a man," she said.

Popular in the Community