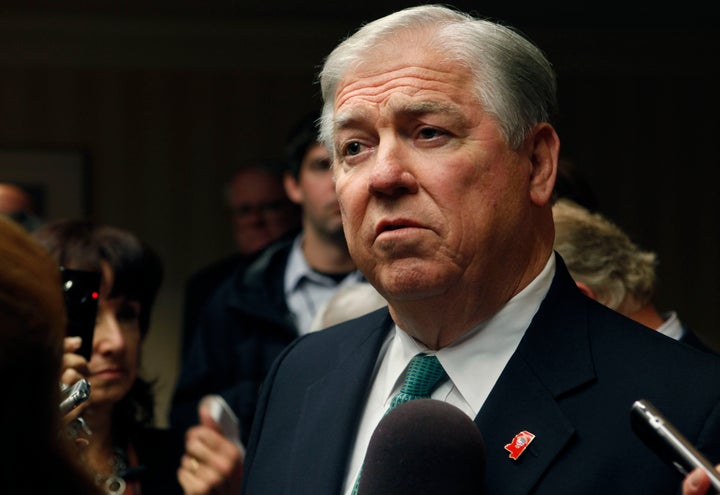 WASHINGTON -- Governor Haley Barbour (R-Miss.) broke with his own party's leadership in the House of Representatives on Friday, arguing that Congress should not offset money appropriated for disaster relief.
Speaking to reporters after his speech at the Faith and Freedom conference, Barbour argued that money to respond to natural disasters was both inherently unpredictable in its amount and immediate in its need.
"I think disaster relief is not predictable," Barbour said. "Emergencies caused by tornadoes, hurricanes are not predictable. Even if Congress –- which as far as I know they never have –- set aside a pot of money as some have proposed, and said, 'Okay, this is money we're going to use to pay for disaster relief' -– if they were to do that and we had a gigantic disaster that cost much more than that, surely Congress would come back and appropriate the extra money. And if they didn't have a place to offset it, they should still go in and do it."
The statement from Barbour, who is no stranger to the costs and difficulties of disaster response, puts him directly at odds with House Majority Leader Eric Cantor (R-Va.), who has said that any federal response to the tornadoes in Joplin, Mo., should be offset by spending cuts elsewhere.
"I know that America is just stunned by the scope of devastation and loss and the horrific tragedy that the people of Joplin and other places across the country really are experiencing this tornado season," Cantor said in a recent appearance on "Face the Nation."
"When a family is struck with tragedy -- like the family of Joplin ... let's say if they had $10,000 set aside to do something else with, to buy a new car ... and then they were struck with a sick member of the family or something, and needed to take that money to apply it to that, that's what they would do, because families don't have unlimited money. And, really, neither does the federal government."
Barbour, of course, feels a different set of political constraints and pressures than Cantor and other GOP House members. Running a state that has been hit by flooding, hurricanes and oil spills means becoming intimately familiar with the unpredictable price tag of disaster relief. It wouldn't be particularly surprising if other governors in disaster-stricken states felt similarly skittish about Cantor's calls for fiscal rectitude, though none have voiced such opinions publicly, like Barbour.
Calling all HuffPost superfans!
Sign up for membership to become a founding member and help shape HuffPost's next chapter