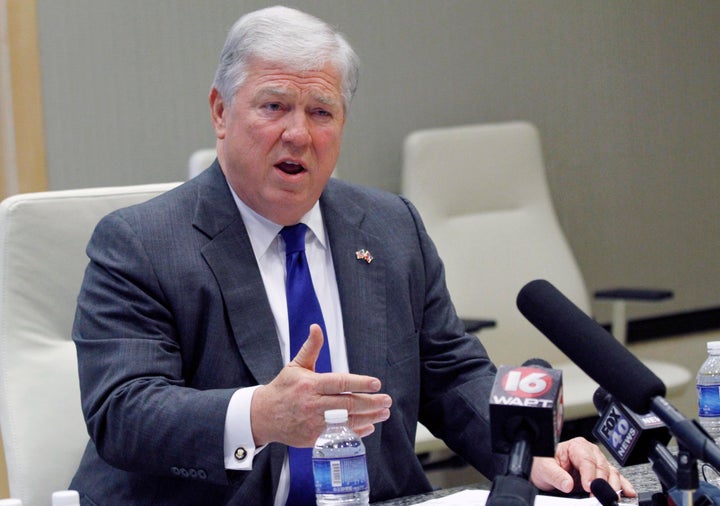 WASHINGTON -- Former Govs. Haley Barbour (R) and Ed Rendell (D), members of a Bipartisan Policy Center task force on immigration, had a word of warning on Wednesday for optimistic lawmakers: passing reform may be a long process, possibly even stretching into the 2014 election year.
"Having been in the White House in '86, the last time we did this, I know it is complex and contentious," Barbour said at a briefing with reporters, referring to the last passage of major immigration reform, when he was political director for President Ronald Reagan. "There are a lot of issues, a lot of which don't get written about in the press, and to me it's a little bit overly optimistic to be talking about what we're going to get done this spring or before the August recess."
Barbour, the former governor of Mississippi, and Rendell, the former governor of Pennsylvania, said they weren't so sure that timelines set out by Congress were achievable. The so-called gang of eight working on immigration reform in the Senate is aiming for a bill next month, passage later in the spring, and then getting the bill through the House by August at best, or at least the end of the year.
The task force is anticipating a longer time frame, although its members said they would welcome quicker movement. They plan to issue recommendations in late 2013 or early 2014, based on the possibility that immigration reform won't have already passed by then.
"At one point, when we first signed on, I was hopeful that we would lead the pack on immigration," Rendell said. "But now it looks like this is going to be a much longer and tougher slog."
One of the issues that must be dealt with is whether there should be a pathway to citizenship for undocumented immigrants already in the United States. Barbour said he's "very comfortable" with including one, but didn't want to get into specifics about how it would work. Rendell also said he supports a pathway to citizenship, so long as it also includes increased enforcement and is not automatic. But Barbour said those views do not necessarily extend to the task force as a whole, the membership of which hasn't yet been fully made public. The other members of the group that have been announced already are former Rep. Howard Berman (D-Calif.), President Bill Clinton's Housing and Urban Development Secretary Henry Cisneros (D), and President George W. Bush officials Secretary of State Condoleezza Rice and Homeland Security Secretary Michael Chertoff. Other members will be announced within the next week.
A bill that includes a pathway to citizenship likely wouldn't get through to the president, but House Speaker John Boehner (R-Ohio) would depend on Democrats to pass it through the lower chamber, Rendell said. That could involve breaking the so-called Hastert Rule, in which speakers don't pass a bill without majority support from their own party. Boehner has broken it before, but there's some question over whether he would do it again. If he did, Rendell said, then immigration reform would almost certainly pass, even if it included a pathway to citizenship that many Republicans oppose.
But he said it's important for supporters of a path to citizenship to understand that there are legitimate reasons behind those who oppose one. It's understandable for people to worry that the 1986 immigration law -- which granted amnesty but did not sufficiently stop future unauthorized immigration -- could be repeated, he said.
"For a lot of the people who are against [a] pathway to citizenship, they're not being mean," Rendell said. "They're worried about, 'Okay, these 11 million, in many cases, serve in the military or pay taxes or whatever, but what about if we open it up and these guys get to stay, what about the next group and we can't afford those people coming in? What are we going to do about it?'"
The question of cost will also be important, Barbour and Rendell said: Should legalized immigrants receive health care under Obamacare and other benefits? Will reform improve the economy, as they think, or will it come at a higher cost? That's why it's vital to include measures that prevent future unauthorized immigration, they said.
In Barbour's perspective, immigration would be one step to improving the economy, which also could be politically beneficial. He said he doesn't "delude" himself into thinking it would fully solve the GOP's problem with Latino voters, but it would certainly help.
Still, he and Rendell cautioned that while reform may be a political boon for Republican presidential candidates and those running for statewide office, House members are in a different political situation. The House simply doesn't have the same electoral imperative because some Republicans live in districts where the Latino vote doesn't make much of a difference, Rendell said.
That doesn't mean he wouldn't want immigration reform to move fast if he were running for a political office, which could give a glimmer of hope, he said.
"There are so many moving parts that this is something that inherently can't be done quickly," Rendell said. "It just can't be done quickly. But if I think it could be done before the year is out. ... If I were running for the Senate, I'd want this issue to be decided before the clock ticks to 2014."
REAL LIFE. REAL NEWS. REAL VOICES.
Help us tell more of the stories that matter from voices that too often remain unheard.
BEFORE YOU GO
PHOTO GALLERY
Bipartisan Immigration Plan's Key Provisions