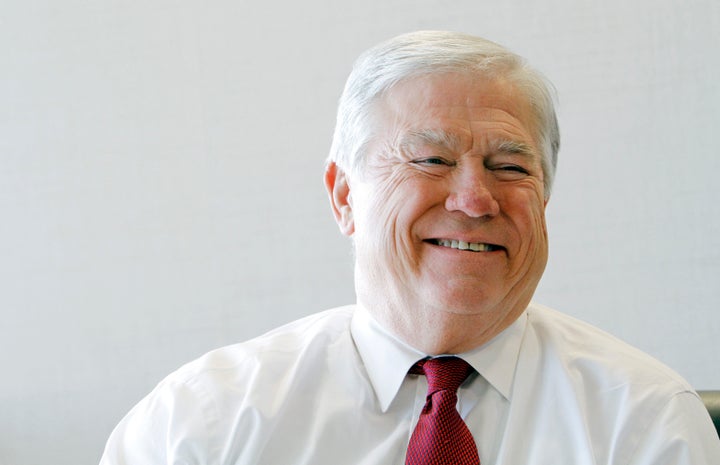 WASHINGTON -- Mississippi Governor Haley Barbour is joining American Crossroads and Crossroads GPS, an influential Republican Super PAC and an affiliated non-profit group, to help them reach their newly doubled fundraising goal of $240 million to spend on the 2012 presidential election.
The two groups were founded in 2010 by Republican strategists Karl Rove and Ed Gillespie after the Supreme Court's Citizens United v. Federal Election Commission decision opened the door to unlimited corporate, union, and individual spending in elections. The decision also allowed certain nonprofits, which are not required to disclose their funding sources, to run direct electoral advertisements calling for the election or defeat of candidates. Both groups can receive unlimited contributions, but Crossroads GPS, which is a 501(c)(4) nonprofit, does not have to disclose its donors.
"Both Governor Barbour and Karl Rove are prodigious fundraisers and brilliant strategists, and we are honored to have them both engaged with us," Steven Law, president of both groups, said in a statement. "We are reaching high in our fundraising goals because we believe this is going to be a destiny-shaping election for our country."
Barbour, who passed on running for the Republican presidential nomination in April, is a well-known fundraiser from his time as chairman of the Republican National Committee (RNC) from 1993 to 1997 and the Republican Governors Association (RGA) from 2009 through 2010. Barbour pulled in a record-setting $115 million for the RGA during the 2010 cycle after he took over in mid-2009 from Mark Sanford, then the Governor of South Carolina, who resigned as chair amid a sex scandal.
American Crossroads and Crossroads GPS spent a combined $38 million in 2010, which amounted to the fourth largest total spent by an outside group, ahead of the National Republican Senatorial Committee (NRSC) and behind only the other three congressional party committees.
If the duo were to spend $240 million on the 2012 election it would crush the record for outside group spending in one election cycle. That record is currently held by Barbour's RGA, which spent $131 million in the 2010 cycle, followed by the 2004 Democratic group Americans Coming Together, which spent $78 million.
Popular in the Community