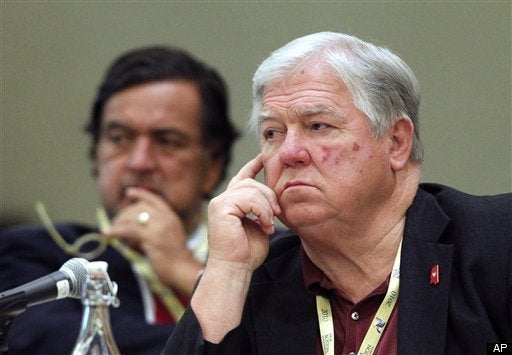 Republican Governor's Association Chair Haley Barbour cautioned Republican candidates on Wednesday against bringing social issues into the campaign, arguing that any discussion beyond the economy would prove distracting and problematic to their election hopes.
In a breakfast sponsored by the Christian Science Monitor, the Mississippi Republican was asked for his take on remarks made earlier in the year by Mitch Daniels, the Indiana Governor, who had urged social and fiscal conservatives to reach an informal truce for the purposes of 2010.
"I think what Mitch said is very similar to what I have responded to today," Barbour replied. "The voters have on their mind the economy, jobs, spending, debt and taxes and good campaigns are about the issues that are on the peoples minds.
"I'll put my bonafides up against anybody as a social conservative," he added, noting that as governor, Mississippi was voted the safest state in the country for an unborn child. "But that ain't going to change anybody's vote this year because people are concerned about job, the economy, growth and taxes... you are using up valuable time and resources that can be used to talk to people about what they care about."
Barbour, indeed, stressed repeatedly during the hour-long session that Republicans could ostensibly coast to major Election Day pickups if they simply continued to put the spotlight on the nation's economic woes.
Asked what the GOP had done to win over skeptical voters, Barbour took stock in the efficacy of the party's obstructionism. "In very unified fashion they have opposed bad policy," he said. "The public appreciates the effort to try and stop [that policy]. And they understand math. They understand that we don't have the votes...."

Popular in the Community