Haley Morris-Cafiero's first cyberbully introduced themselves just minutes after HuffPost published a story about her 2013 photo series, "Wait Watchers." The sender told her that she "was going to die tomorrow from the diabetes caused by my obesity," Morris-Cafiero recalls.
She didn't die the next day, but she laughed when she read the message. The artist was stunned that a stranger would offer their input on her appearance when she could "care less what they think." In her newest project ― five years and thousands of negative comments later ― Morris-Cafiero takes an unconventional approach to disarming and confronting Internet trolls: She offers impersonations of them.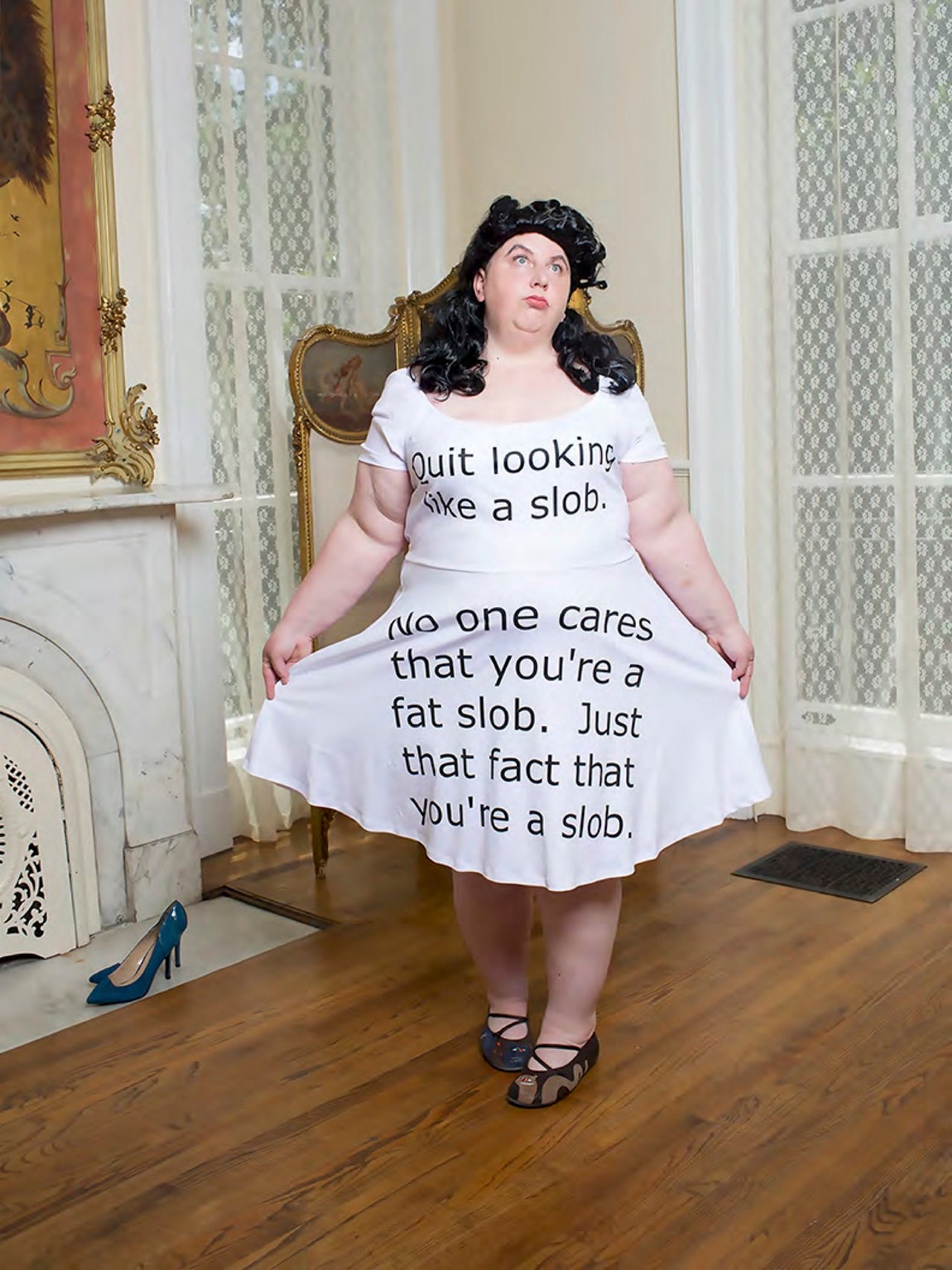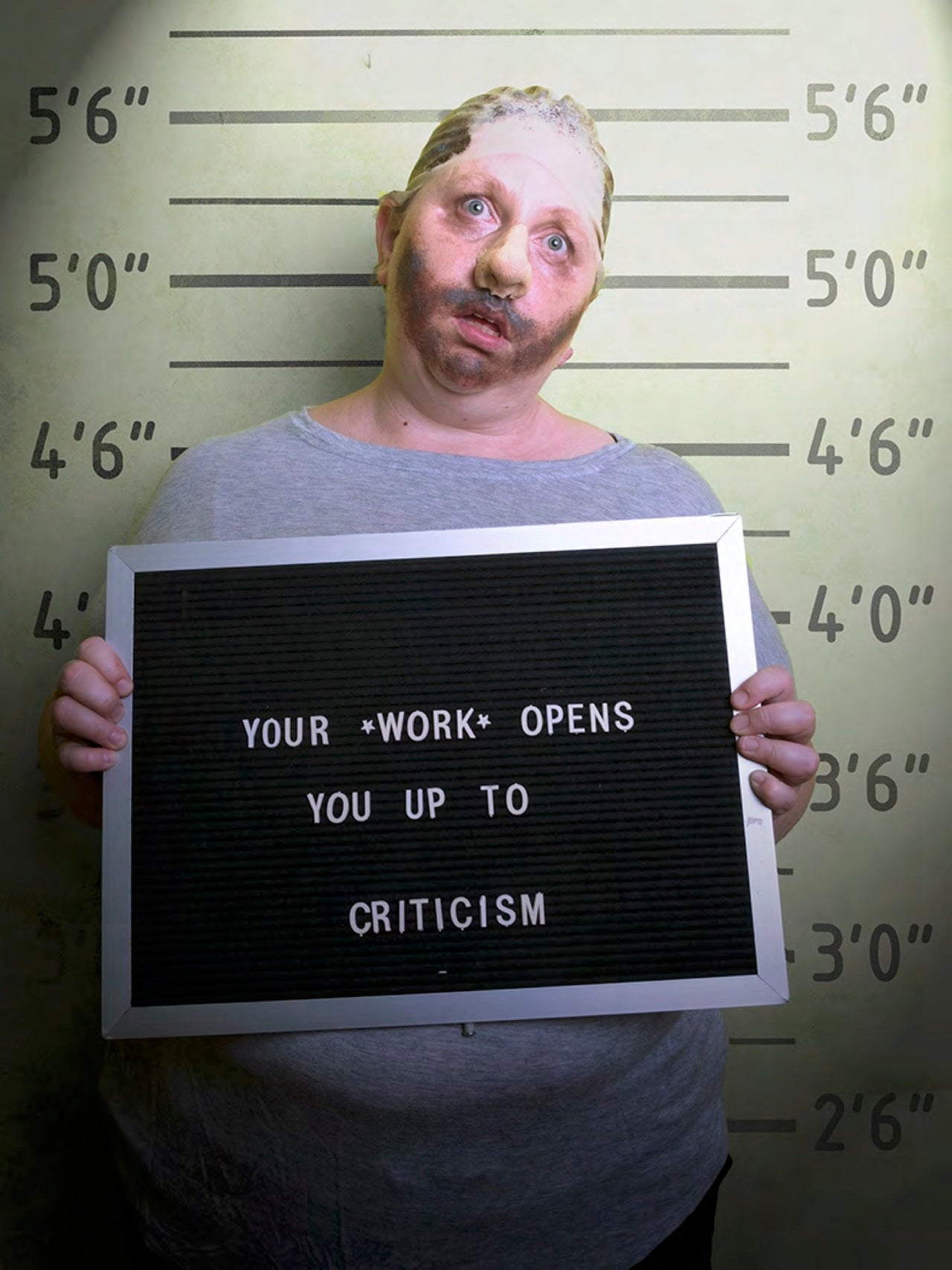 Morris-Cafiero writes in an artist statement that rather than respond to her trolls individually ― a gesture that would likely fall on dear ears ― she wanted to "parody the bullies attempts by creating images and publishing them on the internet ― the same vehicle used for their attack. And the images would be seen by millions, and would live again, again, and again."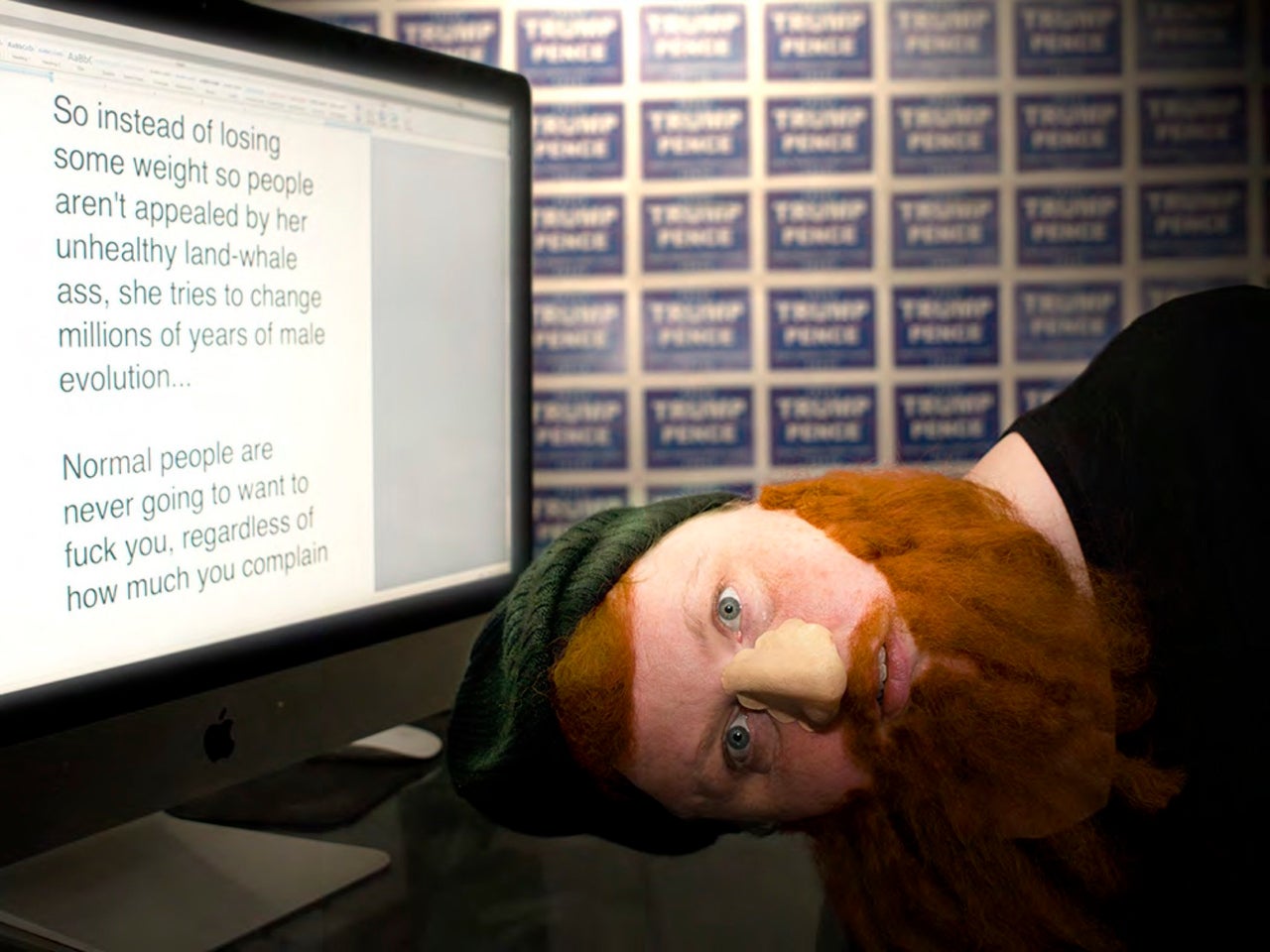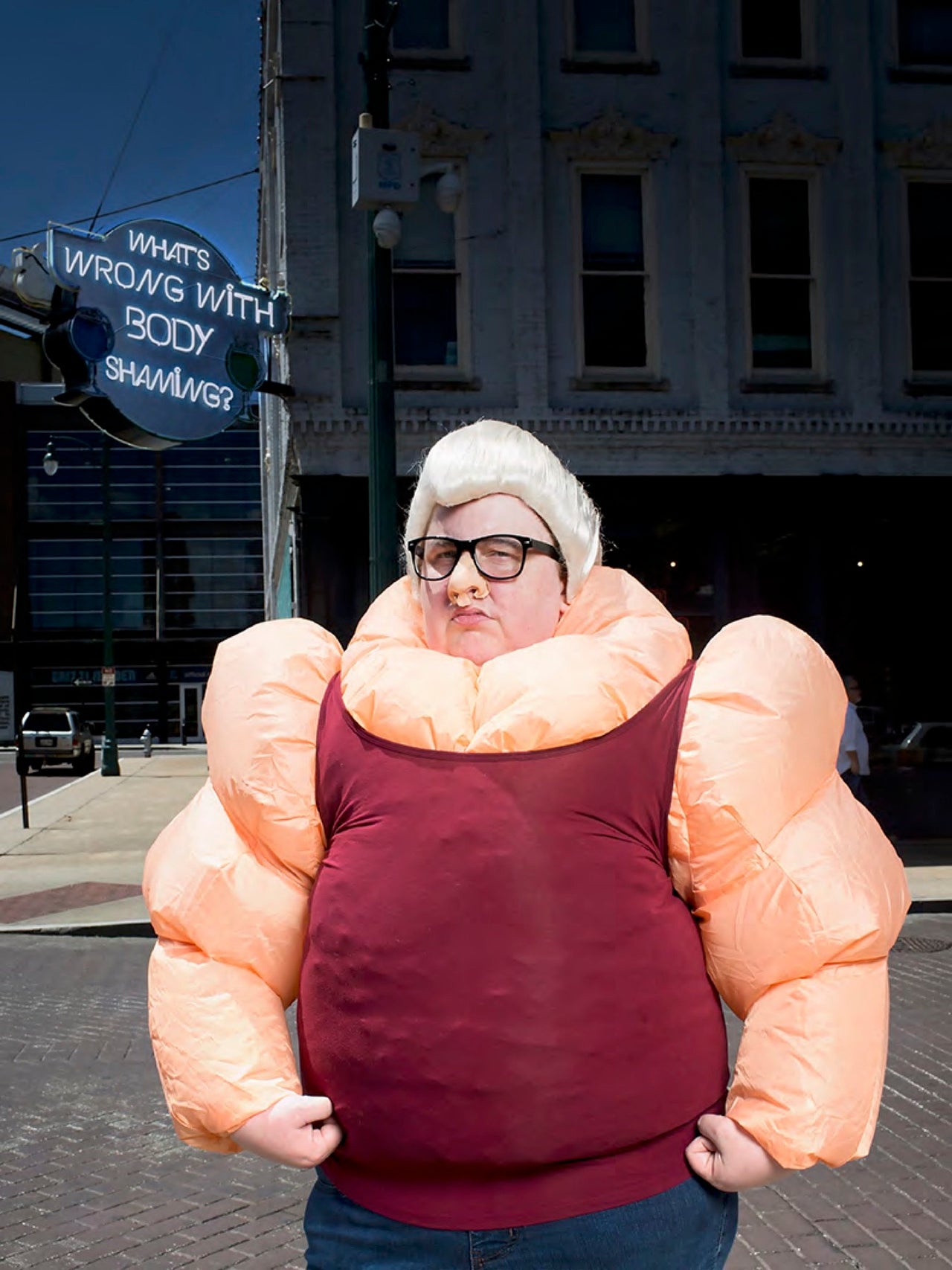 In the resulting photo series titled "The Bully Pulpit," Morris-Cafiero costumes herself as the very people who harass her. Saving more than 1,000 negative messages received via email and other social media, she ultimately chose 30 commenters to impersonate, taking care to ensure that the final image would not reveal the troll's identity to anyone but themselves. She selected those with the potential to make a strong visual impact, and whose public profiles revealed elements she could humorously exaggerate.
"I use humor as a way to dissolve the blow of their negative words," Morris-Cafiero told HuffPost. "Many of the bullies had photos on their profile that showed extremes: idyllic vacations, locations, and personal images. Then I searched the Internet to find props to accentuate the extremes."

In each image, Morris-Cafiero fashions herself after a warped version of the subject based on details culled from their public-facing profiles, exaggerating elements of their physicality to match their excessive concern for hers. A professed MAGA supporter is adorned with all the insignia of a class A troll. Other images show Morris-Cafiero styled with prosthetic abs and noses, inflatable muscles and an unfortunate array of facial hair styles.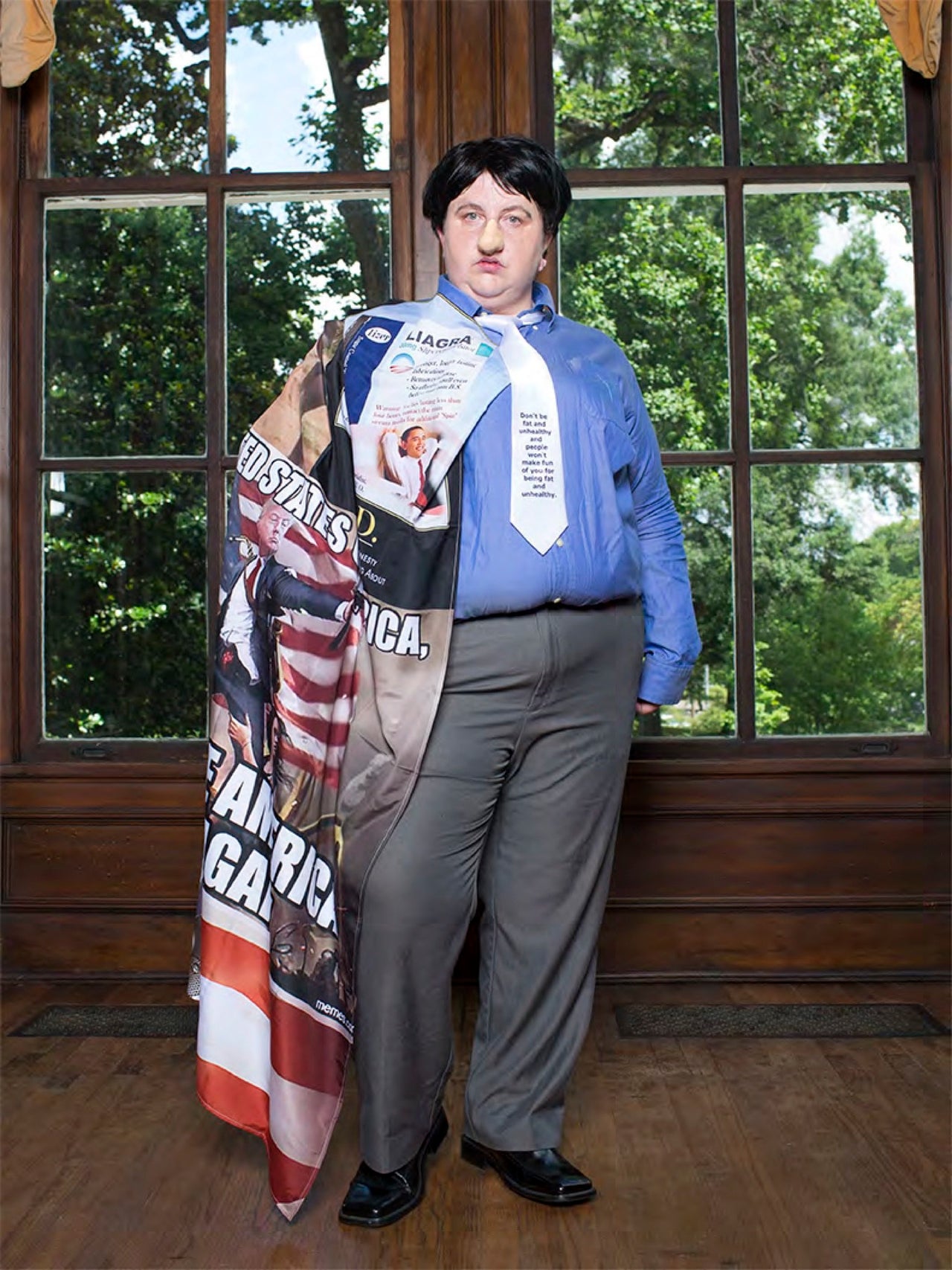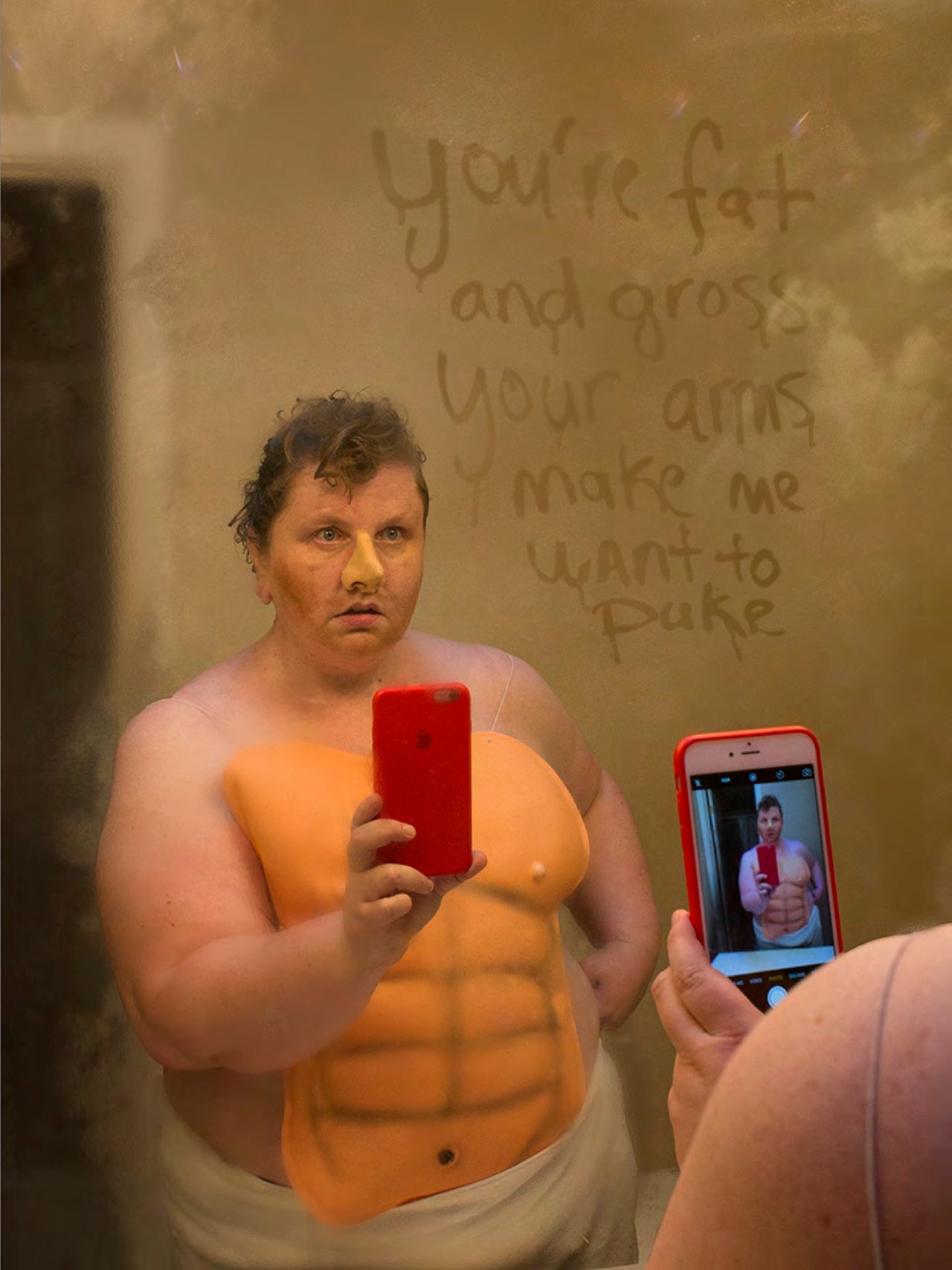 Morris-Cafiero magnifies these imperfections to pierce through "the fallacy that the internet will shield [the commenters] identities," she said. In inhabiting her subject's performative social media presence, Morris-Confierio mocks their mockery and neuters its impact.
"For years, people have been hiding behind their computer screens to bully others to the point where writing criticizing comments is common and celebrated," she said. "These cowards use the internet to bully those they find weaker than themselves."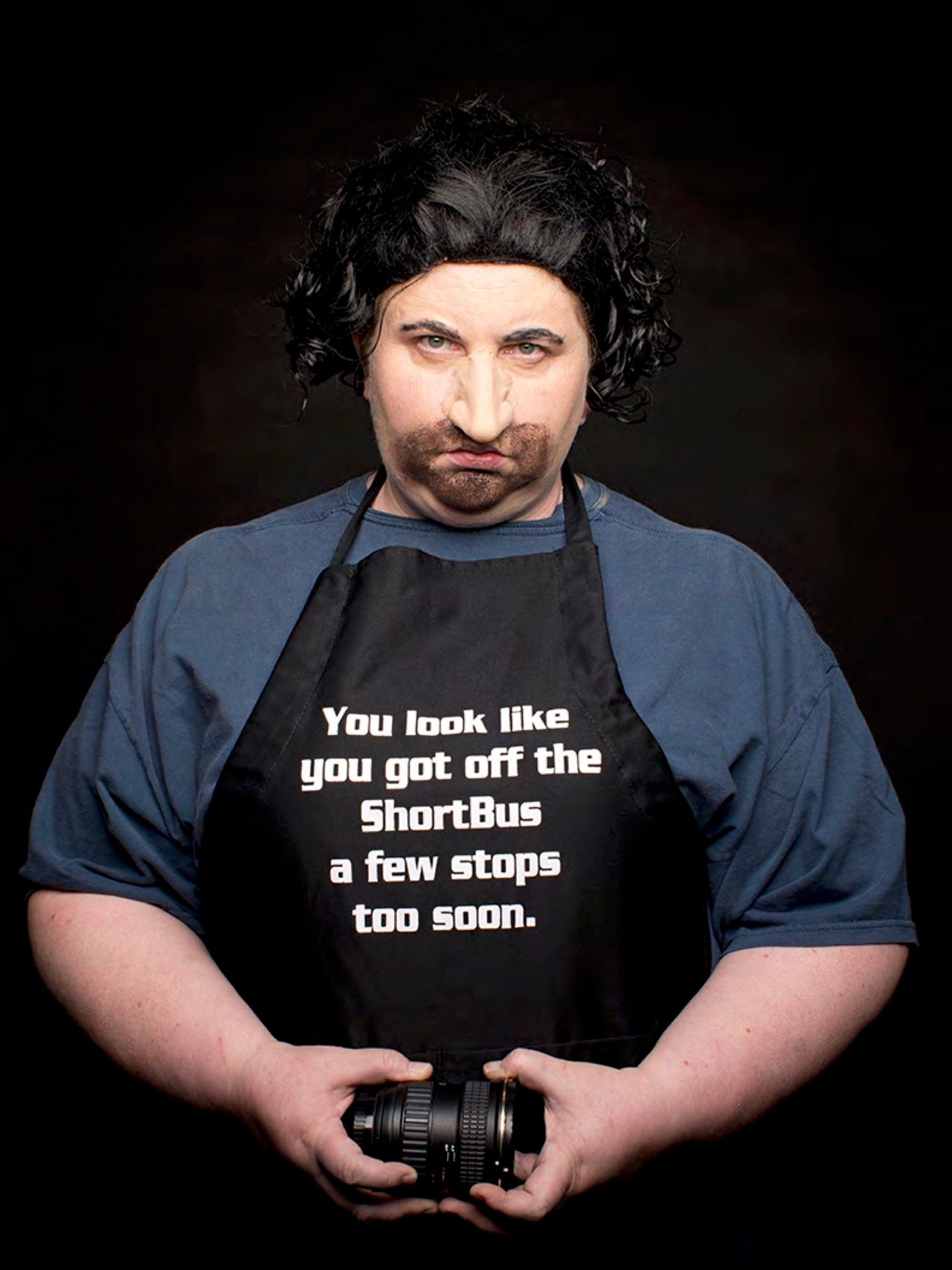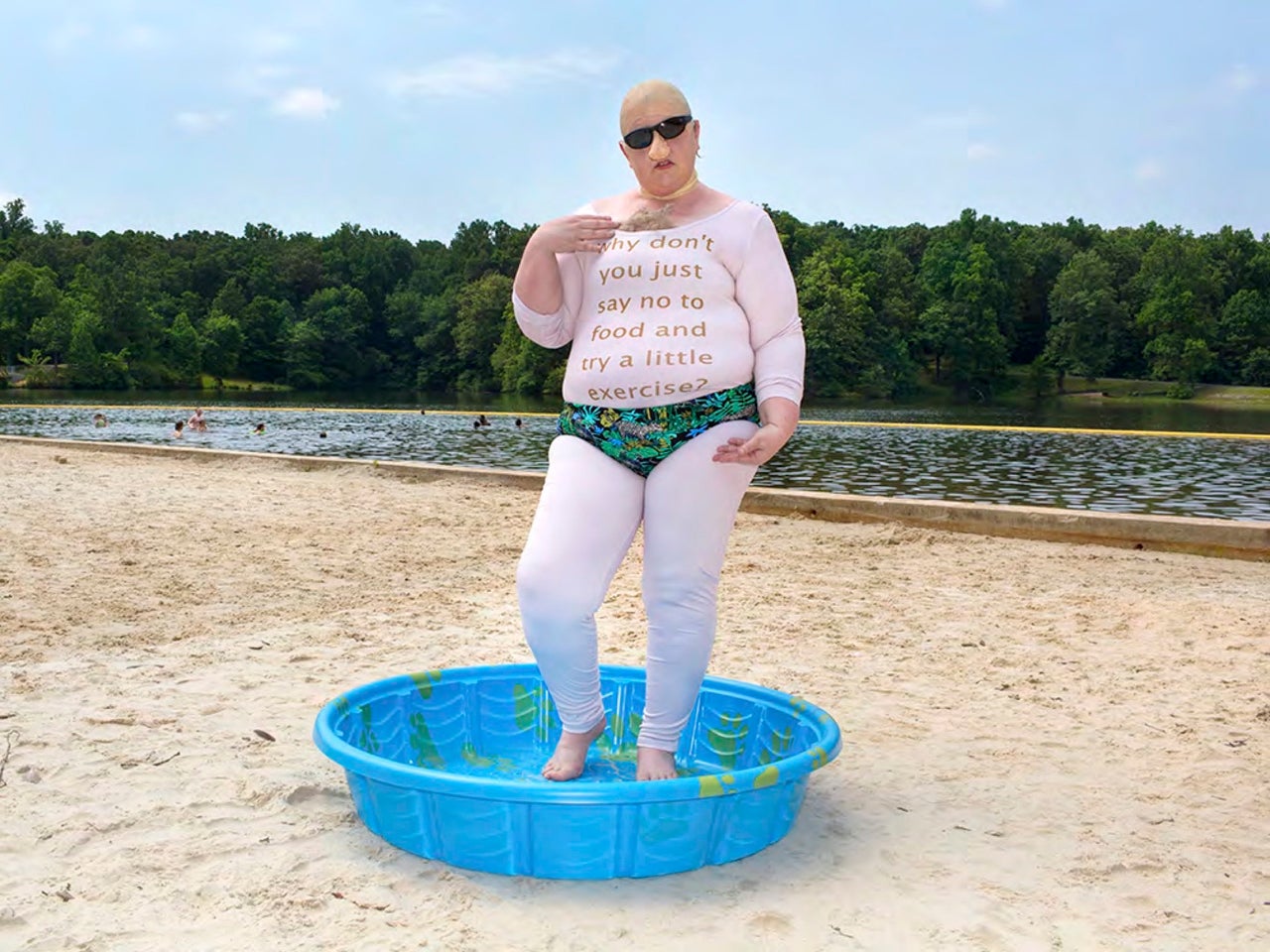 "The Bully Pulpit" images display the commenter's original offending statement prominently, "almost as if I were 'subtweeting' them," Morris-Cafiero said. Ugly invectives are emblazoned on T-shirts and aprons, illuminated in a neon sign and scribbled on a mirror used for a satirical selfie. The commenters who inspired the images range from a 13-year-old video game enthusiast to a septuagenarian bodybuilder.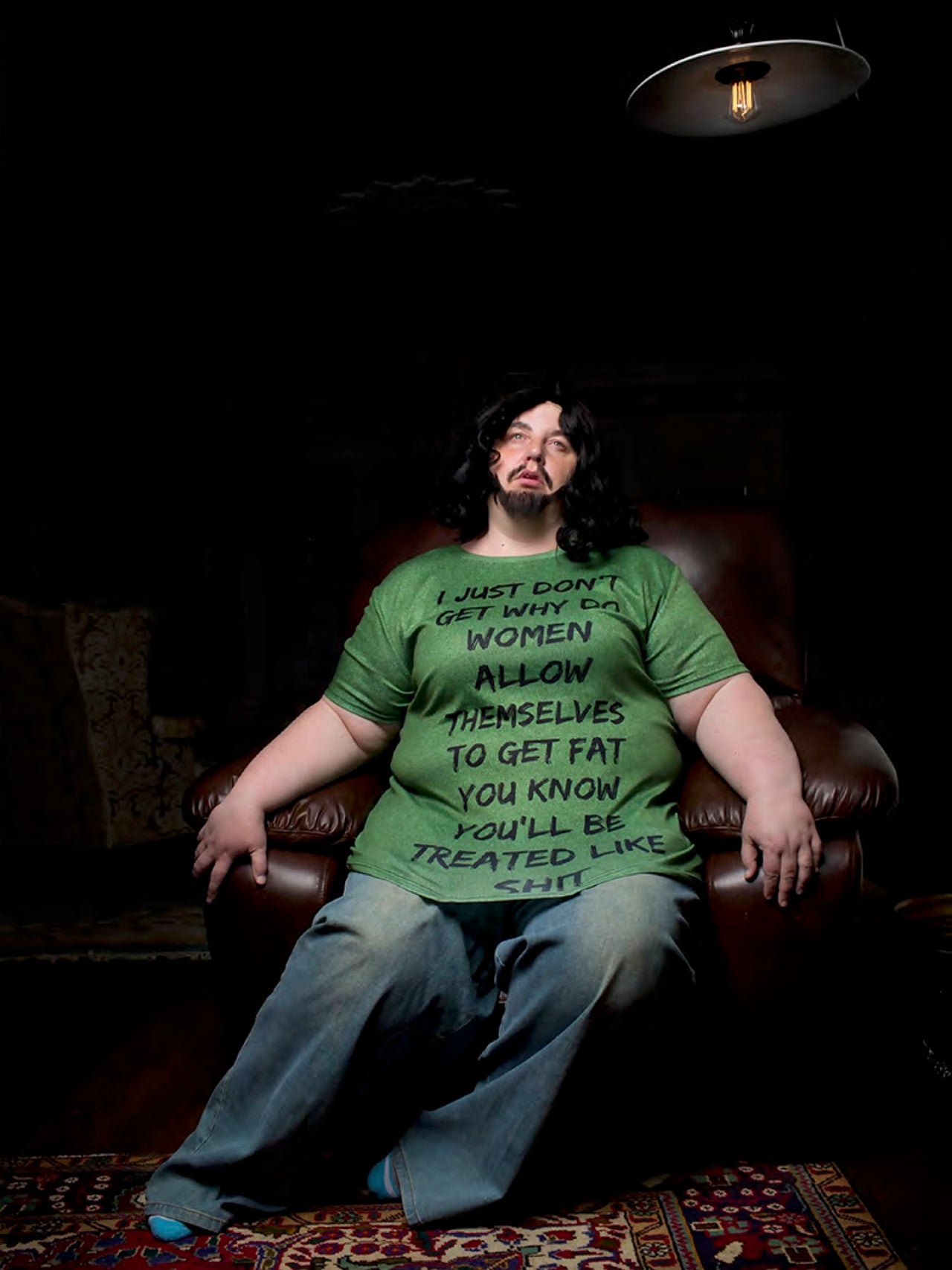 Morris-Cafiero is a lecturer of photography at the Belfast School of Art at Ulster University in Northern Ireland, having relocated there two months ago after teaching college in Memphis, Tennessee, for more than 14 years.
Her "Wait Watchers" series, which went viral, captured passersby reacting to her mere presence in the world and the space she takes up in it.
When she dared to suggest that staring in disgust is not an appropriate reaction to people of size, Morris-Cafiero became a target for cyberbullies to unleash their anti-fat vitriol. Following "Wait Watchers," she was frequently invited to speak about issues of body positivity and cyberbullying. Commenters jumped at the chance to harass her further, unwittingly providing fodder for her next project.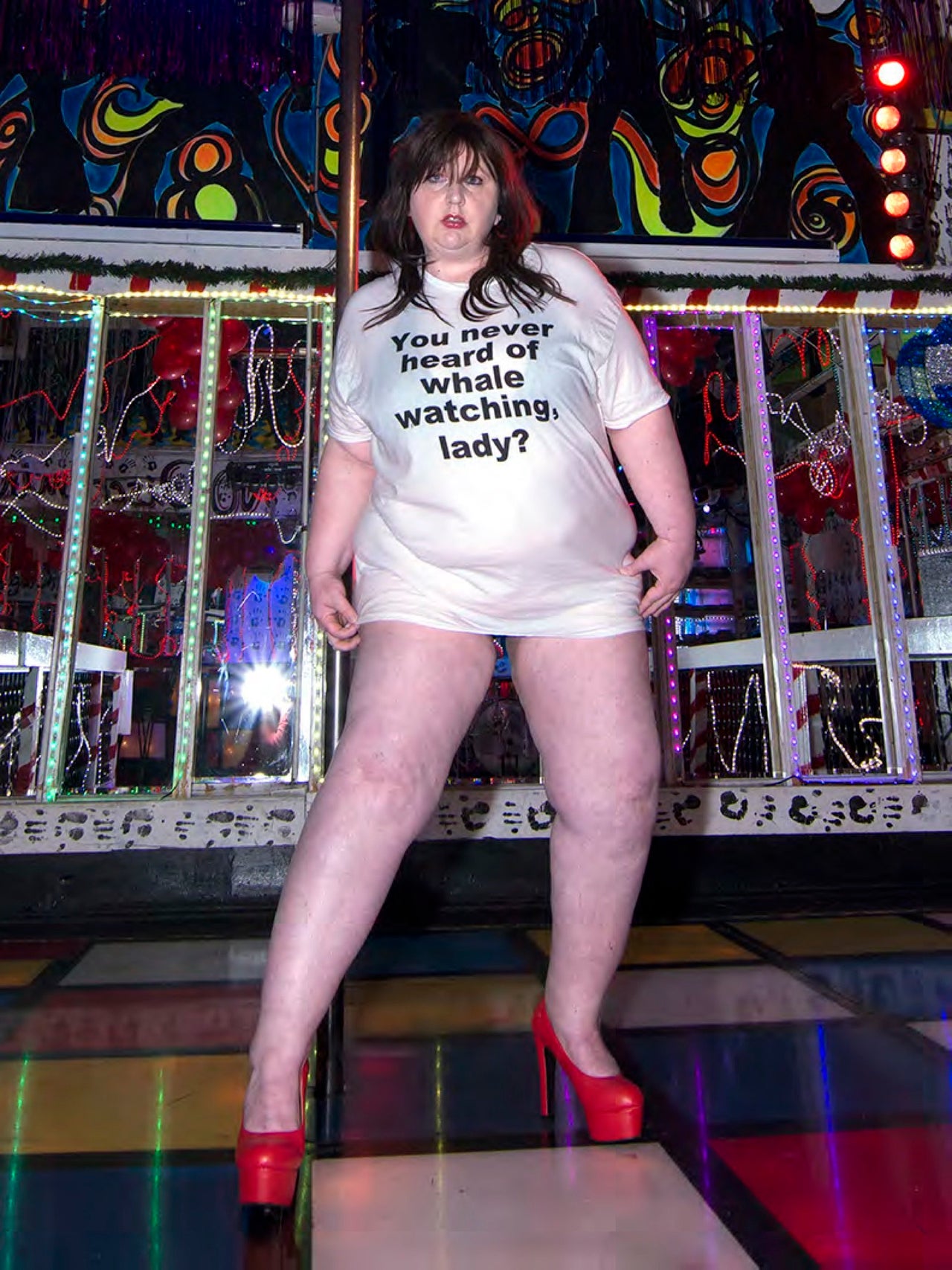 The artist says that "The Bully Pulpit" takes "Wait Watchers" a step further in its investigation of the inhumanity implicit in anti-fat bias. While Morris-Cafiero concedes she could only infer that the expressions captured in "Wait Watchers" were negative reactions to her weight, the subjects of "The Bully Pulpit" made their thoughts abundantly clear.
"For 'The Bully Pulpit,' I kept the performative while investigating how social media is being used as a weapon," she said.
Morris-Cafiero hopes current and would-be Internet trolls will see the work and think, "I better stop or else I will be found."
She also hopes that bullying victims see that their tormentors "can be outwitted, and that you can fight back in a different way," she said.

Morris-Cafiero recently created a Kickstarter campaign to raise funds to publish the series as a larger collection in print, after showing "The Bully Pulpit" in galleries in London and San Francisco.
As for advice she has for an artist or content creator encountering cyberbullying for the first time, she urged them to "ignore critics... direct the viewer to the work and let the work do the talking."
She added: "If the viewer can't talk about the work and can only concentrate on the appearance of the artist, then the artist shouldn't waste their time."
Popular in the Community