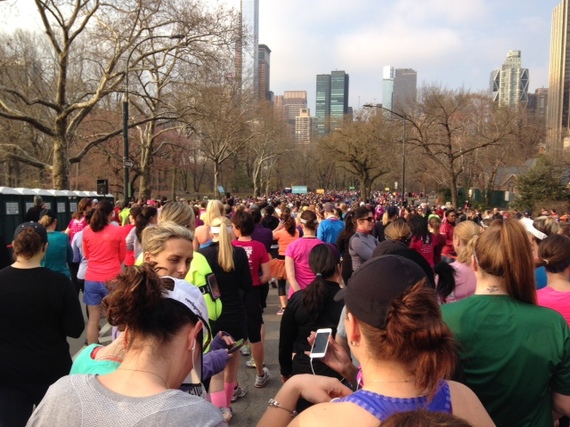 "Women Run the World" flyer caught my eyes at a New York Sports Club on the Upper West Side in late February. Here's my non-traditional "training" for my first More Magazine / Fitness Magazine Women's Half Marathon on Sunday, April 13, 2014 in Central Park, where 6,844 women crossed the finish line:
Monday, March 3
I register online for the More/Fitness Women's Half Marathon, which included $40 to sign up as a new member of NYRR (New York Road Runners) and $80 for the race.
Sunday, March 30
I play doubles tennis and then power walk a bridge with my BFF and her white poodle.
Wednesday, April 9
Touchdown LGA! My JetBlue lands in NYC, so I'm much closer to the dreaded run, which I really have not properly trained for...
Thursday, April 10
Zumba class with fab instructor Kelly Bragdon, who whips us into shape with salsa and merengue dance steps, is filled with high energy and smiles to the beat of Gloria Estefan's Conga and Latino tunes. At the New York Sports Club, I saw the small poster of the More Half... yikes, it's in three days!
Friday, April 11
After taking the #1 subway from midtown to 18th Street, I walk over to the Metropolitan Pavilion, where the More/Fitness Health & Wellness Expo will attract thousands of ladies who are runners, fitness divas and runner wanna-bes. I pick up my bib with my number -- I'm official now! Then I meander by all sorts of cool exhibits: Skechers sneakers, Athleta purple ponytail holders and Duane Reade's trail mix and bandage give-aways. Upstairs for my runner's shirt, I say to the male athlete (who was accumulating volunteer hours to qualify for the NYC Marathon) that perhaps next year they could order extra-small sizes. He smiled and offered a petite deep fuchsia T-shirt (after all, "radiant orchid" is the color for 2014!). Because I was at the expo early enough to snag one of the few extra small shirts, I became a happy camper.
Saturday, April 12
In Chinatown, I treat my three Columbia civil engineering students to dim sum at Golden Unicorn. I've been mentoring these college students on their resumes, interviews and summer jobs. The Vietnamese student just landed a structural engineering summer internship in Singapore, so I made him practice using chopsticks during dim sum... Other runners are gobbling down pasta, while I'm snarfing down spinach and shrimp dumplings, fish balls and steamed pork buns.
Back at the New York Sports Club (the "kick asphalt" sponsor of the More/Fitness Half Marathon), I take an afternoon Zumba class. The substitute instructor is Marcella Walker -- an even more muscular Gabby Douglas (not more toned, just more mature). For More Magazine readers, we women over 30 can appreciate a dynamic, fit Zumba leader; Marcella asked us our choice for the last dance routine: "Moves Like Jagger" or "Happy." We were already grooving by the time she started Pharrell Williams' hit, "Happy"! Upon leaving the gym, I shared with my fave NYSC membership consultant Desiree Warner at the West 80th location that I was attempting my first half-marathon the next day! She was high-fiving me in delight!
Stocking up for my breakfast before the race, I walk across Broadway to discover Birdbath Green Bakery. I buy the humongous muffin, an old-fashioned, pull-apart pastry with apples, raisins, walnuts and cinnamon. Then I zip into Zabar's to buy the large freshly squeezed orange juice. A day without orange juice is like a day without sunshine.
That evening -- the dinner before my first More Half -- I meet my gal pals at Mont Blanc in the theater district and try veal marsala -- not the typical staple on a runner's diet, but simply my craving.
Sunday, April 13
Up at 5:50 a.m., I shower and inhale my flavorful Baker's muffin, along with a banana, then savor my fresh OJ. I inscribe my emergency contact info on the back of my runner's bib and then secure it on my More/Fitness fuchsia T-shirt with four shiny safety pins. Waiting on the subway platform, I strike up a conversation with a Canadian guy who is signed up for an Ironman Half -- that's a half triathlon. So my riding the subway and then walking to Central Park is a much easier prelude to a half marathon then his three-part race.
I walk alone and meet my first running pal crossing Central Park West. Bedazzled in her orange and black, Liz just defended her Ph.D. at Princeton, so this half marathon should be a piece of cake for her!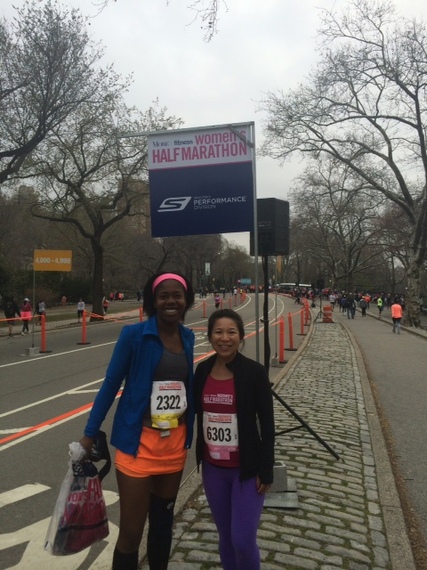 Then an excited young Asian Katie -- dressed warmly in her dark blue Columbia hoodie -- runs up to me because she recognized me! We were at the same Columbia banquet a few nights ago, except she was one of the younger females (Columbia College 2013) while I was one of the older ladies. As a More Magazine occasional reader, I realize that I am twice her age and we are both running in the same half marathon...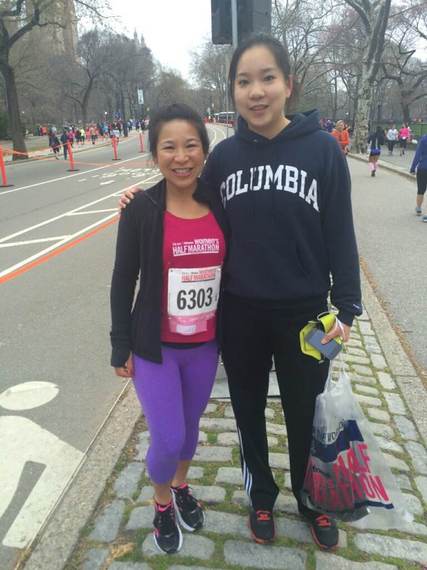 Then I meet Aura (a young attorney from Puerto Rico) and her beau Andres (who's studying for his LLM at Columbia Law); he became our fun paparazzi before we headed to our places for the 8 a.m. half marathon.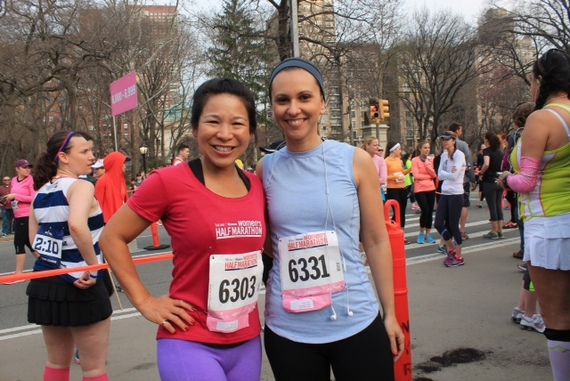 At the start of the race, a pixie athlete befriends me. I ask for her advice because this is my first crack at a really long race -- struggling with the notion of power walking or running every other mile. Rose, with inverted French braids woven across the sides of her reddish hair, politely said: "Listen to your body." Words I later cherished throughout my Central Park tour. I comment on her cool gray Skechers shirt, and Rose enthusiastically shared that she was on the Skechers running team. Skechers -- one of the More/Fitness Women's Half Marathon presenting sponsors has a Performance Division of running shoes, she taught me. When Hoda Kotb (from NBC's Today) announced the morning greetings to thousands of female runners, Rose and I got pumped for the race!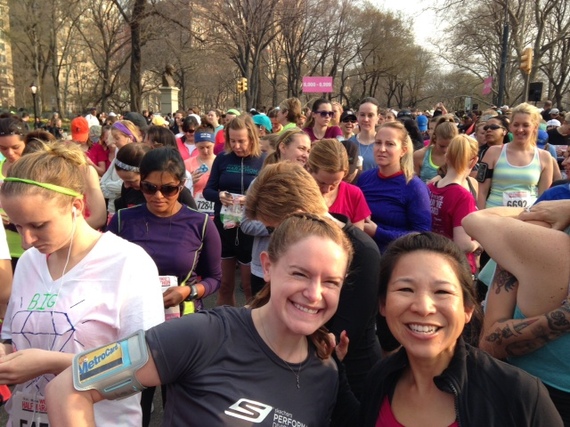 The scenic path of looping around Central Park twice became exhilarating to me. Passing such landmarks like Guggenheim Museum and Metropolitan Museum of Art on the East Side, then American Museum of Natural History on the West Side was breathtaking. Never thought I would encounter three Zambonis on the racecourse. Alas, Lasker Rink, which is being converted to its summertime pool soon, is spotted as I round off the hills in Harlem. Running from Columbus Circle area to near Malcom X Boulevard is already a feat for me.
One of the official NYRR volunteers cheering us on at the steepest incline in the way Upper West portion of Central Park kept shouting "It's a hill -- get over it!" He chanted that numerous times, and I cherished his fanatic support even more my second time around. Twelve hills on this course!!
"More cowbell!" I would exclaim, every time I passed a spectator clanging his/her bell. The weather was 58°; the spring flowers were blooming; and I kept myself hydrated throughout the path of plentiful water stations.
Having never run over five miles in my life (also because I did not train for this tough course), I sprinted the last few yards and crossed the finish line at 3 hours and 29 seconds, which is now my personal best! We had a time limit of four hours, so I made it. My pace of 13:47 per mile equates to running over 10 miles and power walking, combined with a few side stops of stretching my legs, the rest of the way. "Half marathon" sounds simpler than 13.1 miles!
Finish line: "Bedazzle me!" I shouted to the band of medal holders. One gentleman placed the red and blue ribbon with silver medallion over my head, and I felt like an Olympic champion. That was my first running medal, and then soon I am greeted with the best-tasting NYC bagel ever.
Athleta -- another major sponsor for the More/Fitness Women's Half Marathon -- offered free massages after the race at its West 70th & Columbus Avenue boutique of trendy athletic wear. I had never heard of this store until this race. Athleta provided a smorgasbord of food (including mimosas) at the front door, and I was the first registrant for the much-needed free massage. I wanted to marry Eugene Wood, the licensed massage therapist who works on stellar athletes, before I dismounted the massage table.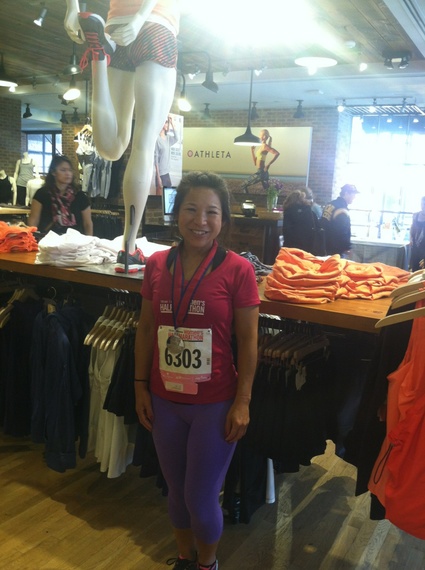 Thank you to More Magazine & Fitness Magazine for making me "more fit."