Memorial Day heralds the start of the summer season and that time of year people head out on the open road, whether it's for a small weekend getaway or a longer road trip to see sites and support local businesses that help fuel this great country. We did our part recently by spending a day in lovely Half Moon Bay, south of San Francisco.
While Half Moon Bay is known for its annual World Championship Pumpkin Weigh-Off and Art & Pumpkin Festival in October, we discovered there is much more to this town than pumpkins. If you're looking to drive along the California coast, be sure to stop by and have a look around.
We were pleasantly surprised at how many unique independently owned stores there are here in Half Moon Bay, instead of the predictable corporate shops we see on every corner in major cities.
We drove into town on a Sunday to check out the first year-round farmer's market here, open from 10 a.m. to 3 p.m., held at the Shops at Harbor Village in Princeton, just north of downtown Half Moon Bay.
We had heard about Half Moon Honey and were eager to try some. This business is a labor of love for owners Gary and Teri Butler, who love bees and honey and their benefits. They have more than 200 hives from Devil's Slide to Pescadero and we had a tour of one of their bee yards. Their honey is available for wholesale and retail, as well as their established hives. They also offer bee rescue and pollination services.
The farmers market sells fresh fruits, vegetables, and of course we had to have some kettle corn, but saved room for a delicious dinner at the home of our host later, which was fresh salmon caught off the coast earlier that day.
The next day was devoted to exploring Half Moon Bay, and we never got in the car once. We started at beautiful Half Moon Bay State Beach, first walking along the bluffs overlooking the beach. There are benches to take in the expansive view, as well as a meandering bike path. The beach was a lovely way to start the day.
Downtown Half Moon Bay is on the other side of Highway 1 and we knew about the Senior Coastsiders Thrift Store. Purchases at the Thrift Store helps fund services for seniors and adults with disabilities in the area, so we bought a few items.
Lunch was at Chez Shea, which had really good organic food. There were some real interesting shops here, which includes Half Moon Bay Wine and Cheese, which had a nice selection, but we wanted to buy a bottle of Half Moon Bay Coastal Fog wine, since enjoyed a glass of it at lunch and found some at Cunha's Grocery and Country Store. Although it's labeled Half Moon Bay, the wine was from nearby Mendocino County. You'll know Cunha's from afar, because there is a surfer mural on the side of the wall. The two-story mural was painted by muralist Fabio Sanzogni depicting local big wave surf pioneer Jeff Clark.
There was a cute cookware store Toque Blanche that had just what I was looking for, an oven thermometer. And I bought a decorative cat tile at Mandala Treasures a nice collectibles store that specializes in handcrafted arts, gifts, clothing and jewelry.
We stopped by Half Moon Bay Coffee Co. for afternoon coffee. They serve Connoisseur Coffee Co. coffee from nearby Redwood City, and since this town is known for its pumpkin festival, we split a pumpkin cookie and chocolate chip cookie. These large homemade cookies cost only $1. In addition to their cookies, they also make delicious cakes and pies, that include pecan, apricot, blueberry, apple, pear, key lime, chocolate cream and banana cream pies.
Half Moon Bay Feed and Fuel is a cool Western style feed store that sells farm supplies and cute baby chicks, bunny rabbits and even saddle equipment. This is a fun place to browse, especially if you're a city kid. You'll notice the cut outs of a cowboy and cowgirl here too. That brings up another interesting thing about Half Moon Bay, and that's the fact that there seems to be random little pieces of art around town.

You might recall earlier this year, Half Moon Bay artist Mauro Ffortissimo garnered a lot of media attention when he played sonatas on a baby grand piano at sunset for weeks on the bluffs at Half Moon Bay. He finally lit the piano on fire in February while playing it, and photographer Lars Howlett documented it in a book "Sunset Piano." They've been on a local book tour and exhibition with the charred piano and we went to see it when it was at the Coastal Arts League.
Mauro's studio Enso offers art and yoga classes at this century old warehouse with its original redwood beams, overlooking the bluffs and the ocean. On Mondays he cooks at Enso Café, and after our whole day in downtown Half Moon Bay, we stopped by to see if we needed a reservation. He was getting ready to teach a yoga class and we were invited to join them later for dinner. He's from Argentina and between his boundless creativity and his accent, he was totally charming.
Not only is Mauro the chef, he's the greeter and the menu was written on a little chalkboard with the prices. Dinner was delectable and included broccoli soup and a vegetarian lasagna. There was a little box for donations and we helped out in cleaning up since there is no restaurant staff. There are many regulars, locals, and anyone can join for an annual membership of $40.
Mauro said he's planning another piano exhibit, from northern California to Santa Cruz, which involves a number of different pianos, although he was mum about the details for now. We also learned that among some of his other artwork, his work includes the metal sculpture at the Farmer's Daughter Hotel in the Fairfax district of Los Angeles, across from the Original Farmer's Market. His exhibit Sunset Piano is at Enso Gallery through June 4, with a reception Saturday June 1 at 4 p.m.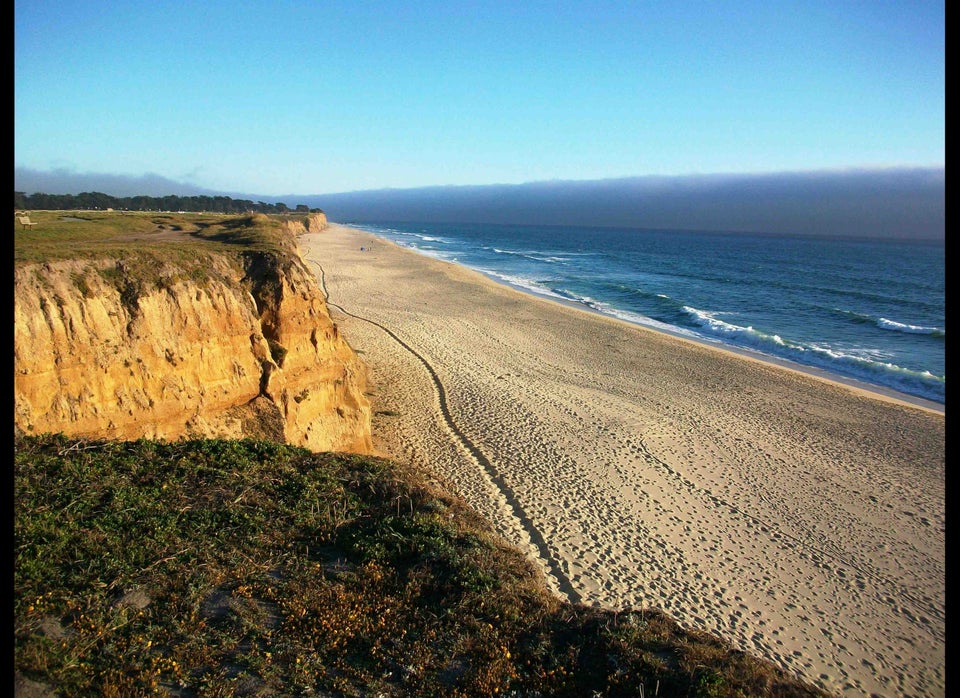 Explore America: A Day in Half Moon Bay, California
Related