Who Killed Hunter S. Thompson? Edited & with a Humongous Introduction (A Book in Itself!) by Warren Hinckle and By Many of His Closest Friends & Co-Conspirators. (Last Gasp 2017)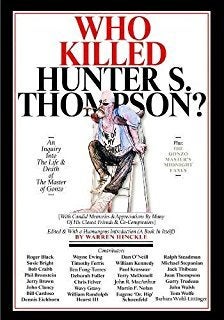 Ron Turner, the sovereign of Last Gasp publishers in San Francisco, bellied up to the bar, and swallowed a fine scotch. In his hand, a copy of the book I'd been waiting for — Warren Hinckle's final word on his old pal, Hunter S. Thompson, the gonzo king.
Hinckle passed away in 2016. His legacy stretches back to the 1960's and '70's as editor of Ramparts and Scanlan's Monthly, publications which set fire to the staid journalism of the establishment. Thompson's article for Scanlan's, The Kentucky Derby Is Decadent and Depraved (famously illustrated by Ralph Steadman) set the path for Gonzo journalism. Thompson being at the center of the story, slashing the false impressions of decency into slices of brutal uproarious truths, as if someone had thrown a rock through the window looking into the American Dream.
I got home at 3 a.m., the shoulder aching from 30 years of pulling whisky bottles from the rail. After taking some medicinal products from the Garden of Eden dispensary, I flopped down on the hard pillow, pulled Ron's tome from the bedside table, weighing in at a hefty 4 lbs, and dropped it on my chest, causing a coughing fit, chest pains and the possibility of THE END arriving before getting to the opening page. Who Killed Alan Black?
This book is dangerous. I set the spine into my bellybutton and read. Hinckle's riveting tales of Gonzo banished sleep, and the sun rose like a pleasant surprise, a surprise in itself, as previous all-night awakenings were born from too much of this and that, making the rising sun an enemy of the bartender's darkened soul. I was struck by Hinckle and Thompson's lance on taking on the State, and the guardians of correctness - having the CIA and the political class as targets, and all of this in an age of paranoia, fear and loathing. Sleep demanded its feed, and by noon (breakfast) my memory was a little fuzzy. I recalled a line from Hinckle's introduction, not exactly reproduced here — the pursuit of truth is now limited to the line of correctness. Thompson shot himself in 2005.
Once, I drank with Hinckle in the M&M tavern at the corner of 5th and Mission, in San Francisco, back in the late-80's. As I liquidated into a juniper berry crushed under the heel of Dionysus, Hinckle seemed remarkably sober, his distinctive eye-patch look in good order, his loyal hound at his side. His Irish roots connected to San Francisco's old school Irish pugilists in law and rebellion. His acquaintances, the Mitchell brothers of San Francisco sex club fame, feature in the book. Their battle with the city under the reign of Diane Feinstein, once the mayor, now a US Senator, is the stuff of San Francisco libertine legend. Thompson held the job as Night Manager at the club, located on O'Farrell Street in San Francisco's Tenderloin district.
Contributions from Thompson's friends and peers fill out the book — among them, California Governor, Jerry Brown, Suzie Bright, William Randolph Hearst III - stuffed with photographs and comic strips from the likes of Robert Crumb. It's an absolute must have for Gonzo freaks, journalism majors, and San Francisco aficionados. And you can drop it on an enemy's head to the sound of a large, Ouch!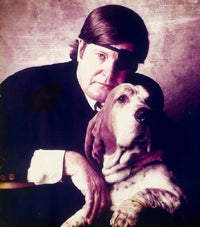 REAL LIFE. REAL NEWS. REAL VOICES.
Help us tell more of the stories that matter from voices that too often remain unheard.
This post was published on the now-closed HuffPost Contributor platform. Contributors control their own work and posted freely to our site. If you need to flag this entry as abusive,
send us an email
.