 Pulitzer Prize-winning journalists Nicholas Kristof and Sheryl WuDunn are bringing their best-selling book Half the Sky: Turning Oppression Into Opportunity for Women Worldwide to life on Independent Lens October 1st and 2nd. And in honor of the docu-series and its message of empowering girls and women in the developing world, dozens of hitmakers have joined together to offer a month of free music until the films air on PBS.
Beginning September 3 and culminating with the broadcasts in October (check your local station listings), HalftheSkyMovement.org's "30 Days Campaign" will feature songs of solidarity, contemplation and celebration from some of the biggest names in the business -- including one track per day from Angelique Kidjo/Alicia Keys, Sheryl Crow, India Arie, Norah Jones, Lucinda Williams, Patty Griffin, Amy Grant and many others.
Consider it the official soundtrack of women's human rights: 30 FREE downloads representing voices in the movement to expose human rights violations, improve maternal health, fight sex trafficking, and put a stop to gender-based violence.
The project was the brainchild of 35 Sound music supervisor Carter Little, who says, "All of the songs speak to the themes of the films of Half the Sky: Turning Oppression Into Opportunity for Women Worldwide." While many of the tracks have been previously released, he says, "when you reframe them in the context of Half the Sky, the resonance is amazing."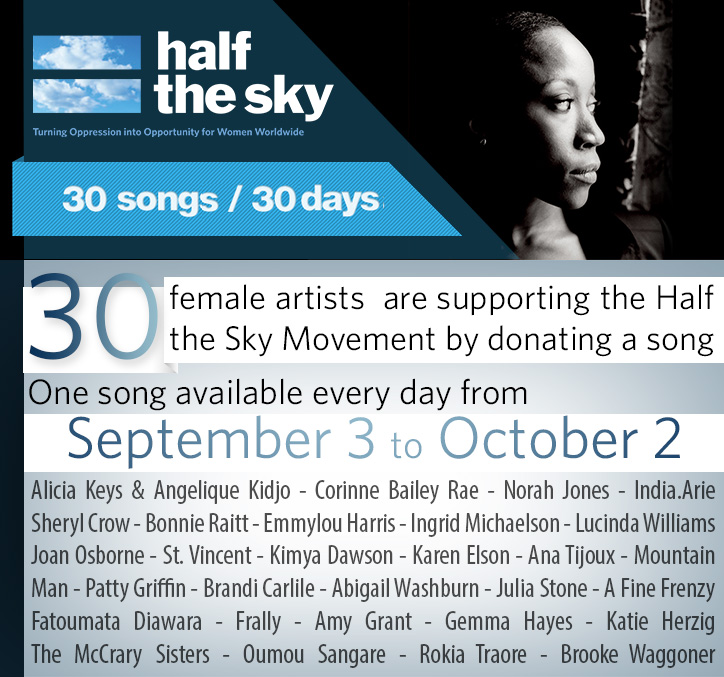 Graphic courtesy of HalftheSkyMovement.org
Onscreen, actresses Eva Mendes, Meg Ryan, Gabrielle Union, Diane Lane, America Ferrera and Olivia Wilde visit Sierra Leone, Cambodia, Vietnam, Somaliland, India and Kenya to witness the struggles of real women on the front lines of poverty and discrimination.
In the music, the likes of Gemma Hayes, Ana Tijoux, Ingrid Michaelson, and Oumou Sangare put a lyrical face on the films' motifs of hope, strength and defiance.
Model/musician Karen Elson and singer Julia Stone were so moved by the Half the Sky Movement and its work with a large group of charity partners focused on helping women, they wrote songs specifically for the 30 Days Campaign. (Listeners must visit the site to discover a new title each day.)
"I was so moved by the book," Stone says. "When I [was asked to] contribute a song, I was most grateful for the opportunity to think about how [the book] affected me -- and to sing about that."
"What's so great about everyone who donated songs to the 30 Days campaign for Half the Sky: Turning Oppression Into Opportunity for Women Worldwide is that it's such a diverse group of performers, yet they all share a common goal of empowering women," Little says. "We've got music from all over the world, in all genres, from a multi-generational group of new and emerging artists such as Brandi Carlile and Katie Hertzig to legacy artists like Bonnie Raitt and Emmylou Harris."
When you visit HalftheSkyMovement.org daily during the campaign, Little says, you'll not only get a free download from a top songwriter, you'll get a glimpse of the "cultural currency" of the book that ignited a movement -- and of the women and men, both famous and unknown, who believe equality is a cause worth fighting for.
Click here to download the song of the day, and be sure to visit HalftheSkyMovement.org daily between Sept. 3 and Oct. 2 for a FREE song from top female artists!
Calling all HuffPost superfans!
Sign up for membership to become a founding member and help shape HuffPost's next chapter