As Wish You Happy Forever begins to find its audience, and the story of Half the Sky Foundation in China is told, it may seem to some that our job is done. But, of course, those of us still working to bring loving care to China's orphans know we've only just completed the first leg of a very long march. That's why it's important to tell you about what's happening right now at the orphanage in Huazhou, China.
The Huazhou orphanage, sorry as it is, is not all that unusual. The place is only one of perhaps 1,000 smaller orphanages across China where, even in that new land of opportunity, adequate caregiver training and basic resources are still difficult to come by. It is, of course, always the children who suffer. That's why we're still marching as fast as we can.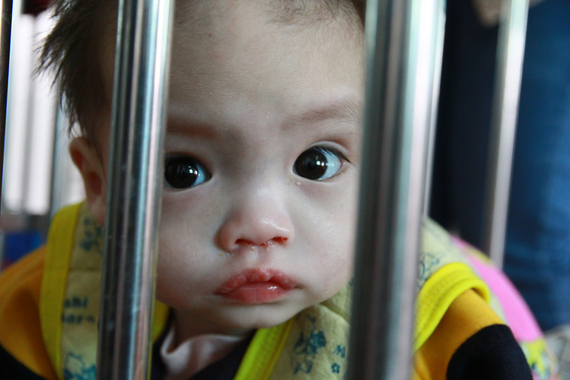 With a population of less than 100,000, Huazhou is far too small to be considered a real city by China standards, but it nevertheless is designated a county-level city under Maoming, a prosperous metropolis in southwestern Guangdong Province. Every city in China is famous for something. Maoming is famous for dinosaur egg fossils, litchi nuts, and the award-winning opera, A Wife That Helps You Get Rich. Huazhou's only confirmable claim to fame is a chicken dish, poetically named Huazhou White Cut Chicken.
Just about every new and important undertaking in China launches "after Spring Festival," the Chinese New Year holiday. But when we heard the cry that Huazhou's children were in real trouble, and once we received a commitment for emergency funding for a new Half the Sky children's center, our team couldn't wait.
"Their children sleep in the cribs on the boards -- no quilt or blanket! They need our help now," argued our COO, Rachel Xing. Holiday-schmoliday. And so, on January 2nd, Half the Sky arrived in Huazhou.
Rachel and her Beijing colleagues flew into Zhanjiang, a medium-sized (a mere 7.1 million people) city about 80 miles from Huazhou. They were joined by a team of senior Half the Sky trainers who'd arrived earlier that morning, had a long talk with the orphanage directors, and, when they realized the children were sleeping uncovered on bare boards, had already rushed to the textile market to bargain for mattresses and blankets.
On the way back to the orphanage, Infant Nurture Program Director Li, who began her caregiving career in 1973 at a big city orphanage, filled the new arrivals in:
"Children are crying. They lie on beds made barely of a piece of wood, without any sheet on them. Some children over three years old had never touched the floor. The children stared at us through rails, begging for attention.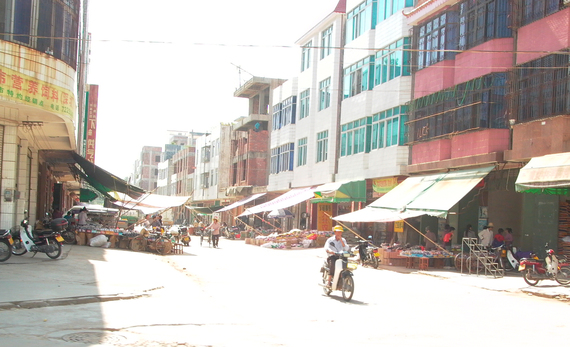 "And the caregivers -- they're indifferent to us, the ones who wanted to help them. The only thing I sense from them is discontent, non-cooperation, and an urge for conflict. I must tell you, it breaks my heart for those children."
The team arrived at the orphanage, had the requisite visit with the orphanage director (who seemed truly excited), and got right down to business. They checked in with our carpenters, busy building shelves and play structures, the first step in turning a grim institution into a cozy home. The training team sorted through their newly purchased bags of sheets and blankets and clothing. And then they climbed six flights of stairs to see the children.
It was the very first time for Lindsay, one of the young support staffers from Beijing, to accompany our building and training teams. She'd never been inside an orphanage. "I was shocked. There were bars everywhere. The whole place seemed like a prison and made me feel cold. The doors, tables, and even the beds are made of steel! The children were like prisoners locked inside.
"As for the children, to me they looked like little animals, squatting on the ground, barefoot. They were eager to have contact with us. They stretched out their hands to touch us through the bars.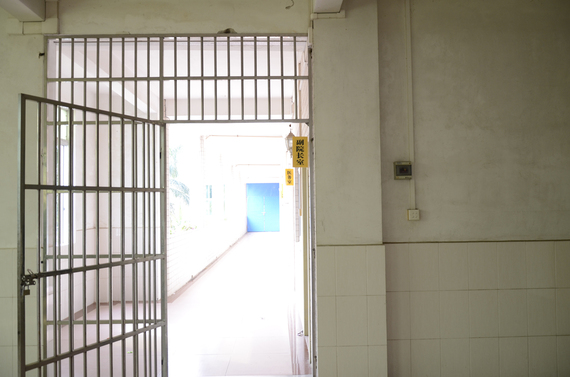 "The first time I saw those little infants, they were all on the beds, either lying or sitting. Some of them have those empty eyes with no reaction to the people around them. Some of them shook their hands or heads mechanically. There were no caregivers except two wearing plastic gloves who were showering babies with cold water. There was no interaction with the children. Nobody cared about the crying babies, nobody put a piece of cotton cloth under the preemie's face with rash, and nobody would wipe the snot on them...
"I feel horrible for those children. What kind of life they were living ever since they were brought there? I dared not to imagine it..."
NEXT: The training (and the transformation) of Huazhou begins.
Calling all HuffPost superfans!
Sign up for membership to become a founding member and help shape HuffPost's next chapter